© Jack Cashill
June 7, 2007 - WorldNetDaily.com
James Sanders is stirring again.
Two items have put the veteran investigative reporter--and my partner on the documentary Silenced and the book First Strike—on his own personal Code Orange.
One is the news out of JFK that Islamic terrorists are up to their old tricks again. At JFK? My, who da thunk it?
The second, and more personally galvanizing, is that Sanders has just gotten a big batch of new TWA Flight 800-related documents from the FBI through the Freedom of Information Act.
These documents stem from Sanders' stillborn civil suit against a government that convicted him and his wife Elizabeth of conspiracy for his reporting on the TWA Flight 800 investigation.
In the course of our history, citizens have received worse treatment at the hand of a generally benign government. But no reporter has been treated more shabbily at the hand of the media—ever.
In truth, the Clinton years did not bring out the best in the major media. During the TWA 800 investigation in particular, they hewed to the government line with a pride and passion that would make Edward R. Murrow squirm in his grave.
And God help the poor soul, like James Sanders, who got out of line.
Undaunted now as then, Sanders wades through these new documents like a wily prospector in Sutter's Creek. Most of gold has been stripped away or redacted, but if you know what to look for, as Sanders does, the nuggets stand out.
His sense of humor somehow intact, Sanders forwards key documents to my shared FAX under the heading, "SECRET—sensitive journalism. Do not read. If you do, you will turn into a Democrat."
The one document that intrigues me most tells of Sanders' treatment at the hands of that great 57 th Street institution, CBS News.
In the way of background, Sanders had granted an exclusive interview to Emmy Award-winning CBS producer Kristina Borjesson the same day that a story about his research broke in California's Riverside Press-Enterprise.
"New Data Show Missile May Have Nailed TWA 800," screamed the paper's one-inch, front-page headline on March 10, 1997.
Working with Terrel Stacey, TWA's 747 top manager inside the investigation, Sanders had received, among other information, a few foam rubber bits of seatback that contained the DNA of the investigation: streaks of an unknown red-orange residue.
Sanders had the residue tested at an independent west coast lab, which found it to be consistent with exhaust from a solid fuel missile. To verify his claim, Sanders had sent a separate sample to CBS.
After the CBS interview had been videotaped, however, Borjesson grew alarmed when she realized no one on the Evening News was editing the piece.
Frustrated, she walked into a meeting of news executives and asked why the network wasn't doing the story on Sanders and his documents.
"You think it's a missile, don't you?" queried an executive she didn't recognize.
"I don't know what the hell it is," Borjesson shot back, "but don't you think we should be doing a story that asks a few questions about this guy and his documents?" The silence that followed was, as Borjesson admits, "deafening."
When she had walked in to the room, she honestly believed she was about to correct an oversight at a level where it could be corrected quickly. "I walked out of there," said Borjesson, "feeling like I'd cooked my own goose."
When CBS finally aired the story, it used what Borjesson calls "a classic avoidance tactic" to keep Sanders off the air while reporting--and dismissing--his side of the story.
Borjesson was elated, however, when 60 Minutes expressed its interest in doing the story. She thanked its senior producer, telling him that 60 Minutes was the "last broadcast with balls." Borjesson put the residue sample in the producer's desk for safekeeping until she could locate a lab.
The FBI 302 tells the dispiriting story of what happened next. Two Special Agents visited CBS and talked to a senior attorney, Howard Jaeckel. Jaeckel told the FBI that "disclosing a source is very sensitive to us."
That much perfunctory business out of the way, Jaeckel and CBS eagerly cooperated with the FBI to the point of deep-sixing any scheduled production on the subject and meekly handing over the untested residue sample.
Abandoned by the last broadcast with balls, James and Elizabeth Sanders were charged with conspiracy under a law that had been enacted to discourage scavengers and souvenir hunters, not reporters.
At the time of their arraignment on Long Island, none among the media managed to pose even one First Amendment question. The reporters found it much more comfortable to frame the Sanders' transgression as simple theft.
When the Sanders' lawyer attempted to bring this issue into focus, Newsday's Bob Kessler argued the government line, insisting that the Justice Department had not found sufficient evidence to declare James Sanders a journalist entitled to First Amendment protection.
This shocked Sanders in that the Riverside Press-Enterprise article had identified him as an "investigative reporter," detailed his previous nonfiction books, and described his inquiry into the TWA 800 investigation over the preceding five months.
Another reporter asked the attorney why his client did not immediately return the residue to the NTSB and turn Stacey in to the FBI. Sanders shook his head in disbelief. Was it only a generation ago that the New York Times made Daniel Ellsberg a hero by publishing the purloined and fully classified Pentagon Papers?
Of course, just four years later, as soon as a Republican re-occupied the White House, whistle blowing came roaring back into vogue with almost comic ferocity.
No state secret was safe anymore, even if its revelation endangered the world.
At the end of 2002, self-parody reached something of journalistic peak when Time Magazine named as its "Persons of the Year" three female whistleblowers.
"They took huge professional and personal risks to blow the whistle on what went wrong at WorldCom, Enron and the FBI," said the newly vigilant Time, "and in so doing helped remind us what American courage and American values are all about."
Airsickness bag, anyone?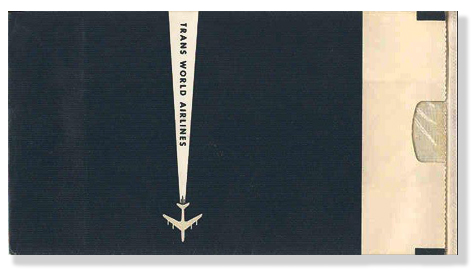 Above: a picture of an actual TWA airsickness bag