by Jack Cashill
Published in WorldNetDaily.com - April 16, 2009

Calling it an "inadvertent omission"—a phrase that rings about as true in confirmation circles as "wardrobe malfunction"-- Democratic Health and Human Services nominee Kathleen Sebelius (at left) fessed up on Tuesday.
The Kansas governor conceded that through her PAC and her campaign, she has cashed not the reported $12,450 in checks from the nation's most notorious late term abortionist, Dr. George Tiller, but some $40,000.
Senate Minority Whip Jon Kyl (R-Ariz.), who has been pressing Sebelius about her relationship with Tiller, needs to press a little harder still. The secrets are close to the surface.
Kyl might start by asking Sebelius about the elegant but extremely discreet soiree she threw for Tiller on April 9, 2007 at Cedar Crest, the governor's Mansion.
What makes this event worth revisiting is that just a few months before the soiree, then Kansas Attorney General Phill Kline had filed 30 counts against Tiller for performing illegal late-term abortions.
Tiller stood accused of taking the life of fifteen fully viable unborn babies whose mothers were equally healthy in utter disregard of Kansas law. Time to celebrate, discreetly of course.
Among the more revealing of the photos taken at the event is one of Sebelius holding a T-Shirt presented to her by Tiller, which reads "Trifecta 2006: Sebelius, Parkinson, Morrison." In the photo, Sebelius points at Tiller as if to acknowledge his contribution to that victory.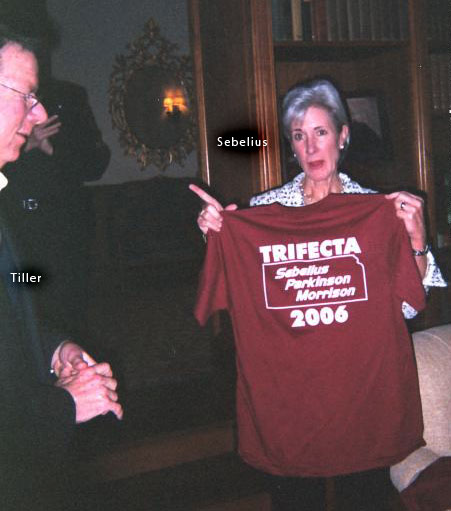 "Morrison" refers to Paul Morrison, a popular Johnson County District Attorney. With Tiller's massive financial support at the ready, Sebelius had persuaded Morrison to switch parties and run as a Democrat against Kline.
The $40,000 Sebelius got from Tiller is pocket change compared to the money Sebelius helped finesse into the campaign against the heroic, hard charging Kline.
Tiller would eventually put up an estimated $1.2 million to successfully unseat Kline, almost all of it through various PACs and cut-outs.
And that, as they say, is just half the story. To complete the picture, Kyl might also want to ask Sebelius why she was partying a month after the Cedar Crest soiree with another entity being investigated for illegal abortions, Planned Parenthood of suburban Kansas City.
On April 10, 2007, Shawnee County District Judge Richard Anderson had told the assistant AG representing Paul Morrison, "There is evidence of crimes in [the Planned Parenthood] records that need to be evaluated."
Anderson had quietly shared a Planned Parenthood report with a document expert from the Topeka Police Department.
As Anderson later testified in open court, the expert concurred with his suspicions that the reports "didn't match up," that they, in fact, appeared to have been counterfeited.
A few weeks after Anderson's warning, in May 2007, Planned Parenthood held a gala fundraiser in Kansas City, Missouri's historic jazz district.
The two featured guests were Planned Parenthood's national president Cecile Richards and Governor Kathleen Sebelius, whose birthday was the rationale for the party.
By the end of the evening, according to the local Planned Parenthood newsletter, "Hundreds of PPKM supporters were dancing in a conga line around the concert hall."
Leading the "dancing pack" was Peter Brownlie, the local CEO whose abortion clinic was at the center of this deadly serious criminal investigation.
The Planned Parenthood crowd "sure knows how to have fun!" enthused the newsletter reporter.
To sum up, in the spring of 2007, Sebelius was openly partying with the subjects of not one, but two ongoing criminal investigations, at least one of whom was a major donor to her campaigns.
Not surprisingly, neither of these organizations has been brought to justice. With Kline deposed, Morrison dropped the serious charges against Tiller, and the charges against Planned Parenthood have languished without Kline's direction.
One more thing. As governor, Sebelius oversaw the Kansas departments of Social and Rehabilitation Services and Health and Environment.
Not surprisingly, both resisted the investigation of Tiller and Planned Parenthood every step of the way. This is one more area of inquiry for Kyl.
The Senate is likely to vote on Sebelius' nomination after returning next week from the Easter recess.
Before going to the floor, Kyl might want to ask Sebelius one final question: How it is that Kansas, the reddest of red states, has become the world capital of late term abortion?
There are people in Kansas who would pay to hear her answer.