© Jack Cashill
Published in WND.com - November 2, 2011
The Lawrence Journal World thought it was doing Dr. Ann Kristin Neuhaus, a long time associate of the late abortionist George Tiller, a favor.
This past week the paper ran a positive article on Neuhaus, whose reputation recently took a battering at a hearing held by the Kansas Board of Healing Arts (KBHA).
Unfortunately for Neuhaus, she let slip in this exclusive interview an odd admission that may have repercussions for herself and for others accused, rightly or wrongly, of failure to report child abuse.
As the Journal World acknowledges, the KBHA inquired into complaints that Neuhaus had been negligent when providing medical second opinions in the cases of 11 girls seeking abortions, ages 10 to 18.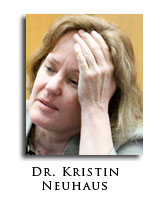 According to former Kansas Attorney General Phill Kline, Neuhaus would go to Tiller's Wichita clinic twice a month on average. There she would sign a form letter printed out by Tiller.
The letter would verify Neuhaus's finding that without a late-term abortion the girl in question would suffer "substantial and irreversible damage to a major bodily function." Says Kline, "No diagnosis – every letter the same. She received $300 a signature."
When the patient files were finally reviewed during the recent KBHA hearing, it was revealed that Neuhaus was routinely translating conditions like "horses are my life and having kids would mess that up for barrel racing" into "substantial and irreversible damage to a major bodily function."
It was unchecked diagnoses like these that turned Kansas into the world's late term abortion capital. Neuhaus acknowledges performing 10,000 abortions of her own.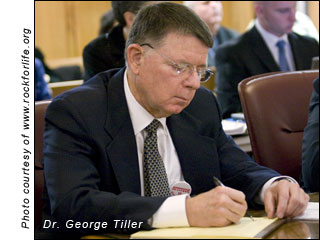 By 2002, however, the year Phill Kline was elected attorney general, Neuhaus's practice had been reduced largely to laser hair work and rubber stamping Tiller's opinions.
Neuhaus had a history. In March 1999 the DEA severely limited her ability to write prescriptions. Six months later, the KBHA began monitoring Neuhaus, insisting she undergo random drug testing and take remedial medical classes. On two occasions, the Board labeled her a "danger to the public."
The obvious notwithstanding, the Journal World took pains to rehabilitate Neuhaus's image in no small part to preserve Tiller's memory as a martyr. Tiller was gunned down in 2009.
Said Neuhaus of Tiller, "He was one of the most profound people I could ever talk to." In her opinion, it was the Kansas attorney generals, Kline most notably, who failed to protect Tiller. "To me, the state of Kansas was highly complicit in the murder of Tiller," she added.
The first post on the Journal World blog— "A courageous woman"--captures the thrust of the reporter's take on Neuhaus, and the article more or less sums up the local media's take on the Tiller saga.
Indeed, in 2006 the Kansas City Star won Planned Parenthood's top editorial honor, the "Maggie," for its spirited defense of Tiller and its successful effort to thwart Kline's reelection bid.
In an effort to clear her name, however, Neuhaus, like Hamlet's player queen, did protest too much. She told the Journal World that "she has counseled many young girls who were raped."
"Women are coming from all over the country with immensely complex stories," said Neuhaus. "You are trying to do the best you can to deliver the medical help we are sworn to do."
What Kline discovered upon taking office in 2003 was that these rapes of under-aged girls were not being reported to the Kansas Department of Social and Rehabilitation Services (SRS) as mandated by law.
In the years 2002 and 2003, 166 girls under-15 had abortions at Kansas clinics, the great majority of them at Tiller's clinic in Wichita or Planned Parenthood's in suburban Kansas City. All of these qualify as rapes. All of them should have been reported to SRS.
During these two years Neuhaus was providing the second opinions at Tiller's clinic. During these same two years, Tiller's clinic only reported one case of child rape to SRS, and that case was already in the news and under investigation by authorities. Planned Parenthood reported only one as well and that for the same reason.
The purpose of the mandatory reporting laws is to remove a child from a situation in which the abuse is likely to happen again.
As the abortion clinics understand, however, if they report these underage cases faithfully, they will scare away a good deal of business. For the father of the unborn, an abortion is an effective way to destroy the evidence of rape.
It is not unusual for the father, especially if he is the stepfather or boyfriend of the girl's mother, to bring the young girl in for the abortion and then take her right back to the environment in which she was being raped.
As the video stings on the various Planned Parenthood clinics have shown, these abusive scenarios are well understood by clinic workers.
To date, none of this information has made much of an impact on the major media, local or national. The hypocrisy has reached new depths locally given the Kansas City Star's hysterical assault on Kansas City Bishop Robert Finn for the diocese's slow response in the case of a priest who was taking indecent photos of unaware young girls.
As creepy as the priest's behavior was, no young girl was sexually abused or returned to a dangerous environment. The same cannot be said for the girls Neuhaus claimed to have counseled and the media continue to ignore.