© Jack Cashill
Published in ingramsonline.com - January 2012
To position Kansas City as America's entrepreneurial capital, area leaders need to distinguish crony capitalism from the real thing.
Happily for them, the ill-fated Citadel Plaza project has surfaced once again, and it makes for a splendid case study on that very distinction.
On its Web site, the Pittsburgh architectural firm JSA still posts a lovely image of the proposed $106 million concoction. As envisioned, this quasi-lifestyle center, which would sit just north of 63rd Street and west of Prospect Avenue, would consist of more than 250,000 square feet of retail, including shops, a grocery store, a bank, and restaurants as well as residential units and several commercial buildings.
Before proceeding, a real entrepreneur, one who put up his own money, would have asked, "If we build it, will they come?" The answer to that question, with about two hours' worth of research, would have been, "Are you kidding?"
The location was never going to help. Its ZIP code, 64130, scares even the Post Office. The usually sensitive Kansas City Star describes the neighborhood as "a murder factory that spans generations."
Over the past five years, in fact, a resident of this ZIP code was roughly 120 times more likely to be slain than a resident of, say, Shawnee. These kinds of numbers do not exactly reassure our timid suburban friends who gird their loins just to brave the Country Club Plaza.
The locals could not have supported the center if they wanted to. Those trapped in 64130 have roughly half the income of the average Missourian and twice the rate of poverty. The median home price is $65,000, again less than half the Missouri average. Married couples with children make up less than 7 percent of all households.
The ZIP code immediately to the south—64132—is only marginally more functional. Its median household income is about 60 percent of the state average.
The ZIP codes to the west might seem to hold more promise, but only to the willfully blind. To get to the Citadel Plaza, would-be shoppers would have had to ignore the vital shopping centers in their own neighborhoods—Ward Parkway, Brookside, the Plaza—and head east on 63rd Street.
In crossing Troost, they might be greeted, as I was while doing my research, by a Nation of Islam member wandering the street selling newspapers and (curiously) pies. They would drive past the empty storefronts of the chronically troubled Landing Shopping Center and the largely vacant Metro Plaza shopping center, and then head another half-mile or so to the proposed Citadel Plaza.
Yes, there are many guilty white people in those neighborhoods, especially around UMKC, but not enough and not that guilty. To get a developer to pony up private money for a project with so little market potential, the city would have had to kidnap his children and hold them for ransom. As it turns out, that would have been the more sober course of action.
Instead, city leaders turned to the one developer in the metro with a proven track record in launching hopeless shopping centers, the CCC-KC, the Crony Capitalist Corporation of Kansas City. I am sorry. My mistake. I meant the Community Development Corporation of Kansas City.
Created in 1969 as part of a nationwide effort to redevelop inner cities, the CDC-KC has been leveling the city on your dime ever since. To be fair, Kansas City's version is not a uniquely troubled CDC. Indeed, in the world of community organizing, it is seen as something of a success. If nothing else, it has sustained itself for lo these 40-some years.
In 1986, the CDC-KC developed the Linwood Square Shopping Center with financial help from the city and such unlikely—and unthinking—suspects as the federal departments of Housing and Urban Development and Health and Human Services. Today, the half-vacant center celebrates 25 proud years of blowing off creditors, failing to pay bank loans, and wasting taxpayer dollars.
Throughout the years, the CDC-KC has been kept afloat by pure hot air. Its boosters tell spectacular fibs about its accomplishments; its entrepreneurially challenged patrons nod politely and circulate the OPM—other people's money.
In 1993, for instance, while pitching Congress for more CDC funds, then-Congressman Alan Wheat told his colleagues that CDC-KC's "productive ventures" had turned inner city KC "into a thriving and productive environment." In 2007, then-CDC-KC president William Threatt Jr. described Linwood Square as a "resounding success." Two years later, it fell into receivership.
Awed by its many successes, in 2005 the city gave CDC-KC $5 million to raze the existing properties on the Citadel Plaza site. Its contractors proceeded to clear the site so indifferently to law and good sense that they rendered it toxic from liberated asbestos and ran up huge fines in the process. They should have quit while they were ahead.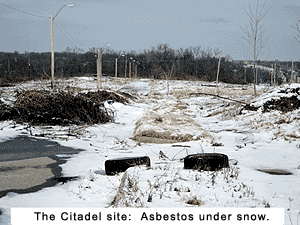 The CDC-KC honchos, however, knew something that market-oriented planners did not. To succeed, at least on crony capitalist terms, they didn't need to recruit thousands of paying customers. They only needed the 13 then sitting on City Council.
I have heard more than a few people call the 2007–2011 version the "stupidest city council in history." I think that a bit harsh. "Least entrepreneurial" is more accurate. Council members were smart enough to know that giving CDC-KC more money at this point was pure folly, but were sufficiently cavalier about OPM to do so anyhow.
Or at least appear to. Council members had a trick up their collective sleeve. They would build into the deal conditions the CDC-KC could never meet—like resolving past lawsuits and paying back taxes—to keep from actually having to pay the money out.
Having convinced themselves of their craftiness, the council members in late 2008 unanimously signed off on a conditional $20.5 million advance to the CDC-KC to break ground on the Citadel Plaza, the first installment on a presumed $45 million commitment.
For the City Council, this seemed pure win-win-win. Its members could appear to promote "growth," appease the unspecified political powers on the "east side," and then renege on the deal in seeming good faith.
Unfortunately, a mock jury called their bluff. The jury assessed the liar's poker that the council and city staff had been playing and ruled in favor of the CDC-KC and its subsidiary, the Citadel Plaza LLC. Rather than go to court, the city decided to settle up with the Citadel Plaza LLC for $15 million and invest $3.5 million more to finish clearing—and decontaminating—the site.
In the way of justice, six members who authorized the deal still sit un-chastened on the City Council. Heather Brown, the city attorney whose name appears all over the offending ordinances, has recently been appointed head of the TIF Commission. And the CDC-KC lives to write new chapters in the crony capitalist playbook.
Kansas City—the entrepreneurial capital? Not quite yet. At least not until the city understands what "entrepreneurial" means.