About
Jack Cashill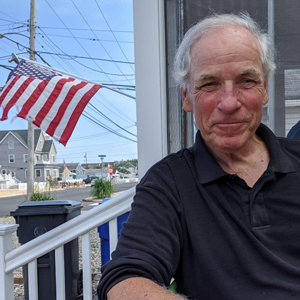 Jack Cashill is an independent writer, documentary producer, and media consultant.

Jack has written for Fortune, The Wall Street Journal, The Washington Post,  The Weekly Standard, AmericanThinker, WND, The American Spectator, the Washington Times, and serves as executive editor for Ingram's, a regional business magazine.
Jack has published fifteen books under his own name and collaborated discreetly on twenty others. He has produced a score of documentaries for regional PBS and national cable channels.
Jack has a Ph.D. from Purdue University in American studies, has taught media and literature at Purdue and at Kansas City area universities, and served as a Fulbright lecturer in France.
To contact, please email Jack at jackcashill@yahoo.com.
Control Casting
T
he medium we call control casting enables you to create your own controlled message of any length and send it to thousands and thousands of people through email and your own web site. We can shape your message, coach you on its delivery, light it, shoot it, edit it, and put it online.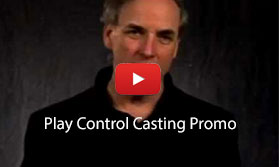 If you have a candidate, a cause, or a business you would like to promote, please contact me through jackcashill@yahoo.com or call 816-456-1787..
Public Speaking
A
lthough I usually speak on political topics, I am pretty fluent on a wide range of other topics, including history, religion, media, and finance and have spoken everywhere from the Sorbonne to Silicon Valley. Based in Kansas City, I can reach any destination in the U.S. within a couple of hours. I believe in entertaining the audience as well as informing them, and I have to keep fighting back the urge to do stand-up.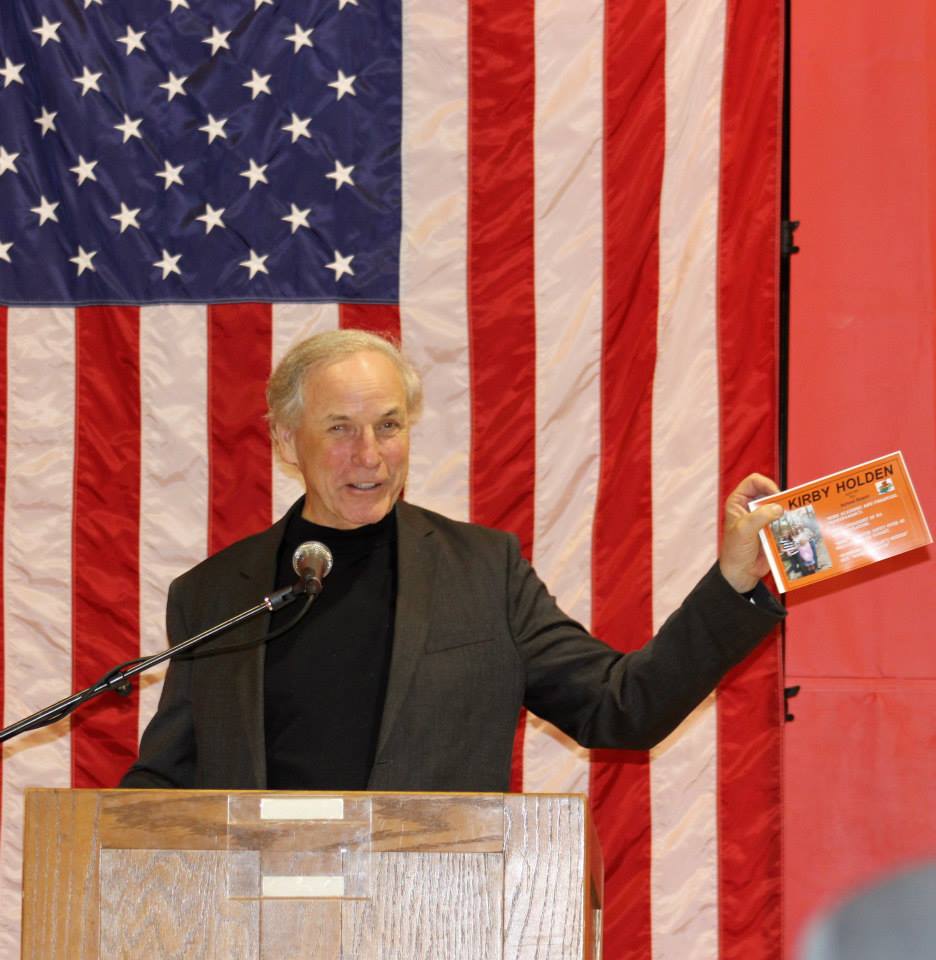 Media training
I
n his 20-year career as a TV and video producer, Jack Cashill estimates that he has interviewed at least a thousand executives and other professionals, ranging from Mr. Bill to Henry Bloch to Pope Benedict XVI. As a best-selling author, he
has himself been interviewed at least 500 times on radio and TV, local and national. In addition, he hosted a popular daily radio show in Kansas City for five years and one year on a national network.
He has written for the Washington Post, Fortune, The Wall Street Journal, and The Weekly Standard and has served as Executive Editor of Ingram's Magazine for the last five years. Jack has a Ph.D. from Purdue and has taught mass media and marketing at Purdue, UMKC, Rockhurst, and as a Fulbright professor in France.
The goal of media training is simple enough: to provide executives with the skills and the confidence to master any and all relevant media, television, radio, video, multimedia, and print. Jack has experience in all of the above. He and his associates can tailor the presentation to fit your organization's needs.
Course Offerings:
Media 101: What the media want and what you can do to provide it.
Television 101: How to master television and make it work
Radio 101: Talk radio and its uses, with a real practicum as well.
The Press Conference 101: How to stage and manage a press conference.
The Art of the Corporate Video 101: How to look good in your own videos and have them say what you want to say.
Television 201: The Talk Show: A Real Life Practicum.
Television 102: The Individual Interview: Kinder and gentler than you think.
Speechwriting
J
ack Cashill has written speeches for CEOs of Fortune 500 companies, heads of national associations, and political figures, including one serious presidential candidate (Alas, he lost!).
As the absence of names and references suggests, this is a very discreet service.
Video Production
J
ack Cashill has worked as an independent writer, director and producer for the last fifteen years, In that time, he has been able to create any number of long form video documentaries, at least a dozen of which have appeared on national
cable or regional PBS stations and one of which, The Royal Years, has won an Emmy.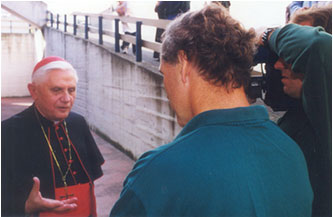 He recently completed the prelims of a feature length film as co-writer and director, working title, Dreamers, about the retrieval of the Steamboat Arabia.
Left to Right: Cardinal Josef Ratzinger (now Pope Benedict XVI), Jack Cashill, and Mike Wunsch (camera) President of Outpost Pictures
Video/ Productions (within the last 12 years):
My most recent production, Mega Fix, was shot in HDTV and represents a hybrid
format we call documentary stand-up. It uses excerpts from my previous documentary on TWA Flight 800 called Silenced, excerpts of which were also used for a History Channel production.
I wrote and produced Blue River Blues, a video documentary on the ecological history
of Kansas City, for KCPT-TV. Again, if awards matter, it won a gold in the regional ITVA.
I wrote, directed and produced From The Heart, a video documentary on
homelessness. It won The Judge's Special Recognition Award in that year's OMNIs.
I wrote and produced Crossroads, a video introduction to the history of the Kansas City
region, for The Kemper Foundation and KCPT-TV. It has played nationally on The History Channel and also won a gold in the Regional ITVA.
I wrote, directed and produced The Fall and Rise of The Steamboat Arabia for the
Steamboat Arabia Museum. It swept all major awards at Regional ITVA and has since played on Regional PBS stations throughout the Midwest, the national History Channel and the International History Channel.
I wrote and directed The Holocaust Through Our Own Eyes for the Midwest Center on
Holocaust Education. To produce this, we interviewed more than 60 Holocaust survivors and worked in concert with the National Holocaust Center in Washington. It has played on regional PBS stations, and it too swept all major awards at Regional ITVA.
I wrote, directed and produced Remember Me, KC and its sequel, The Royal Years for
KCPT-TV in Kansas City. The first video was the most successful pledge vehicle to date for KCPT. The second video was nominated for two regional Emmys and won one.
On a western tangent, I wrote, directed and produced Soul of The West for KCPT-TV
about a teacher's quest to trace the Pony Express Trail and The Life and Times of The Brothers James for The Jesse James Farm and Museum.
I produced Tradition for The Priestly Fraternity of Saint Peter, the most spectacular
video of a Latin mass ever recorded. I wrote and produced, a 90-minute documentary on the traditional Catholic movement, Pilgrimage. Shot entirely on location in Rome, the video featured Cardinal Ratzinger, now Pope Benedict XVI, and aired for national broadcast on EWTN.
I wrote and produced the Ronnie-award winning, Triumph of Design and I Was A
Teenage Darwinist, both of which have aired nationally on EWTN.
I wrote and produced Pop-Up America for the Western Reserve Historical Society
in Cleveland.
I wrote and directed Journey to Zion for Brigham Young University.
I have also written and produced any number of corporate videos, most notably the
Revolution and Freedom videos for New Tek, the makers of the Video Toaster and Light Wave.
Over the last 20 years, I have also produced literally hundreds of TV commercials
in film and video.
Marketing Consulting
A
lthough not actively soliciting business, Jack remains open to a good, intriguing marketing challenge either as consultant or producer.
For four years Jack worked for the Kansas City ad agency John Leifer Ltd., first as senior copywriter and then as creative director and executive vice president. Although the agency worked in all fields, it pioneered the field of health care advertising on a national level. If awards matter, Jack won here any number of OMNIS and national health care commendations in just about every media.
In the late 1980s he started his own agency and merged it a year later with Hickerson, Phelps & Kirtley of Kansas City where he served as broadcast producer for the agency and managed his own accounts as well.
In 1990, Jack left Hickerson to work as an independent producer and has been on his own since. From 1990-98 he worked in affiliation with Output Technologies of Kansas City and now with Firefly Marketing in Kansas City. Jack works in all media. His commercials accounts over the last few years include UMB, Sprint, H&R Block, The Nelson-Atkins Museum, The Menninger Clinic, Heartland Health System, Camp Fire Boys and Girls, New Tek, Burns & McDonnell and Ferrelgas.
Jack has also directed the media on about 15 political campaigns: mayoral, congressional, gubernatorial and issue campaigns among others as well as some speechwriting for presidential campaigns.
Education and Teaching
I
have long entertained the idea of taking back the University. To that end, I kept a thoroughly documented and updated vita. A few years ago, alas, my computer blew and took my vita with it. What follows is my "life" as reconstructed, less
comprehensive perhaps than it might have been, but then again, more comprehensible.
In 1982 I received my Ph.D. in American studies from Purdue University. My dissertation:
The Capitalist As Hero In The American Novel.
I also received my M.A. from Purdue in American studies and my B.A. from Siena
College in Loudonville, NY in English.
As a graduate assistant at Purdue, I taught mass media and a variety of composition
courses.
In 1982, I accepted a Fulbright award to teach at the Univerité de Nancy II in France.
There, I taught mass media, urban studies, and business communications. At the Université de Strasbourg, I taught the language of international finance.
At the University of Missouri, Kansas City, I have taught a variety of classes on a part time
basis over the years. Among them: mass media, advanced composition, early American literature, sports literature, and the 19th century novel.
At Rockhurst College in Kansas City, I have taught advertising copywriting and feature
writing on a part-time basis. I also redesigned the school newspaper, The Hawk, and moderated it for two years.
At Keller Graduate School of Management in Kansas City, I have taught advertising
management and marketing management in its MBA program. I also managed Keller's national ad account.
Of note, I designed and taught a series of seminars on video production for the American
Management Association and another series for Video Post Productions in Kansas City.