June 26, 2013 - WND.com
© Jack Cashill
SANFORD, Fla. – In the opening two days of the Florida murder trial for neighborhood watchman George Zimmerman, defense attorneys have gotten more good responses from two of the state's key witnesses than the prosecutors.
Zimmerman is on trial for murder in the second degree in the Sanford, Fla., shooting of Trayvon Martin in February 2012.
Sean Noffke, whose reasoned advice on George Zimmerman's call to police has made him America's most famous police dispatcher, testified that Zimmerman didn't actually disobey an order as reports have portrayed.
Assistant State Attorney John Guy walked Noffke through the mechanics of taking and responding to a call. In the questions that followed Guy's goal was to imply that Zimmerman exceeded the role of a neighborhood watch coordinator and that he did so with something like vengeance, given that the "f***ing punks" were always getting away.
Guy also hoped to plant the seed that after Zimmerman finished the call with the dispatcher, he set out to hunt Martin down. The suggestion was that by first agreeing to meet the police at the community mailboxes, then at his truck, and then just through phone contact, Zimmerman would have the freedom to roam.
But Guy may have tripped himself up when he asked Noffke why he didn't order Zimmerman not to follow Martin. As Noffke said, for liability reasons, the dispatcher could not give commands, only suggestions. This essentially put a lie to the myth Zimmerman "disobeyed" the dispatcher.
At the beginning of jury selection two weeks ago, the AP had written, "Zimmerman called 911, got out of his vehicle and followed Martin behind the townhomes despite being told not to by a police dispatcher."
As Noffke's testimony made clear, Zimmerman called the non-emergency number, not 911, exited the truck and started following Martin before the dispatcher suggested that he not follow Martin. In addition, the dispatcher is not a police officer.
Defense attorney Mark O'Mara has been consistently strong in cross-examination. O'Mara asked Noffke whether his two questions to Zimmerman about the path Martin was taking might have inspired him to leave his truck and maintain visual contact.
Noffke answered, "I understand how someone could have misinterpreted the intent of that."
Through O'Mara's questioning, Noffke also undermined the state's implication that Zimmerman was enraged and keen on vengeance.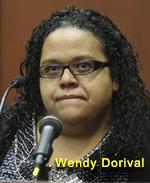 If anything, state witness Wendy Dorival, an African-American who served as volunteer program coordinator for the Sanford police department when Zimmerman's community was organizing its neighborhood watch, proved even more helpful to Zimmerman's cause.
On cross-examination by defense attorney Don West, Dorival spoke repeatedly of the many burglaries in the community.
She told specifically of how she had met with a female neighbor of Zimmerman's who had endured a home invasion and was "still shaken up by it."
On the subject of gun ownership or concealed carry, Dorival remained fully agnostic. It was not a subject that she ever brought up at neighborhood watch meetings.
But Dorival spoke highly of Zimmerman throughout and repeated the point frequently that she and her colleagues "always encourage [neighborhood watch people] to call."
"You err on the side of making the call?" asked West. "Yes," said Dorival.
"When something about them doesn't seem quite right?" asked West again. "Yes," said Dorival. The neighborhood watch coordinator is the "eyes and ears" of the community.