May 29, 2013 - WND.com
© Jack Cashill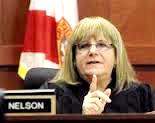 Judge Debra Nelson handed down a series of rulings on Tuesday morning that will make it considerably easier for the state to convict George Zimmerman of second-degree murder in the shooting death of Trayvon Martin in Sanford, Florida, in February 2012.
Among other rulings, Nelson ruled Martin's texts in the months leading up to his death inadmissible. These were damning.
The text messages and photos from Martin's cell phone showed a troubled young man whose life was increasingly consumed with drugs, guns, and Mixed Martial Arts (MMA) style fighting.
In late November 2011, he would tell a friend that an opponent in an MMA-style fight "got mo hits cause in da 1 st round he had me on da ground nd I couldn't do ntn."
As his girlfriend complained, Martin was "always" fighting. He was also something of a sadist. He complained that he did not make his opponent in the MMA fight "breed nuff," translated, "bleed enough."
This was particularly relevant because Witness #6, the best of the eyewitnesses to the shooting, told the Sanford PD that he saw a "black man in a black hoodie on top of either a white guy . . . or an Hispanic guy in a red sweater on the ground yelling out help," and that black man on top was "throwing down blows on the guy MMA [mixed martial arts] style."
On November 22, the day after the MMA-style fight, Martin told a friend that his mother "just kicked me out" and that he had to move in with his father. When the friend asked why, Martin answered, "Da police caught me outta skool."
Said the friend, "U a hoodlum." "Naw," said Martin. "I'm a gangsta." Incredibly, death would transform this troubled and increasingly violent young man into what Florida State Attorney Angela Corey called a "precious victim."
Judge Nelson did rule that Martin's history of fighting and his school records could be brought up during trial. The problem, of course, is that the best evidence of that history has been excluded. This information also had to be kept out of opening statements.
The text messages and photos in question gave ample evidence of Martin's drug use. Indeed, a friend casually referred to him as "weedhead" and Martin made multiple references to his own use in his texts and in his social media commentary.
Martin's phone also contained loving photos of marijuana plants growing in pots and a hand, likely Martin's own, on a pistol.
All that evidence will be excluded. Nelson said she might allow expert testimony on marijuana found in Martin's system, but the State experts will surely try to undermine the defense experts on technical aspects of the drug's effect. In addition, none of this can be mentioned in an opening statement.
This is all relevant because Martin caught Zimmerman's eye precisely because of his behavior, not his race. As Zimmerman told the dispatcher, he "looks like he's up to no good or he's on drugs or something." He almost assuredly was.
Neither side can mention social media information in its opening statements—not that the State would want to—and it must pass authentication to be admissible in court.
It is unlikely that the the jury will learn of Martin's online identity as "No_Limit_Nigga." Among other trivialities, Nelson ruled that Martin's fake gold teeth cannot be mentioned.
Tellingly, Nelson denied the defense's motion to postpone the trial. Defense attorney Mark O'Mara wanted more time to challenge the State audio expert who reportedly is prepared to say that Martin could be heard begging for his life on one of the 911 calls.
"It won't suffice," famed defense attorney Alan Dershowitz said of the State's case when first presented. "Most affidavits of probable cause are very thin; this is so thin that it won't make it past a judge on a second degree murder charge."
Dershowitz underestimated the political pressures on the state of Florida. The probable cause affidavit said that Zimmerman "disregarded" the dispatcher's request that he stopped following Martin.
Instead, he "continued to follow Martin who was trying to return to his home." More specifically, according to Martin's alleged girlfriend, Witness #8, Martin "attempted to run home."
Despite the rigging of the evidence, the State will still have to prove that Zimmerman--despite being four inches shorter and fifty pounds heavier—managed to overcome Martin's forty-second head start to a destination no more than twenty seconds away, run him down, confront him, and shoot him.
The state apparently is prepared to make this case. The jurors, however, will not be allowed to see for themselves the difficulty of Zimmerman's task. Judge Nelson also ruled against a site visit.