July 3, 2013 - WND.com
© Jack Cashill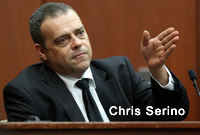 Usually, when the lead investigator testifies in a murder trial, he is the one who nails the coffin shut. Chris Serino (left), the lead investigator in the shooting death of Trayvon Martin, spent his two days on the witness stand prying the nails out.
Much to the prosecutors' chagrin—he was their witness--Serino told the court that he believed George Zimmerman's version of events of that fateful night of February 26, 2012.
So compelling was Serino's concession of Zimmerman's truthfulness that the Tuesday proceedings began with the prosecution demanding that it be stricken from the record. It was, but the jurors will not erase it easily from their minds.
On Monday afternoon, defense attorney Mark O'Mara walked Serino through the details of what he called the "challenge interview." This interview took place a few days after the shooting. Serino's goal was to shake Zimmerman hard enough to alter his testimony.
In a challenge interview, the police officer will often bluff about evidence that he may not have. Serino did just that. At one point, for instance, he told Zimmerman that one of Martin's hobbies was videotaping "everything he does."
As a result, claimed Serino, Martin had a "very impressive" library of images trapped in his phone. Serino would have reviewed them all by now "but the battery died." The SPD is "working on that," said Serino.
This buildup led to Serino's ultimate tease: "There's a possibility that whatever happened between you and him is caught on videotape."
The gambit did not work. Said Zimmerman simply and artlessly, "I prayed to God that someone videotaped it." These were the last words the jurors heard on Monday afternoon.
On Tuesday, Serino's testimony was not as compelling largely because he was being whipsawed by multiple crosses and re-crosses, each round growing less useful. If he seemed conflicted on the stand, there was a good reason why. He had been conflicted about the case from the beginning.
Within days of the shooting on February 26, 2012, various political forces began pushing and pulling on Serino. Serino would tell the FBI that three Sanford PD officers "were pressuring him to file charges against Zimmerman after the incident." These were Sergeant Arthur Barnes and officers Rebecca Villalona and Trekelle Perkins.
According to the Miami Herald, Barnes and Perkins were black, and Villalona was married to an African-American. Serino implied that these officers were also leaking information about the case.
Those leaks helped fuel the firestorm then building around the shooting. On March 12, two weeks after the shooting, Sanford police chief Bill Lee resisted the storm, at least temporarily, telling a crowd of reporters and black activists outside Sanford City Hall, "Until we can establish probable cause to dispute that [Zimmerman's account], we don't have the grounds to arrest him."
Serino would tell the FBI the same thing, namely that he "did not believe he had enough evidence at the time to file charges."
Responding to the heat, however, Lee had Serino fill out a Capias Request on a negligent manslaughter charge—"Capias" being the equivalent of an arrest warrant—on March 13.
Months later, Lee told the Orlando Sentinel he had Serino fill out that request even though he did not believe the Sanford PD had sufficient evidence to charge Zimmerman. Without it, said Lee, the State Attorney's Office would not take over the investigation.
The summary statement of the Capias Request, however, seemed to war against the evidence that preceded it. Serino may have been coerced to reconstruct events to fit a manslaughter template.
At the report's end, for instance, Serino conceded that Zimmerman followed Martin "to maintain surveillance"
This was what a watch captain was supposed to do and countered the many claims that Zimmerman stalked, chased, or even hunted Martin down—in the immortal words of one Florida congresswoman— "like a rabid dog."
In the Capias Request Serino also reported matter-of-factly, "Zimmerman can be heard in the background frantically yelling for help." In fact, Serino hesitated to press charges against Zimmerman because of this understanding.
On March 27, 2012, a month after the shooting, ABC's Matt Gutman posted a story that warred with the facts on the ground, "Trayvon Martin Cop Wanted Charge."
According to Gutman, Serino had recommended that Zimmerman be charged with manslaughter on the very night of the shooting.
Serino did not arrest him, according to Gutman, because the state attorney's office headed by Norm Wolfinger "determined there wasn't enough evidence to lead to a conviction." Gutman cited unnamed "multiple sources" for this bit of information.
Gutman's charge was as thin as the State's case has ultimately proved to be. As Serino's testimony on Monday and Tuesday suggested, his career has been collateral damage in the State's war on justice.
Four months after shooting, Serino was released from the investigative unit and sent to the patrol division. The Sanford PD passed this smackdown off as a voluntary transfer.
The media suggested that Serino was, in essence, demoted because he insisted on Zimmerman's arrest against the will of his superiors, but then again little that the major media have written about this case has proven true.