© Jack Cashill
Posted: WorldNetDaily.com - October 22, 2009
As late as the Woodward-Bernstein era, people who chased down good stories and reported the facts were called "reporters." Today, they are called "conspiracy theorists."
In trying to bust out the increasingly obvious story that Bill Ayers played a major role in the writing of Barack Obama's Dreams From My Father, I have found myself hindered by my reporting on Clinton-era mischief.
Consider the following post on Powerline by its respected and halfway sympathetic editor, Scott Johnson:
"Cashill's apparent penchant for conspiracy theories -- a look at his Web site suggests he believes that former Clinton administration Commerce Secretary Ron Brown might have been murdered -- should also give one pause."
Unlike others who have attacked from the same angle, Johnson accurately includes a "might" in describing my conclusions about Brown's death.
Before writing me off as some moonbat, however, Johnson and others might want to take a deeper look at why I came to the conclusion I did in my book, Ron Brown's Body.
What follows is just one detail out of many that should have interested any reporter. It involves a woman named Zdenka Gast, a Croatian-born American citizen.
U.S. Ambassador to Croatia Peter Galbraith entered her name into the official record. Gast had been scheduled to fly with Brown to Dubrovnik on his fatal flight but thought better of it.
Said Galbraith to Air Force interviewer Capt. John Cairney, "There were problems in—in—in this—in concluding this deal where they wanted to sign a letter of intent, and so, rather than—than go on the Brown trip, she stayed with the Inron [sic] people to do the final negotiations."
That is "Inron" as in "Enron." At the time Gast was serving as liaison between Enron and the Croatian government. Brown had died for no nobler purpose than to secure a sweetheart deal between the neo-fascist president of Croatia and a notoriously corrupt American company.
I discovered this nugget in the 22-volume Air Force report eight years after the crash. When I tried to interest my major media contacts in the Enron angle—Enron was by this time a hot item—they chose not to know. The story gets better.
"We've been looking for [Zdenka]," Cairney told Galbraith. The Air Force obviously did not look too hard. Investigators conducted 148 witness interviews, but Zdenka Gast was not among them.
I found her in five minutes of searching. When I reached her contact person, I was told, "Don't be surprised if she gets back to you in just a few minutes." I am still waiting.
Inquiring into Gast's background, I came across a Croatian language magazine named Gloria. Although I could not read the text, the photo that graces this article leapt off the page at me.
In the center of three smiling women, all linked arm in arm, is Zdenka Gast, an attractive, full-figured redhead. On her left is the then Secretary of Labor, Alexis Herman. On her right is none other than Hillary Clinton.
This was one article that I had to get translated. I did, and here is what I learned.
The story details a wedding reception for Alexis Herman at the White House, hosted by the Clintons. The reception took place a few weeks after Herman's wedding in mid-February 2000.
Only 40 people were in attendance. Those named included Bill and Hillary Clinton, Al and Tipper Gore, as well as "several governors and senators." Zdenka was about the only person there I had not heard of.
One would think that real reporters would find the Enron-Clinton connection at least interesting.
Or the fact that Hillary had made a quick side trip to Tuzla in Bosnia, Brown's point of departure, nine days before Brown fatal flight.
(Reporters did find it interesting that Hillary did not dodge bullets in Tuzla as claimed, all the better to advance Obama's candidacy.")
Or that the Air Force concluded that the plane's controlled descent off course and into a mountainside was "inexplicable."
Or that the maintenance chief responsible for the airport's navigation system showed up with a bullet hole in his chest the day before his Air Force interview.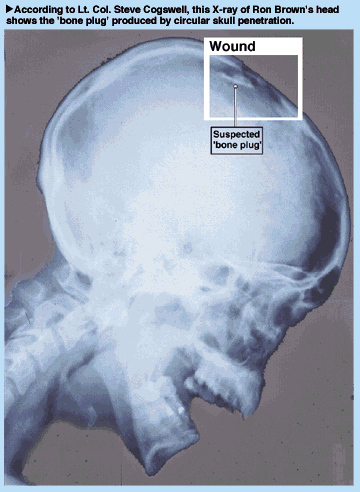 Or that Brown's fatal injury struck the forensic photographer and attending pathologist as having the size and shape of a gunshot wound.
Or that Brown was buried over the protest of the pathologists without an autopsy.
Or that a U.S. Navy criminal investigator informed the photographer that the first set of Brown's head X-rays had been destroyed because they showed a "lead snowstorm."
Or that the photographer and three Armed Service pathologists would sacrifice their careers going public with their discontent.
The mainstream media found none of this interesting enough to report on, despite the fact that the New York Times had a reporter on the doomed plane. None of them even requested the Air Force report.
For all of his flaws, Ron Brown never lost his core humanity. He was still capable of love, especially towards his children.
Just before his death, he and his son Michael were facing indictment on serious corruption charges. Brown reacted as a father would.
According to my source, Brown confidante Nolanda Butler Hill, Brown threatened the Clintons and their associates with exposure on their still unreported China fund raising as leverage for his son's freedom.
The Clintons' Indonesian, Chinese, and American corporate allies had invested much in the Clintons and could have cared less about Ron or Michael Brown or the affection between them.
Any number of them would—and did—benefit greatly from Brown's death. Whether accidental or not, it preserved their investments and likely saved the Clinton presidency.
Below, Clinton leaving Ron Brown funeral (length: 58 seconds):
Source: http://www.youtube.com/watch?v=Pr8Y9qguTgc
A month after the crash Michael Brown was playing golf with the president, and Nolanda Butler Hill was in hiding.
Eric Holder, then deputy attorney general, had warned Hill's lawyer that her statements "were getting her into trouble." She would soon enough be imprisoned on bogus tax charges.
That much said, here is how this "conspiracy theorist" concluded the book:
"Without an autopsy, the prudent reader will accuse Bill or Hillary Clinton of nothing more sinister than dreading the unknown. For fear of what they might have found—in this, the most desperate political season of their lives—the Clintons chose not to look."
Now shall we talk about TWA Flight 800?