© Jack Cashill
Posted: WorldNetDaily.com - March 27, 2008
As has become painfully normative, Hillary, the major media ask you all the wrong questions.
The current controversy centers on whether you and your daughter Chelsea actually had to dodge sniper fire upon your landing at the airport in Tuzla in Bosnia on March 25,1996.
The photographic evidence seems to suggest otherwise. But sniper fire or not, as you and I both know, this really was risky business.
As testament to how dangerous trips in and out of Bosnia could be, just nine days later, another U.S. Air Force plane carrying American officials took off from that same Tuzla airport and crashed "inexplicably" near the Croatian-Bosnian border.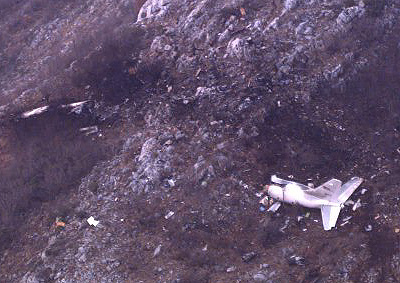 Above: Mountain side crash site of Ron Brown plane
The crash killed all 35 people on board. Risky indeed! NATO command center would warn helicopter pilots searching for the downed aircraft to steer clear of active SA-6 surface-to-air missile sites within the Bosnian borders.
You understood the risk. In your memoir, Living History, you tell how you and Chelsea had to wear flak jackets and sit in a reinforced cockpit in case of snipers or ground-to-air missiles, and there is no reason to doubt you.
The right question, Hillary, is not whether this trip was dangerous—it clearly was--but why you took Chelsea on such a trip in the first place.
According to your schedule, you spent no more than nine hours in country, did little of consequence while there, and yet exposed Chelsea to considerable risk both coming and going.
At the time, you told the press that you wanted "to visit our troops and to say 'Thank you.'" The White House even made a point of noting that "no first lady since Eleanor Roosevelt has made a trip into such a hostile military environment."
In Living History, you offered a more nuanced reason for your visit: "The administration wanted to send a strong signal that the peace accords were to be honored and would be enforced."
You also anticipated the question of why you and Bill would willingly put your 16 year-old in harm's way. Your answer: the experience would help Chelsea "mature." As the father of two daughters, I don't buy that.
I have a nagging suspicion that there was something more involved, and it likely involves the fate of the lead official killed on that doomed flight out of Tuzla on April 3, nine days later.
That official, of course, was Bill's beleaguered and increasingly desperate Secretary of Commerce, Ron Brown, the classic "man who knew too much."
In the way of background, when I accepted the commission to write the book, Ron Brown's Body, the publishers agreed to live with the possibility that the Brown plane crash was an accident.
I had presumed it was either that or a terrorist incident whose investigation was corrupted for political reasons—as happened occasionally in the run up to the 1996 election.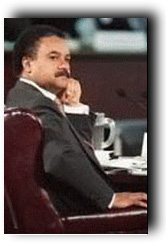 Above: The late Ron Brown
In this case, as you recall, Bill had sent Brown to Croatia to broker a sweetheart deal between the neo-fascist Croatian president, Franjo Tudjman, and an American corporation much-favored during your White House years, Enron. Remember them?
As you know, Hillary, the crash spawned more than a few conspiracy theories, some of which I was able to disprove, like the involvement of U.S. Special Forces or the murder of a surviving Air Force flight attendant.
Some facts, however, refused to go away, including the skullduggery of Croatian intelligence, headed at the time by Tudjman's son, Miroslav.
Best evidence suggests that Croatian intelligence agents lured the plane into a mountainside through the use of a rogue beacon and then diverted NATO search and rescue operations over the Adriatic for at least four hours.
In the interim, these agents found the wreckage and administered a final coup de grace to Brown's otherwise intact body—the very real hole in the top of his head, likely a bullet hole.
As it happens, airport aviation manager Nike Jerkuic had been "off" the day the plane crashed. Three days later, the day before USAF investigators were scheduled to talk to him, Jerkuic showed up dead with a bullet hole in his chest. Croatian authorities called Jerkuic's death a "suicide."
Our media chose not to investigate Jerkuic's death or Brown's or the Enron connection for that matter. Remember, they were on your side back then and the Croats' as well.
Both you and the Croats had also gotten a pass from the media just months earlier, in August 1995, when Croatian forces ethnically cleansed the Krajina area of its Serbian population.
Within a matter of days, as you recall, the Croats drove more than 200,000 Serbs from their homes and killed some 14,000 Serbian civilians. According to a UN official "Almost the only people remaining were the dead and the dying."
Unfortunately, Hillary, you guys had your hand in this, tactically and strategically. The White House gave the Croats the green light, as did Peter Galbraith, your ambassador to Croatia.
"Tudjman can do only what the Americans allow him to do," said Stipe Mesic, a prominent Croatian politician of the era. "Krajina is the reward for having accepted, under Washington's pressure, the federation between Croats and Muslims in Bosnia."
Still, as rough as the Croats could be, they had absolutely no motive for killing Ron Brown. Tudjman, as the man said, could do only what the Americans allowed him to do.
Even if Tudjman did have personal reasons to cooperate--he was suffering from cancer and likely facing a trip to the Hague to be tried as a war criminal--he would not have dared to assassinate Brown without an undeniably "strong signal" from someone in the White House.
Without even knowing it Hillary, your trip to Tuzla may have been the signal of White House seriousness that Tudjman needed to proceed.
His cooperation would seem to have paid off. In November 1996, just one week after the president's re-election, Tudjman traveled not to The Hague to be tried but to the Walter Reed Hospital in Washington to be treated.
The media may be asking you irrelevant questions now, Hillary, but consider yourself lucky. Back in the day, when it still mattered, they weren't asking you any real questions at all.