© Jack Cashill
December 13, 2007
Courtesy of wnd.com
This holiday season was supposed to one rollicking good time for the progressive, pro-abortion forces that dominate Kansas media. But it hasn't exactly worked out that way.
For nearly a year, KCTV 5 in suburban Kansas City had been preparing what promised to be a blockbuster expose of former Kansas attorney general Phill Kline, the one man who most threatened the Kansas abortion business.
Instead, the expose proved pointless and--in the words of the dependably anti-Kline alternative newspaper, the Pitch--even "creepy."
Worse, within two weeks of the KCTV 5 fiasco, a new and very real scandal erupted. This one involved not Kline, but the alleged white knight of the abortion industry and its media friends, the man they had championed to oust Kline as attorney general, Paul Morrison.
Bizarrely, there is a lot of abortion business to protect in Kansas. Thanks to a sympathetic media and some politically savvy abortion doctors, none more so than Dr. George Tiller of Wichita, this unlikely red state has emerged as the undisputed late term abortion capital of the western world.
When Kline, then the state's attorney general, attempted to enforce the state's abortion laws, the media went after him tooth and claw.
Kline was a zealot, a "theocrat," who went trawling through the private medical records of innocent young women in the hope of "furthering his ideological agenda"
Through various PACs and cut-outs, Tiller invested several hundred thousands of his own dollars to reinforce the out-of-control, "Snoop Dog Kline" message.
Fortunately for Kansans—or so the media told them--popular Johnson County District Attorney Paul Morison heard the outcry of the people, switched parties to run as a Democrat, and stopped the "extremist" Kline in his tracks.
Morrison did win, but much to the chagrin of local progressives, the Republican precinct captains voted for Kline to fill the remaining two years of Morrison's term as DA of the affluent and influential Johnson County, a Kansas City suburb.
For the media, though, Kline's return to Johnson County provided an ongoing feast. KCTV-5 took its lead from the Kansas City Star and went after the severely bloodied Kline as mindlessly as a shark.
The KCTV-5 staff spent nine months stalking the beleaguered Kline and waited for sweeps week in late November to share its much-anticipated findings.
Except that there was nothing to share. Okay, although Kline did have a "residence" in Johnson County, where he spent several nights a week, he and his wife kept a home in Topeka, the state capital, so the daughter did not have to switch high schools. Kline freely admitted as much.
And that was about it. Kline had only a year left as DA, and he had promised not to run again. Besides, as was well understood locally, no one from Johnson County really wants to live in Topeka anyhow.
To get this information KCTV-5 crews stalked Kline, his family and his neighbors for months. The hidden-camera video of Kline's wife picking up their daughter from school particularly unnerved just about everyone who saw it. The report's executive producer was reportedly fired within days of its airing.
As it turned out, the stalking time could have been more profitably spent on Morrison. As The Topeka Capital-Journal reported on Sunday, the new attorney general had been carrying on a two-year affair with a subordinate, who is now claiming sexual harassment.
It gets worse. The woman, Linda Carter, remained in the employ of the Johnson County District Attorney's office after Kline took over Morrison's job.
Carter claims that Morrison tried to use the relationship to secure sensitive information about an investigation into Planned Parenthood in Johnson County that Kline had undertaken. To be sure, Morrison denies the allegation.
Morrison has also denied in the recent past there was any wrongdoing at Planned Parenthood in Johnson County and nothing of consequence at Tiller's abortion clinic in Wichita. It is just that no one much believes him about anything anymore.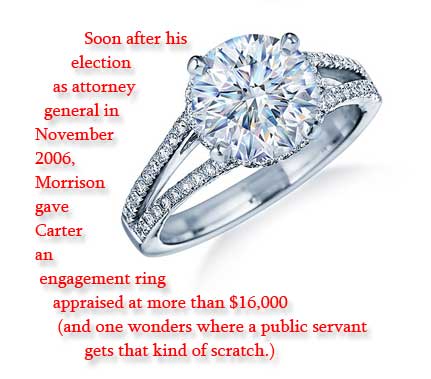 The challenge for the pro-life activists in Kansas is to keep their eye on the real story: the elevation of a morally compromised prosecutor for no larger purpose than to flout the state abortion laws and his exploitation of an illicit affair to subvert his successor's efforts to enforce that law.
The details of the tryst, however, are so wonderfully seamy that they tend to distract even committed pro-lifers.
Carter claims, for instance, that she and Morrison regularly had sex in her private office and/or his "during normal business hours." The two also had sex in a witness room assigned to a District Court judge.
During one memorable encounter, Carter claims that Morrison "gazed out the office window and wondered aloud if Kline had someone watching through a telescope."
Soon after his election as attorney general in November 2006, Morrison gave Carter an engagement ring appraised at more than $16,000 (and one wonders where a public servant gets that kind of scratch.)
Just weeks earlier, however, Morrison featured his wife and two children in a TV ad to help belie publicly aired charges of past harassment.
Da noive!
The couple never got married, due presumably to a severe case of cold feet by Morrison. As late as September 2007, however, Morrison was still professing his love for Cater and even had a heart tattooed on his arm with the initials "L.C."
Okay, I confess, it is fun to be in Kansas City this week.