By Jack Cashill
November 2007
Courtesy of ingramsonline.com
Kansas City Star editorial writer, Yael T. Abouhalkah, headlines a recent and self-explanatory column, "A Great Defeat for Billboard Blight."
Abouhalkah here celebrates the failure of the much-maligned billboard industry to collect enough signatures to overturn the Kansas City, Missouri city council's tough new anti-billboard ordinance.
Indeed, Abouhalkah expresses surprise that the billboard industry would have even contemplated gathering signatures for a cause that he and the other swells of Kansas City think of merely as "blight."
For all his virtues, only Yael could consider the defeat of a local billboard initiative "great." I would be inclined to reserve that word "great" for, say, the defeat of the Nazis in World War II or the defeat of the Soviets in the Cold War.
But that's just me. As the readers of this column might suspect, I am not among those good thought thinkers who see virtue in banning the benign. In fact, I rather like billboards and wish we had more of them.
For years, in fact, I wrote copy for billboards. I considered them—and still do—the most demanding form of advertising art. I suspect that some of the current anti-billboard animus can be traced to the decline in literacy among young ad writers.
Just as we don't ban schools when the SAT scores fall, we ought not ban billboards for a decline in cleverness. There should be a call instead to improve literacy and elevate the art form, not to restrict the canvas on which the artists write.
And what a canvas that can be. I trace my fondness for billboards to the Christmas seasons of my childhood when my family and I would make our annual pilgrimage to the Radio City Music Hall in New York City.
Our bus would disgorge us at the Port Authority on 8th Avenue and 41st street. From there we would wander awe-struck north and east through the phantasmagorical canyons of Times Square to Radio City some ten or twelve blocks away.
What made Times Square so inspiring, of course, was not the people, however low, or the buildings, however high, but the billboards. These were billboards raised to the level of art—shining, flashing, blinking, flowing streams of electronic delight, a veritable Yosemite of man-made majesty.
Nor has Times Square abandoned its electronic heritage. In visiting a friend's office last month on Seventh Avenue I sat gape-jawed as I looked out at the most surreal slice of urban vista I have ever seen from a given window. I am surprised this fellow gets any work done at all. His view makes him the envy of all his co-workers, of all who know him for that matter.
Photographers cannot resist Times Square. Painters still paint it. TV shows use it as a backdrop. Google "Times Square" to see just show thoroughly engaging an urban landscape can be. Times Square is living, breathing art. There is nothing static about its imagery. The electronic message boards run horizontally. An unending stream of honking, carbon-spewing yellow cabs run vertically. People flow throughout it. Every season is different. Every moment is.
Tourists still thrill to be part of it. From Kansas or California or Calcutta, folks shuffle along the side- walks as wide-eyed and as appreciative of the billboards as we were when we were kids. One hears not a word about "blight" in any language. I suspect the magic of it might even hush a tour bus filled with Star editorialists and the scolds from the city council.
One more thing. Ask any kid who wandered through Times Square back in the day what his or her favorite billboard was and you will get only one answer: the Marlboro billboard.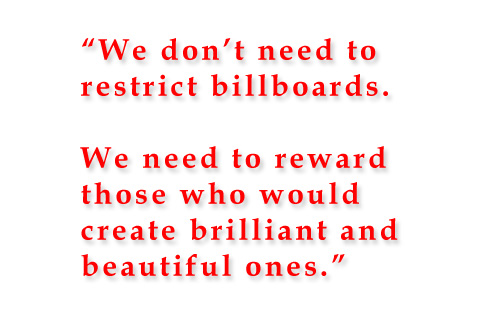 What a wonderfully incorrect icon that was! I can imagine certain members of the city council praying for my lost soul as they read this—a billboard that celebrates smoking!—but let us be honest here. That was one swell billboard.
What made the billboard memorable was that it surprised us. It showed us something that we could not see anyplace else, namely a Godzilla-sized cowboy blowing actual smoke rings. My siblings and I were mesmerized. We could watch this ersatz cowpoke blow smoke for hours.
The billboard did not make me want to smoke—I never have—but it did make me want to come to New York City. My dreary satellite city across the Hudson had all the crime and decay of New York, but no such billboards, no such excitement.
And here of course is the great irony. The folks on the City Council and at The Kansas City Star want desperately to remake Kansas City in the 19th century mold of the East coast city.
They want to compact our diffuse, charming, and uniquely car-friendly metropolis into just another ordinary urban burg right down to the light rail, the forced density, the dirty politics, the ditzy science museum, and the downtown ballparks.
Strangely, however, city leaders don't want any of the razzmatazz that comes with that. Worse, they do not understand that it is uniqueness of the city's razzmatazz that makes it worth visiting.
In fact, they turn into downright Grundys—look it up—when it comes to the vice and near vice that makes a city worth visiting: no smoking, no honking, no billboards, no gambling downtown, no sleazy tabloid newsstands.
No, if the thought leadership wants to remake Kansas City, they need to remake it on its own terms. They need to stop importing old planning schemes and new progressive forms of censorship and start thinking fresh.
An imaginative billboard ordinance would be a good place to begin. It is easy to ban billboards or limit them. Any fool city can do that. But what would make the city worth visiting are dazzling, fun, artful billboards the likes of which could be seen nowhere else between Times Square and Tokyo.
We don't need to restrict billboards. We need to reward those who would create brilliant and beautiful ones.
I think the city council might just be persuaded. It was billboards, after all, that got the prettier people on the council elected in the first place.

Jack Cashill is Ingram's Executive Editor and has been affiliated with the magazine for 28 years. He can be reached at jackcashill@yahoo.com. The views expressed in this column are the writer's own and do not necessarily reflect those of Ingram's Magazine.