© Jack Cashill
WND.com - April 9, 2014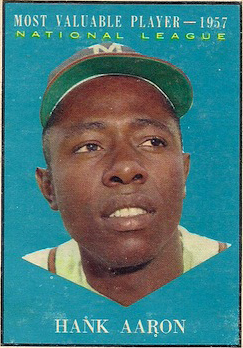 Forty years ago this week, baseball great Hank Aaron broke Babe Ruth's record for most career home runs when he hit his 715th dinger in game against the Los Angeles Dodgers.
Unfortunately for Aaron and for America, the narrative that defined that homer chase in 1974 is the same today as it was forty years ago. It is all about the "letters."
What Aaron does not know is that it was altogether possible, even likely, that the KGB orchestrated what proved to be a remarkably successful bit of racial agitprop, the letter-writing campaign in question.
"He almost has them memorized by now," the USA Today writes about Aaron and his letters, "but still he carefully opens them up and reads every word, as if he wants to feel the pain."
USA Today quotes what is presented as a typical letter. "You are (not) going to break this record established by the great Babe Ruth if I can help it. Whites are far more superior than jungle bunnies. My gun is watching your every black move."
Aaron rereads the letters we are told, "To remind myself that we are not that far removed from when I was chasing the record."
He further shows how badly the experience traumatized him by making a cringe-worthy comparison between today's Republicans and the Ku Klux Klan.
"The bigger difference is that back then they had hoods," says Aaron in a tired cliché unworthy of his character. "Now they have neckties and starched shirts." Sigh!
Before slandering his fellow Americans any further, Aaron needs to review the work of Vasili Mitrokhin, for many years the senior archivist for the KGB.
Although Mitrokhin died ten years ago, the book he co-authored with Christopher Andrew, " The Sword and the Shield," might possibly open Aaron's eyes.
For years, a disillusioned Mitrokhin made detailed copies of many of the KGB files. One KGB strategy that he exposed was the effort "to weaken the internal cohesion of the United States and undermine its international reputation by inciting race hatred."
In 1971, according to the authors, KGB chairman Yuri Andropov launched a series of "active measures" designed to "stir up racial tensions in the United States."
A common practice was to send "forged letters" to black individuals or organizations and attribute them to the Klan or the John Birch Society or the Jewish Defense League.
These measures became part of the KGB's "stock-in-trade" for the remainder of the Cold War. Although the authors do not mention Aaron, they quote a comparable letter sent by the KGB—but attributed to the KKK--to African athletes coming to Los Angeles for the 1984 Olympics.
"African monkeys," the letter reads. "A grand reception awaits you in Los Angeles! We are preparing for the Olympic games by shooting at black moving targets."
Like the Aaron letter quoted above, this has much of the same over-the-top rhetoric including animal metaphors, the use of the word "black," and a threat to shoot its target.
Aaron claims to have received thousands of such letters, most of them with northern postmarks. It is possible, I suppose, that these letters came from homegrown racists.
The evidence, however, suggests another possibility. By 1974 racial tensions had defused. Hank Aaron had few enemies. Babe Ruth had few diehard fans. And the number "714" lacked the iconic power of the number "60."
I knew some rough characters back then, but I did not know the person whose animus towards Aaron or love for Ruth would have moved him to go to the trouble of getting Aaron's address and sending him hate mail.
We do know, however, that American communists like Jim Jones, the leader of the People's Temple, had his minions doing exactly what Mitrokhin described during this same time period.
Hoping to subvert race relations in America, not strengthen them as he claimed, Jones ordered his people to write hateful, racist letters and attribute them to white people he hoped to embarrass.
We know too that in 1969 Charles Manson tried to stoke a race war by blaming the murders his people committed on black radicals—in a phrase, "Helter Skelter."
As far as I can tell there has been no scholarship or literary detective work done on the letters Aaron received. If Aaron insists on pulling a message from them, he owes it to the American people to make sure the message is the right one.