© Jack Cashill
AmericanThinker.com - January 4, 2013
On Wednesday I joined a Facebook conversation among my New Jersey relatives and friends voicing their outrage over the delay in the $60 billion Sandy relief package.
Hoping to make people think, I wrote, "I want our roller coaster up and running by this summer, and I don't care if we have to borrow from the Chinese to do it." I was referring here to the Seaside Heights roller coaster that somehow managed to slide off its crumbling pier and land standing upright in the ocean. In the process, it became something of a symbol of Sandy's wrath.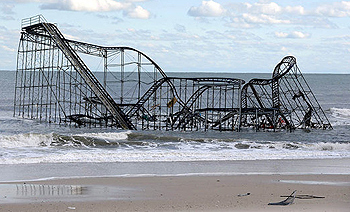 My irony, alas, passed unnoticed. Several respondents "liked" my comment. None took me to task. Yes, of course, let us borrow from the Chinese if we have to. Why not? Everyone else is.
The criticism of the Sandy Bill to date has been about the pork the Senate larded into it: the $150 million for fisheries as far away as Alaska; the $2 million for unrelated repairs at the Smithsonian; the $50 million in subsidies for tree planting on private properties; the $336 million for AMTRAK without any real plan for how the money will be spent.
What we should be questioning, however, is the money spent on direct Sandy relief, especially since we don't actually have the money to spend. I have the uneasy feeling that taxpayers—more accurately, their descendants—will be paying for my rollercoaster, and no one in New Jersey or in the media anywhere seems remotely troubled by it.
In the way of background, my family has been spending a good chunk of every summer in and around Seaside Heights, New Jersey, since I was seven years-old. Seaside sits halfway down a 20 or so mile long sandbar no more than a mile wide at its widest and a few hundred years at its narrowest. Unlike Staten Island or Rockaway in New York, almost no one lives on this sandbar year-around. On the northern end, many of the summer homes are showcases. In the Seaside area, many are glorified shacks, but the pride of ownership is as keen on one end as the other.
Everyone who has property on this stretch knows how precarious it all is. In my first summer, we were hit by back-to-back hurricanes. I remember wading around happily in waist-deep water and later watching a fishing boat, thought lost, return gloriously through the scarily rough swells in the Point Pleasant inlet. I still have storm dreams to this day.
For property owners and investors, the payoff has been worth the risk. Seaside Heights itself is the mother of all cash cows. Each summer evening its main thoroughfare, the boardwalk, is jammed from end to end with throngs of people of all ages and stripes spending goo-gobs of money at miscellaneous shops, many of which have no parallel in the free world.
On the mile long commercial stretch of the boardwalk, there was not a single vacancy last summer. I don't remember there ever being one. The Seaside chamber boasts, only a little bit grandly, of thrill rides, a water park, fun-filled amusements, action-packed arcades, Ferris wheels, merry-go-rounds, an overhead chair lift, ski-ball, frog bog, squirt gun games, balloon darts, ring toss, mini golf, go karts, old time photo shops, tattoo parlors, trendy boutiques, massage parlors, bars, discos, numerous Italian restaurants, pizza shops, Philly cheese steak restaurants, a Mexican Cantina, an Irish Pub, frozen custard and soft serve ice cream shops, saltwater taffy and fudge shops, a new bakery, and, of course, shops that serve "Seaside Heights staples like the Fried Oreo."
Seaside represents America's money culture at work. There is no public transportation anywhere near the town. There is not a single sign on the boardwalk in any language other than English. There is nothing even resembling a dress code. There is no convention center, no hotels, no buildings higher than three or four stories, no parking garages, no subsidies, no strip clubs, no "adult" book stores. Nothing is free, including the beach. And yet each weekend 100,000 or so people speaking a dozen or so different languages find their way to the boardwalk.
This summer, like every summer, members of my extended family will rent a half-dozen or so adjoining units around a common courtyard—actually an alleyway and parking lot that we have elevated to courtyard status—about a half-block from the boardwalk. These are humble places, but the prices are not. My brother and I and our families usually share a unit, a two bedroom, second floor walk-up without air conditioning that rents for $1300 a week in the summer.
Something tells me that, with or without aid, our landlord will have that unit ready by June just as the Fried Oreo storekeeper will have his shop up and running as well. These are enterprising people. Years ago, they would not have expected you and I to cover their storm losses any more than they would have expected us to cover their losses after a bad night in Atlantic City.
But that was years ago, and this is now, and everyone has his hand out, none more aggressively than the presumably Republican governor.