Get your copy of Jack Cashill's latest book, "You Lie!"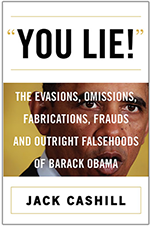 ___
Get your copy of Deconstructing Obama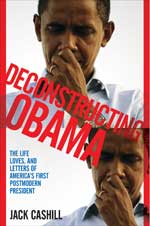 ___
Jack Cashill's book:
Hoodwinked: How Intellectual Hucksters have Hijacked American Culture
© Jack Cashill
AmericanThinker.com - December 8, 2014
Although the major media remain mum on the subject, it appears that a black female sergeant by the name of Kizzy Adoni supervised the arrest of the 6'4," 400 lb. Eric Garner in New York City on July 17, 2014. As NYPD Officer Daniel Pantaleo and former LAPD Sergeant Stacey Koon can attest, there seems to a serious double standard at play here.
Unlike Missouri, New York State allows only very limited disclosure of grand jury proceedings. What follows is based on the bits of evidence that have made their way into the public sphere. The most compelling of that evidence is the three-minute amateur video of Garner's arrest. This video has numerous edits so it is impossible to draw a perfect timeline of events.
The video shows the massive Garner loudly telling two undercover officers that he does not want to be arrested for selling black market cigarettes. Garner, 43, had been arrested more than thirty times previously on charges including assault and resisting arrest. He had also been arrested several times previously for selling unlicensed cigarettes and was out on bail when arrested.
Knowing this, the officers appear to fence with Garner while they await for back-up to arrive. They are also well aware that an unfriendly witness is shooting video. Given the edits in the video, it is impossible to tell how long they waited, but it was at least a few minutes. Finally, Pantaleo, an eight-year veteran, attempts to grab Garner's arm to handcuff him, and Garner throws him off. "Don't touch me," he shouts.
At this point, Pantaleo, who is about a half a foot shorter and 200 pounds lighter than Garner, leaps up and puts Garner in a headlock. According to Police Benevolent Association President Pat Lynch, Pantaleo did "nothing more than take Mr. Garner into custody as instructed." He did so using "the take-down technique that he learned in the academy." The classic chokehold, the kind featured in the Spike Lee movie Do the Right Thing, is intended to cause a struggling perp to lose consciousness.
Pantaleo's goal is to take Garner down, which he does with some success. He keeps him in that hold for about fifteen seconds. Had Garner not health problems—obesity, advanced diabetes, heart disease and asthma-- he likely would not have been hurt. There were 228,000 misdemeanor arrests in New York City in 2013. No others ended in this fashion.
As Pantaleo and several other officers hold Garner down to cuff him, Garner repeats several times, "I can't breathe." He obviously can, but he is clearly in some distress. A second video shows several officers tending to Garner, now lying on his side, as they await an ambulance.
Six minutes into this second video, the officers load Garner onto a stretcher, no easy task, and he is carted away. By this point, however, he seems to have lost consciousness. He reportedly suffers cardiac arrest in the ambulance and dies in the hospital an hour later.
Among the few media outlets to address the role of Sgt. Adoni was the aptly named LA Progressive. Cheryl Dorsey, a black former LAPD sergeant, took Adoni to task. "I am appalled by the seeming lack of leadership displayed by the sergeant on the scene during the #ICantBreathe incident," Dorsey wrote. Adoni, Dorsey explained, was expected to manage and control the subordinate officers under her command. "So then for a sergeant, and a black woman at that, to stand idly by and do nothing is egregious," she concluded. http://bit.ly/1wLr8p9
Only Pantaleo, however, faced indictment. Adoni, by contrast, was offered immunity to testify against him. Sgt. Stacey Koon, who managed the arrest of Rodney King after a high-speed chase in 1991, had no such luck. Like Adoni, he merely supervised the scene and did not touch King during the arrest. Unlike Garner, King survived the arrest. Nevetheless, Koon was tried in a criminal court for an excess use of force.
At the trial, the defense attorneys convinced the jury that the officers were following procedure. After the acquittal of Koon and three other officers, a massive riot erupted in Los Angeles that led to fifty-three deaths. In an apparent effort to appease the black community, the Department of Justice tried and convicted Koon of violating King's civil rights—double jeopardy in all but name--and sentenced him to thirty months in prison.
Although not indicted by the Richmond County grand jury, nine of whose twenty-four members were minorities, Pantaleo may have a civil rights case of his own. As PBA president Lynch noted, Pantaleo took Garner into custody "as instructed." What caused Garner such distress was not so much the take-down as the pressure three officers, Pantaleo among them, brought to bear on Garner in trying to cuff him. Health professionals call this "restraint-related positional asphyxia." It was during this sequence that Garner repeated, "I can't breathe."
Adoni could have called the officers off, much as Koon could have called the officers off King, but she did not. The initial police report quotes Adoni as saying, "The perpetrator's condition did not seem serious and he did not appear to get worse."
That Adoni was offered immunity, and Koon or Pantaleo not, gives the appearance at least of a race-based application of justice.
Pantaleo has one other major gripe. As a result of affirmative action, collective bargaining, and the Americans with Disabilities Act, the NYPD ranks are loaded with physically useless cops. Many of them were on the scene that day. At least two male officers were less than 5' 6" and slight. Three other male officers were obese, one shockingly so, and the two female sergeants appeared to be both short and overweight. If Pantaleo had not been there, it is hard to imagine how his colleagues would have effected an arrest.
There are lessons to be learned in studying this incident, but none of them holds much interest for the activists, the media, the New York City mayor, and the White House. They have got their narrative, and they will stick to it, even after it falls apart. For their part, the police, they will quietly withdraw from pro-active policing in black communities. As the treatment of Daniel Pantaleo and Ferguson's Darren Wilson have shown, there is no future in it.