Editor's Note: This is the first of a two-part series.
© Jack Cashill
WorldNetDaily.com
March 5, 2009
A century from now, Kansas students will wonder how a state that was founded to keep the west free from slavery allowed itself to become the world capital of an even greater affront to life and liberty, late term abortion.
And they will shake their heads in dismay when they read of the rise of governor who flouted the state's abortion laws and the fall of the attorney general, who tried to enforce them.
That governor is Democrat Kathleen Sebelius. At this moment, the media are ignoring the body count she left behind in Kansas in their rush to sing Sebelius's praises as President Obama's latest nominee to head Health and Human Services.
---
To sum up, in the spring of 2007, Sebelius was openly partying with the subjects of not one, but two ongoing criminal investigations.

---
The body count is real. In the past two years alone, women have come from 48 states and many points beyond to have abortions in Kansas.
They come not because Kansas has uniquely liberal abortion laws. They come because the state's governor has been uniquely indifferent to the law's enforcement.
The state's most efficient practitioner of this dubious art, Dr, George Tiller of Wichita, has boasted on his website of having "more experience in late abortion services with fetuses over 24 weeks than anywhere else in the Western Hemisphere, more than 60,000 since 1973."
What Tiller's website does not say is that during the six years of Sebelius's reign as governor, he has ended the lives of thousands of healthy babies ready to be born to mothers as healthy as they are in full violation of state law.
Nor does the website tell how Kathleen Sebelius personally intervened to let the carnage continue. This was no small task. To succeed, she had to destroy her attorney general, Phill Kline, who was hot on Tiller's trail.
As a state representative in 1997. Kline had helped draft legislation to check the state's then thriving late-term abortion business.
The new law allowed for a late-term abortion on a viable baby only "to preserve the life of the pregnant woman" or to prevent her from suffering "substantial and irreversible impairment of a major bodily function."
The new law and the reporting requirement should have put an end to the late-term business of Dr. Tiller and a handful of others, but by this time Tiller had learned to work the system.
His first step was to use his influence to finesse a mental health exception. But even the then attorney general, moderate Republican Carla Stovall, insisted that mental health problems had to be "permanent and substantial" to justify a late-term abortion.
Undaunted, Tiller made enough strategic donations to enough politicians to assure that no one enforced the law as written or even as interpreted.
In fact, the number of late-term abortions in Kansas on viable babies actually doubled in the three years after the restrictions were passed and began to decrease only after Kline announced for attorney general.
When Kline chose to run in 2002 for attorney general, the same year Sebelius first ran for governor, Tiller sensed trouble and responded accordingly.
Through a variety of PACs and cut-outs, he invested hundreds of thousands in Kline's obscure Democrat opponent and turned a would-be landslide into a nail biter.
A more opportunistic politician would have heeded the message from the state's "moderate" establishment and left the abortion industry alone, but Kline was not easily dissuaded.
Given that the numbers coming out of Tiller's clinic had increased since the tougher law had been written, Kline began to review the required reports to see just how Tiller had been able to circumvent the law.

Kline could see that not a single doctor in Kansas had checked the "prevent patient's death" box as a justification for the abortion. All checked the "impairment" box.
Tiller, Kline saw, offered no medical diagnosis for the impairment. He simply reiterated the wording of the law, namely "to avoid substantial and irreversible impairment of a major bodily function."
Given the gravity of the procedure—that is the taking of a viable baby's life—Kline believed that some measure of respect for the legal process was due. There was only way to assess the legitimacy of the work behind that process, and that was to subpoena the patient files.
In requesting these files, Kline's began a descent into a hell that Sebelius helped keep on high broil, a hell that continues to intensify to this day.
Not content to drive Kline out of office and out of state, Sebelius and her cronies in the state judiciary are plotting Kline's bankruptcy and disbarment in the hopes of killing forever the story only Kline can tell.
Sebelius Parties Way To HHS Post
On April 9, 2007, Governor Kathleen Sebelius of Kansas honored Dr. George Tiller and his staff at an elegant but extremely discreet soiree at Cedar Crest, the governor's Mansion.
What made this event newsworthy is that just a few months earlier, Kansas Attorney General Phill Kline had filed 30 counts against Tiller for performing illegal late-term abortions.
In other words, Tiller stood accused of taking the life of fifteen fully viable unborn babies whose mothers were equally healthy in utter disregard of Kansas law. Party time.
Among the more revealing of the photos taken at the event is one of Sebelius holding a T-Shirt presented to her by Tiller, which reads "Trifecta 2006: Sebelius, Parkinson, Morrison." In the photo, Sebelius points at Tiller as if to acknowledge his contribution to that victory.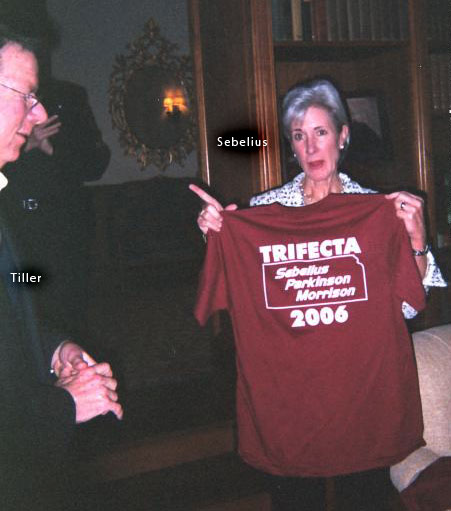 Image courtesy of OperationRescue.org
"Morrison" refers to Paul Morrison, a popular Johnson County District Attorney. With Tiller's massive financial support behind her, Sebelius had persuaded him to switch parties and run as a Democrat against Kline.
A fully complicit media—the Kansas City Star would win Planned Parenthood's top national honor for their coverage of the campaign—helped paint "Snoop Dog" Kline as an obsessed theocrat and push Morrison over the top.
Much to the media's horror, however, the largely conservative Republican precinct captains of Johnson County voted for the now widely scorned Kline to fill the remaining two years of Morrison's term as district attorney.
In that capacity, Kline was able to pursue the case against Planned Parenthood's abortion clinic, Comprehensive Health, that he had begun in 2003 under the supervision of Shawnee County District Judge Richard Anderson.
On April 10, 2007, Judge Anderson told the assistant AG representing Morrison, "There is evidence of crimes in those records that need to be evaluated."
Anderson had quietly shared the Planned Parenthood reports with a document expert from the Topeka Police Department. As Anderson later testified in open court, the expert concurred with his suspicions that the reports "didn't match up," that they, in fact, appeared to have been counterfeited.
A few weeks after Anderson's warning, in May 2007, Planned Parenthood held a gala fundraiser in Kansas City, Missouri's historic jazz district.
The two featured guests were Planned Parenthood's national president Cecile Richards and Governor Kathleen Sebelius, whose birthday was the rationale for the party.
By the end of the evening, according to the local Planned Parenthood newsletter, "Hundreds of PPKM supporters were dancing in a conga line around the concert hall."
Leading the "dancing pack" was Peter Brownlie, the local CEO whose abortion clinic was at the center of this deadly serious criminal investigation. The Planned Parenthood crowd "sure knows how to have fun!" enthused the newsletter reporter.
To sum up, in the spring of 2007, Sebelius was openly partying with the subjects of not one, but two ongoing criminal investigations.
There would be no consequences for Sebelius. Those would be borne exclusively by Kline. A few weeks after the party, Planned Parenthood secretly made an appeal to the state Supreme Court, now controlled by Sebelius appointees.
On June 7, its attorneys demanded that the patient files be returned and that Kline be held in contempt. In a rare move, the Supreme Court agreed to seal this case.
"It's unusual for the target of a criminal investigation in Kansas to sue the prosecutor," the Star would later report with some wonder. The suit would eventually cost Kline at least $200,000 in legal fees, which the state has refused to cover.
Despite the fact that in over five years of investigation, not one patient name had been revealed, the local media continued to pound Kline as an obsessive snoop, and he was defeated in 2008 in his bid to retain the DA job.
The cases that Kline launched, however, refuse to go away. Five district judges have reviewed Kline's evidence and on five separate occasions, all have found probable cause to believe Planned Parenthood and/or Tiller committed crimes.
As much as they might like to, Kline's successors as AG and DA can not just walk away from these cases. In fact, after a February hearing, Sedgwick County District Judge Clark Owens ordered that Tiller stand trial in March.
In the course of that hearing, it was revealed that during an 18-month periods more than 100 Kansas minors had abortions, but only five reports were made to department of Social and Rehabilitation Services (SRS) from abortion clinics
Judge Owens fully agreed with Kline's position that when an underage child has an unwanted pregnancy for which she seeks an abortion a report must be issued to SRS because she has been "injured" by the sexual abuse. Tiller largely ignored this law too.
As governor, Sebelius oversees the Kansas departments of Social and Rehabilitation Services and Health and Environment. Not surprisingly, both resisted the investigation of Tiller and Planned Parenthood every step of the way.
Immediately after Judge Owens ordered that Tiller stand trial, the Kansas Office of Lawyer Discipline, whose board members are appointed by the state Supreme Court, proceeded with a formal ethics complaint.
Not surprisingly again, given the sway of Kathleen Sebelius and the power of the abortion industry, it would be Kline and two of his assistants that were the subject of the complaint. This came after five years of on and off investigation.
The timing is not likely a coincidence. Kline is still the only prosecutor in the nation to ever see the inside workings of the abortion industry and believes that industry and his allies want him silenced at all cost, especially now that Kathleen Sebelius is about to take center stage.
Next, part 2: Why Goerge Tiller is on Trial in Wichita