© Jack Cashill
WorldNetDaily.com - May 20, 2010
Lost in the story of Joe Sestak's "surprise" victory over Senator Arlen Specter in the Pennsylvania primary is the less savory story of how Sestak got his political start.
In 2006, no congressman was more concerned about national security than 10-term Republican Curt Weldon of Pennsylvania.
In 2006, no person of influence was a greater threat to that security than chairman of the "global strategy firm," Stonebridge Resources, Sandy Berger.
As President Clinton's national security adviser Berger had orchestrated the fire sale on defense technology to China and then in 2004 he had been caught swiping top secret documents from the National Archives.
As proposed punishment for the theft, The Department of Justice recommended an absurdly slight $10,000 fine and a three-year loss of security clearance, which would get Berger back in the game in time for a potential Clinton resurrection in 2008.
Senior DOJ attorneys Howard Sklamberg, John Dion and Bruce Swartz were the ones who helped extricate Berger from political Purgatory. Curiously, Dion and Swartz were the same attorneys plotting to rain holy hell on the rascal who blew CIA agent Valerie Plame's imagined cover.
"Those who have worked with Dion say he will not shy away from advocating charges against any high-level Bush administration official if that's where the investigation leads," read a hopeful AP piece.
Among the colleagues quoted was Dion's immediate supervisor, Bruce Swartz. Even after Patrick Fitzgerald took over the Plame investigation, Dion and Swartz stayed on the team, Swartz reportedly as second-in-command.
Swartz, Sklamberg, and Dion were all held over from the Clinton administration. Although Dion had no obvious record of federal contributions, Swartz and Sklamberg had only contributed to Democratic candidates in federal races.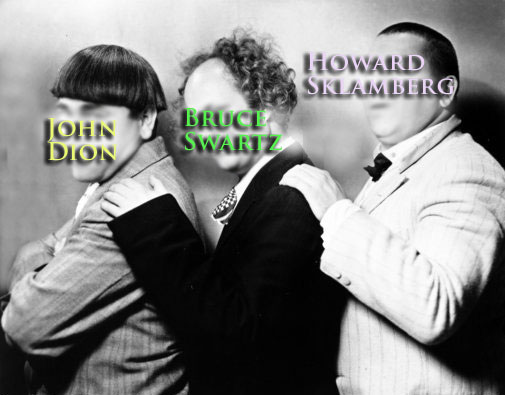 On the political front, the resurrected Berger began his spring offensive in March 2006 with a fundraiser for Weldon's opponent in the 2006 House race, none other than Joe Sestak. The former vice admiral had been forced into retirement for what the U.S. Navy charitably called "poor command climate."
Before being recruited to run for Congress by the Clinton shadow government, Sestak had expressed no political ambitions and had not lived in Weldon's district for 30 years.
Berger was not the only Sestak supporter to have a cloud hanging over his head. Donor John Deutch, formerly director of central intelligence, had signed a criminal plea agreement in connection with his mishandling of national secrets a day before being pardoned by the outgoing President Clinton.
Another interesting contribution came in from Mary O. McCarthy, recently dismissed from the CIA, reportedly for failing a polygraph on leaked classified information in regards to CIA prisons overseas. As it happened, a timely leak shortly before the 2006 election would ultimately do Weldon in.
Before the campaign was through, Clinton insiders would enlist Stonebridge's Director of Communications to serve as Sestak's campaign spokesperson, summon former president Clinton to rally the troops, and finally call in the federales.
Their reasons for supporting Sestak were transparent even to the local media. "A Sestak victory," observed suburban Philadelphia's Delco Times early in the campaign, "would muzzle a Republican congressman who blames Clinton for doing irreparable harm to America's national security during the 1990s."
Unbeknownst to Weldon, however, the FBI had opened an investigation into his and his daughter's business interests some time in the spring of 2006, just about the time Sestak's campaign was kicking into high gear.
In the summer or early fall of 2006, The FBI formally referred the Weldon matter to the Department of Justice's Public Integrity Section, the home of Sklamberg et al.
If Weldon were unaware of the judicial operation against him, he could not miss the political one. On Sunday, September 24, 2006, on FOX News with Chris Wallace, a famously angry and defensive Bill Clinton mentioned only one other Republican than George Bush by name.
"A three-star admiral," he announced out of nowhere, "who was on my National Security Council staff, who also fought terror, by the way, is running for the seat of Curt Weldon in Pennsylvania."
Without meaning to, Clinton also suggested why the war on Weldon was so important. For postmodernists like Clinton, those in power have the ability to impose their "narrative" on those without power and call it truth.
To preserve his version of events leading up 9/11 he had dispatched Berger to the National Archives, at the risk of Berger's career and reputation, to edit the official record.
On October 13, Greg Gordon of the liberal McClatchy Newspapers Washington Bureau broke a powerful and damning story, namely that the Justice Department was investigating whether Weldon had traded his influence for "lucrative" lobbying contracts for his daughter.
Gordon referred to "two sources," both anonymous. One he described as "a federal law enforcement official." The second he did not describe at all.
Although Gordon conceded that "it is possible at this stage of the investigation that nothing will come of it," this uncertainty did not stop the McClatchy Newspapers from blasting the anonymous leak nationwide.
Still, Gordon had not come looking for this story. Someone had to alert him to it and introduce him to two sources willing to talk. In a thoughtful article on the World Socialist Web Site—many on the hard left appreciated Weldon's work--Patrick Martin recognized the plot to oust Weldon for what it was. Although he misread the motives of the plotters, he did understand FBI decorum.
"It is a longstanding practice of the FBI to refrain from engaging in any dramatic action related to political corruption in the weeks immediately preceding an election," notes Martin correctly, "out of concern that this would be regarded as an effort to interfere with the electoral process."
For Weldon, things got ugly quickly. On Monday morning, October 16th, the FBI raided the homes of Weldon's daughter and a friend, allegedly for fear that documents would be destroyed if they did not do so. The leak prompted this very public raid.
By noon of that same day, a group of nearly twenty Democratic activists were protesting outside Weldon's district office in Upper Darby, carrying matching signs that read, "Caught Red-Handed." This too had to be coordinated.
On November 7, Sestak overcame a seven-point deficit in the polls just before the leaks to win with 56% of the vote. Americans, we were told, had had enough of that Republican "culture of corruption."
Oh, by the way, Weldon has never been charged with anything.