© Jack Cashill
WND.com - July 1, 2015
I know the University of Missouri at Kansas City (UMKC) well, vey well. I live about a half-mile away. I know many of the people who teach there. After two years with no raises at all, this year they got to divvy up a meager wage pool of 2 percent.
Most of the students who go to UMKC live at home and commute. Almost all of them work to pay for their education, many of them full-time.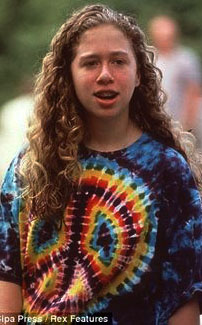 So I can imagine how they felt upon learning from the Washington Post that the university paid the 33 year-old heir-head Chelsea Clinton (left) $65,000 to speak at a gala luncheon marking the opening of a women's hall of fame.
Actually I know how they felt. I have heard from a few of them.
The speech was ten minutes long. Chelsea could have knocked that off during the limo ride from the airport. Then too there was a moderated 20-minute Q & A and a thirty-minute photo session with local VIPs.
According to the Washington Post, which obtained more than 500 pages of emails and other documents thanks to Missouri public record laws, Chelsea's contract gave her final approval of everything,
This included the selection of the person who introduced her, the nature of the chair she sat on for that arduous twenty-minutes, and the temperature of the water next to the podium.
The university really wanted Chelsea's mom. But when Hillary's office quoted a fee of $275,000, administrators balked. "Yikes!" one e-mailed another. They settled for Chelsea.
The university considered other prominent liberals including Gloria Steinem ($30,000) Cokie Roberts ($40,000), Tina Brown ($50,000) and Lesley Stahl ($50,000), but Chelsea got the nod.
Despite the fact that UMKC sits at the heart of two very red states, I can count the conservatives who teach or administer there on one hand. They all know each other, and I know them.
Given the monolithic campus zeitgeist, the planners of this event simply ignored all women who do not think as fuzzily as they do.
I am confident that the name of the most accomplished and influential woman in the state's history did not even surface. I refer here to the one American woman of her generation who most deserves to be in a hall of fame, and she a Missourian to boot, Phyllis Schlafly.
One of the comic highlights of the Post article was the revelation that Chelsea would have editorial control over the introductory remarks by the student doing the introduction.
When questioned why by the Post, a Clinton adviser, who "requested anonymity" claimed that the editing was done "to avoid what otherwise would have been a recitation of all of Clinton's achievements."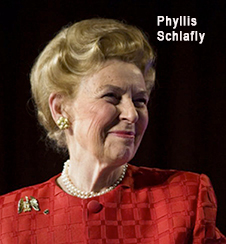 Schlafly (left) at 90, achieves more in the average week than Chelsea has in her entire life. None of it was handed to Schafly, and she accomplished what she did before the phrase "affirmative action" entered the lexicon.
Unlike Chelsea, Schlafly worked her way through college. Her job: test-firing machine guns at an ammunition plant.
Despite a war-driven, 48-hour work week, Schlafly graduated Phi Beta Kappa from Washington University and went on to earn her masters from Radcliffe.
Schlafly's background is one UMKC student could relate to. They know how hard it is to work and attend college at the same time. Chelsea has no clue.
In her thirties, while raising six children, Schlafly self-published "A Choice, Not an Echo," a book that sold three million copies, helping Barry Goldwater win the 1964 Republican nomination and creating the movement that led to the Reagan presidency.
In the 1970s, Schlafly provoked the scorn of America's progressive elites when she launched a Quixotic campaign against the Equal Rights Amendment, then just a few states away from ratification.
She earned their undying enmity when she succeeded. During the course of this campaign, the fifty-something Schlafly somehow found the time to graduate near the top of her class from Washington University's Law School.
Through the St. Louis-based Eagle Forum that she founded and over which she still presides, Schlafly has stayed engaged in just about every major policy debate that has come down the pike since.
And her speaking fee? $3,000. Knowing Phyllis, I suspect she would have just driven cross-state, paid for her own gas and not worried about the water temperature at the podium.
What an ideological disaster our universities are.