© Jack Cashill
WorldNetDaily.com
January 22, 2009
Today, in Washington D.C., on the 36th anniversary of Roe v. Wade, Liberty University law professor Phill Kline will be joining scores of thousands of other protestors in the annual March For Life.
I am here as well. We are shooting the first ever high-end documentary of the march. Called "Thine Eyes," it will be narrated by the ever-lovely actress Jennifer O'Neill, who is also here. (Please see ThineEyes.org for details).
Few people in Washington, however, will have paid the price Kline did to get here. Just two weeks ago, Kline was the District Attorney of Kansas City's most affluent suburban county.
Two years ago, Kline was Attorney General of the state of Kansas. Four years before that, when he was elected AG, the then 42 year-old Kline showed real promise of becoming a national political leader.
Smart, good looking and well spoken, Kline had the advantage of being a Republican in a state that routinely gives Republicans 60 percent of its presidential votes.
Kline had the disadvantage, however, of being unapologetically pro-life in a state whose reigning political establishment prized "moderation" even above party affiliation.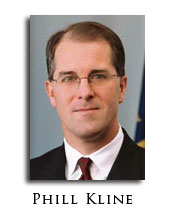 Still, had he spent his four years as AG piously mouthing pro-life platitudes and doing little else besides, Kline would have been the prohibitive favorite for the retiring Sam Brownback's U.S. Senate seat in 2010. Kline chose to do otherwise and was all but exiled from Kansas for so doing.
As Kline knew, but most Kansans chose not to, their otherwise agreeable state had emerged as the undisputed late-term abortion capital of the world.
The state's most efficient practitioner of this dubious art, Dr, George Tiller of Wichita, has boasted on his website of having "more experience in late abortion services with fetuses over 24 weeks than anywhere else in the Western Hemisphere, more than 60,000 since 1973.
There was something very wrong here. As a state representative in 1997, Kline had helped draft tough legislation that allowed for abortions on viable babies only to save the life of the mother or to prevent the "substantial and irreversible impairment of a major bodily function."
Stunningly, however, in the five years after the bill's passage, the numbers coming out of the state's two abortion shops had only increased.
Once elected AG, Kline began to review state reports. What he discovered was that Kansas was literally protecting its undersized fish more vigilantly than it was its undersized humans.
None of the patient files Kline reviewed came close to meeting the criteria for a late term abortion. The abortionists were inflating ordinary teen angst into "substantial and irreversible impairment" and getting away with it.
This revelation led Kline to a bruising six-year battle with the state's lucrative abortion industry, its media, much of its judiciary, and its ethically challenged Democratic governor, Kathleen Sebelius.
The Kansas City Star's support for "reproductive justice" in the smearing of the "anti-choice extremist" Kline was so passionate, in fact, that Planned Parenthood honored the Star with the "Maggie," its top national prize for editorial writing.
On the face of it, the abortion lobby would seem to have won. Its well invested millions, amplified mindlessly by the local media, pushed Kline out of two successive offices. So toxic had the political environment become for Kline, in fact, that he had little choice but to leave the state.
Kline, however, left behind two very hot potatoes for his successors. The new Johnson County DA, nominal pro-life Republican Steve Howe, inherits a criminal prosecution of the local Planned Parenthood for 107 felony and misdemeanors for illegal late-term abortions that has just passed a state Supreme Court challenge.
This is the very first criminal prosecution ever brought against Planned Parenthood. Howe is reviewing the case. Local Republicans will be watching Howe closely.
Sam Brownback, who supported Howe, will be running for governor in 2010. Barring the radically unforeseen, he will win. That may help put some steel in Howe's untested backbone.
Although the Democrat who beat Kline for attorney general, Paul Morrison, was quickly forced out after a seamy sex scandal, his successor, Democrat Steven Six, inherits nineteen misdemeanor charges against Tiller, based on evidence unearthed by Kline and watered down by Morrison.
Moreover, the two McClatchy newspapers that led the assault on Kline—The Wichita Eagle and The Kansas City Star—are busily self-destructing. If they succeed, they will not be missed.
"Theocrat Kline is obsessed with George Tiller, who performs abortions in Kansas," wrote Star columnist (and publisher's wife) Rhonda Chriss Lokeman, nicely capturing the Star's potentially fatal obliviousness.
Kline, of course, showed no inclination to theocracy, and to describe Tiller as "someone who performs abortions" is like describing Tiger Woods as "someone who plays golf."
Kline did, however, raise the stakes on the games Tiller and cronies had been playing. Their victory will almost assuredly prove to be a Pyrrhic one.
Some 150 years ago, Kansas succeeded in driving from the state the local leader of another civil rights issue. Undaunted, John Brown did not really hit his stride until he got to Virginia.
Let us see if the truth will go marching on once again, this time, ideally, without the broadswords.