© Jack Cashill
AmericanThinker.com - January 26, 2015
What amazed me is that Obama mentioned it all.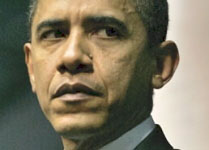 Deep into his predictably Panglossian State of the Union speech on Tuesday, the president reminded the audience of the vision he shared at his breakout 2004 convention speech, namely that there not be a "a black America or a white America?—?but a United States of America."
Pundits, he conceded, faulted him for failing to deliver on this vision, but curiously, Obama did not say the pundits were wrong. Instead, he criticized them for their cynicism, their failure to take his vision seriously. This, of course, was nonsense. The great majority of those who did not vote for Obama, pundits or otherwise, wanted him to succeed in making America "one people" as pledged.
The silver lining critics saw in an Obama presidency was his potential to confirm the viability of the American dream and the value of a two-parent family. Had Obama succeeded in confirming either, he could have gone a long way in easing racial tension and healing the pathologies plaguing black America. Unfortunately, Obama failed. He failed because he was afraid to try.
Only towards the end of the State of the Union speech did Obama serve up a single paragraph on race. It began with a sentence with which a more serious president might have opened a more serious discussion, "We may have different takes on the events of Ferguson and New York."
"We" do indeed. By a three-to-one margin, whites thought the decision not to charge Officer Darren Wilson in the shooting of Michael Brown the right decision. By an eight-to-one margin, blacks thought it the wrong one. A year earlier, 62 percent of whites thought the not-guilty verdict in the George Zimmerman trial a just one. Only 5 percent of blacks did. Although the decisions in either case were transparently just, one reason blacks rejected them was because their president failed to endorse them.
For Obama fear was as much a motive as ideology. Always insecure in his identity as an African American, Obama yielded readily to the pressure from his more authentic brethren. In the Zimmerman case, after Congressional Black Caucus head Emanuel Cleaver called the shooting of Trayvon Martin "an horrific precedent of vigilante justice,"
Obama felt he had to say something.
The White House had access to all the information the Sanford Police Department did. The courageous step for Obama would have been to defend the Sanford PD and to demand an end to the left wing lynching of George Zimmerman.
As an African American, Obama had more latitude to do this than a white president. He chose not to. Concluded Obama four weeks after the shooting: "But my main message is to the parents of Trayvon--If I had a son, he would look like Trayvon."
Six days after the verdict came down in July 2013, Obama sent his "thoughts and prayers" to Martin's family and once again identified himself with Martin. "Trayvon Martin could have been me thirty-five years ago," said Obama. As to Zimmerman and his extended family, still in hiding after a year and a half of death threats, Obama offered not a word of hope or encouragement.
If the president had called attention to the fractures in Martin's domestic life, his suppressed criminal record, his all but unseen descent into drugs and violence, and especially his reckless attack on Zimmerman, Obama might have lent a dollop of moral seriousness to his remarks. But he did not. Instead, he tacitly encouraged his audience to project their anger and anxiety on to a racial scapegoat, the "white Hispanic" George Zimmerman.
Nor did Obama rebuke those whose threats forced the Zimmermans into exile. No one expected him to. In 2009, his Department of Justice let the New Black Panther Party walk after its thugs blatantly intimidated voters in Philadelphia.
A year later, Obama behaved just as cravenly after the shooting death of Michael Brown. Before the grand jury returned its verdict, Obama met secretly with Ferguson activists, clown prince Al Sharpton included.
Said Sharpton after the early November meeting, Obama "was concerned about Ferguson staying on course in terms of pursuing what it was that he knew we were advocating." As to what "on course" meant it was hard to say. Protestors in Ferguson had already burned down one hundred buildings.
After the Ferguson grand jury decided not to charge Wilson, Obama said lamely, "Part of the rule of law is that I'm not putting my thumb on the scale of justice." This too was nonsense. Through his various meetings, speeches, and DOJ deployment, he had left thumbprints all over the case.
Here too, Obama aligned himself not with "one America" but, in the person of Michael Brown, with "black America." Said the president, "I want my children to be seen as the individuals that they are, and I want them to be judged by the content of their character." As he knew, however, Brown had been judged on the content of his character.
In the half hour before his death, the "gentle giant" roughed up a store clerk whose goods he had brazenly stolen, punched a police officer in the face, and charged that officer despite repeated orders to stop. As with the Martin case, Obama could have endorsed the rule of law and explored the consequences of defying it. Again, he chose not to.
In New York, unlike Missouri, the proceedings of a grand jury are not made public. Outside observers judged the death of rogue cigarette salesman Eric Garner on the viewing of a single video. For many blacks and random leftists, the grand jury's failure to charge Officer Daniel Pantaleo was seen not as an anomaly or the result of evidence unknown to them, but as the third act in an ongoing saga of racial oppression.
When the subsequent protests turned violent, and the protestors threatened to kill police, Obama kept his silence. When one protestor made good on the threats and assassinated two New York City cops, Obama perfunctorily condemned the murders from Hawaii and chose not to attend either funeral. The nation's police noted.
In his State of the Union address, in considering why blacks and whites responded differently to the Martin and Brown case, Obama perpetuated the false narrative he and his media allies had been peddling all along. Said the president, "Surely we can understand a father who fears his son can't walk home without being harassed."
And who might that father be? Like most young black males, neither Martin nor Brown lived with his father. Both had been bouncing around among friends and relatives for years. Obama has long known fatherlessness to be the single greatest source of dysfunction in black America, the reason why in a given year six thousand or so blacks will be murdered by other blacks, their names unknown to anyone but family and friends.
Once upon a time, Obama talked about such things. On Father's Day in 2008, candidate Obama took his campaign to a church in Jesse Jackson's home turf, the South Side of Chicago. Obama's message was unequivocal. To murmurs of approval from the almost entirely black congregation, Obama preached, "If we are honest with ourselves we'll admit that too many fathers are also missing."
Lest the listeners think Obama was speaking in general, he added, "You and I know this is true everywhere, but nowhere is it more true than in the African American community." He then spelled out the consequences, including the fact that boys who grow up in fatherless homes are "twenty times more likely to end up in prison."
An absentee father himself, Jackson took Obama's comments as a personal and professional insult. A few weeks later, awaiting a remote interview with Fox News, Jackson made his feelings known on a hot mic.

"I want to cut his nuts out," [Jesse] Jackson whispered.
"I want to cut his nuts out," Jackson whispered. "Barack, he is talking down to black people." This was all most people were allowed to hear, but there was more. Almost universally, the media edited out the participle phrase that followed "black people," specifically, "telling niggers how to behave."
Valuing his nuts, Obama has apparently felt it a safer course to tell white people how to behave, especially white police. As a result of his one-sided messaging, even law-abiding African Americans see themselves as oppressed and ordinary thugs see themselves as revolutionaries.
"I'd like to say sorry to the families of Aiyana Jones, Michael Brown and Eric Garner and I want to apologize to them for not being able to get justice for their loved ones who were murdered in cold blood." So said Frederick Young this week when asked to comment upon being sentenced for the cold-blooded murder of two innocuous white teens in Detroit. Added Young, "And in respect for the people protesting, I want to say, 'Hands up, don't shoot. Black lives matter.'"
Thus wrought Obama.