© Jack Cashill
WND.com - April 15, 2015
No presidential candidate in History has raced to the White House with more baggage than Hillary Clinton. For those too young to remember—and those in the media too eager to forget—allow me to air some of that baggage out.
***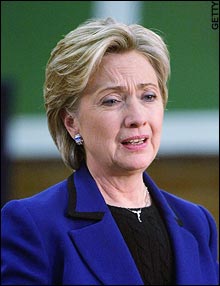 In the November 1994 mid-terms, Democrats lost fifty-two seats in the House and eight in the Senate. Mario Cuomo lost. House speaker Tom Foley lost. Popular Texas governor Ann Richards lost to underdog George W. Bush.
Bill and Hillary Clinton caught the blame. After days of anger and self-pity, they began to focus again on the one principle that had directed their lives to date-getting Bill re-elected.
Not by happenstance, just a week after the election, the Clintons were heading to the one place in the world most capable of nurturing a comeback, Indonesia, the home base of the Riady family.
The Riadys had bailed Clinton out as governor when he mismanaged Arkansas' Teacher's Retirement Fund. They had rescued him twice on the 1992 campaign trail. They had seemingly bought off Clinton aide Webster Hubbell before he had to seek a deal with Whitewater prosecutors.
Soon enough, in Utah of all unlikely places, Clinton would reciprocate in what may have been the most shocking single transaction of his presidency.
The mood on the Indonesia trip was sour from the beginning. On the seemingly endless flight over, then adviser George Stephanopoulos reported, "The president and Hillary rarely left their cabin."
This could not have been Bill's idea. What transpired in that cabin is unrecorded—in Hillary's memoir, Living History, there is no trip to Indonesia—but from this moment on, the presidency would assume a much sharper edge, and Hillary was doing the sharpening.
It was with this trip, for instance, that the CEOs accompanying the Clintons saw their $100,000 donation to the DNC morph from a discreet expectation into the price of admission.
With this trip too shadowy figures like Gene and Nora Lum, John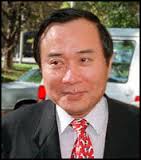 Huang (right), Charlie Trie and Thai citizen Pauline Kanchanalak began to operate in the open. All would later be charged in one scandal or another.
In Jakarta, Bill Clinton quickly got down to business. He chided Democrats for their historic "adversarial" relationship with business and Republicans for their "inactive" one. Boasted Clinton, "We have unashamedly been an active partner in helping our business enterprises to win contracts abroad."
Unashamedly?
As to human rights, Clinton's played to Democratic self-loathing to avoid talking about them. "We do not seek to impose our vision of the world on others," he groveled. "Indeed, we continue to struggle with our own inequities and our own shortcomings."
The CEOs, like John Bryson of Mission Energy, had more important things on their minds than human rights. Bryson wanted the White House to lean on the Asian Development Bank to support a massive new coal-fired electric plant for Indonesia called the Paiton project.
Although Paiton was hailed as the first "private" electric plant in Indonesia, "private" had a different meaning in Indonesia than it did elsewhere. In this case it meant owned and operated, at least in part, by the "Indo ruling family," the Suhartos.
According to Commerce Department notes from John Huang's file, a certain percentage of this project was set-aside for a management company owned by Suharto's daughter. The cut for her and other relatives was to be a $50 million upfront loan to be paid back through presumed profits generated by the plant.
This arrangement troubled the ADB, which was reportedly "skiddish" (sic) about offering what amounted to a $50 million bribe to the family of a corrupt oligarch paid, at least in part, by the U.S. taxpayer.
John Huang met with the CIA on the Paiton project as well. What the CIA did not know is after the meeting, according to the Thompson Committee, Huang repaired to " a secret office" and placed a three-hour call to his former employer, the Riadys' Lippo Group.
Lippo had a lot at stake. Mission Energy, as it turns out, was part of a larger consortium known as Edison International, and Edison was a Lippo partner. There is more. Suharto's family had secured an exclusive, no bid, no-cut contract to supply clean coal to the Paiton power plant.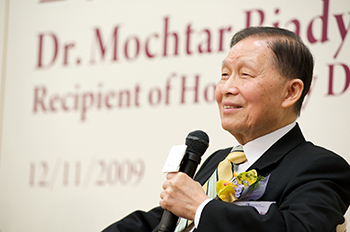 The family's financial backer in his Indonesian coal mining business was none other than Mochtar Riady(above). The Lippo Group controlled one of the only two commercially viable low-sulfur coalmines in the world, this one conveniently located near the Paiton plant in Indonesia.
Although the ADB refused to play, the deal went through in any case. What happened next on the American end of this saga raises a host of seriously troubling questions.
On September 18, 1996, CNN's Wolf Blitzer reported that using the Grand Canyon as "his picture perfect backdrop," Clinton "unilaterally" declared a new 1.7 million-acre national monument seventy miles away in southern Utah.
"We're saying, very simply, our parents and grandparents saved the Grand Canyon for us," Clinton told the cheering crowd. "Today, we will save the Grand Escalante Canyons and the Kaiparowitz Plateaus of Utah for our children."
Blitzer reported the people of Utah were "furious." They claimed it was "a land grab" by the federal government "at the economic expense of the state."
Blitzer raised the issue of coal, perhaps $1 trillion worth of clean, low-sulfur coal that would never be mined. Said the president of this grand environmental gesture, "We can't have mines everywhere and we shouldn't have mines that threaten our national treasures."
No, not everywhere, just in Indonesia. In a stroke of the pen, Clinton had handed the Riadys a monopoly on the world's supply of low-sulfur coal.
One does not need to be a conspiracy theorist to connect the dots between Utah and Indonesia. The FBI had made the connection as well. Consider the following field notes from an FBI interview with Huang:
huang laughed in response to questions concerning j. riady's interest in Utah coal restrictions. j. riady's coal interests were minimal. Indonesia had significant infrastructure problems which prohibited the development of its coal resources.
Huang was lying. The Riadys had a powerful interest, and they would exploit it for all it was worth. In fact, at the Paiton plant, the price of the coal exceeded the price of the electricity produced. Each kilowatt generated drove the plant deeper into debt.
Of course, this meant there were no profits, which meant Suharto's family members did not have to pay back their up-front $50 million loan. If this plot sounds familiar, it is because it is nearly identical to that of Mel Brooks' play and movie, The Producers.
With the Clintons in power, the laughs never stop.