Order Jack Cashill's newest book,
Scarlet Letters,
out August 4, 2015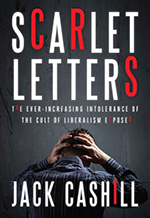 ___
Get your copy of Jack Cashill's book, "You Lie!"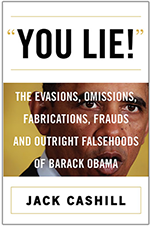 ___
Get your copy of Deconstructing Obama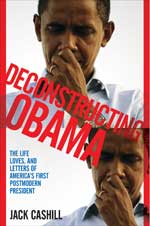 ___
Jack Cashill's book:
Hoodwinked: How Intellectual Hucksters have Hijacked American Culture
© Jack Cashill
AmericanThinker.com - July 21, 2015
Last Thursday morning I turned on the TV to watch the British Open. Unfortunately, ESPN was broadcasting it. I say "unfortunate" because ESPN announcers insist on calling the British Open "the Open" as showily as they insist on calling Bruce Jenner "Caitlyn Jenner."
They were doing a lot of the latter on Thursday morning, the morning after ESPN execs tingled their own legs at the annual ESPY's by bestowing the Arthur Ashe Courage award on the Olympic hero turned reality TV heroine.
In channel surfing my way to the British Open, I lit for a moment on the usually sane ESPN show, "Mike and Mike." Co-host Mike Greenberg was off that morning so 28 year-old sub Ryan Ruocco sat in with regular Mike Golic, a former NFL defensive tackle.
Flaunting his liberal chops for the suits upstairs, Ruocco gushed about the Arthur Ashe Award. Of course, he did not call the winner "Bruce Jenner." He refused to even say "Jenner." It was always "Caitlyn Jenner," over and over. Those who dared say "Bruce" Ruocco surely would have lumped—in his words—with "the critics who hate."
Bingo! There it was. Our progressive friends had discovered the glory of transgenderism about fifteen minutes ago, and they were already prepared to brand critics of any sort as "haters," the collective term for the non-elect in their perverse neo-puritan presbytery.
As I observe in my (incredibly) timely new book, Scarlet Letters: The Ever-Increasing of the Cult of Liberalism, http://amzn.to/1I6bkxb progressive neo-puritans show less interest in celebrating the many colors of the multicultural rainbow than they do in condemning those who resist the celebration.
Enlightened souls like Ruocco reflexively accuse resisters of hatred—in this case of the sexually confused, but more typically of blacks, of gays, of immigrants, of Muslims, of women, of poor people, even, yes, of mother earth. "Hate" stands as the umbrella sin for all dissenters. Indeed, if there is one shared ritual among the progressive subcults, it is the imputation of "hate" to the less enlightened.
In cases like the Jenner launch, a handful of people control the definition of what "hate" means. Disney owns both ABC and ESPN. Reportedly, Jenner's agents bartered his break-out interview with ABC's Diane Sawyer to secure his "winning" of ESPN's Arthur Ashe award, which, in turn, will provide fodder for several episodes of Jenner's new reality show, "I am Cait." This year too, ABC broadcast the ESPY's, its cameras zooming in on a tearful Diane Sawyer while Jenner spoke.
Of course, all involved deny a quid-pro-quo. They may even be telling the truth. Last year, ESPN chose gay NFL washout Michael Sams for the Arthur Ashe award and Disney lit up the Magic Kingdom in rainbow colors after the Supreme Court decision on same-sex marriage. Disney's worldview surely weighed as heavily in the Jenner decision as did profit.
To his credit, "Mike and Mike's" Mike Golic suggested that Lauren Hill might have been more deserving of the award than Jenner, but he was only stating the obvious. Hill, a freshman at Mount St. Joseph University in Cincinnati, fulfilled her dream of playing college basketball while suffering from an inoperable brain tumor. Before dying in April of this year, she helped raise money for cancer research. That much said, Golic went on to praise "Caitlyn Jenner" for "her" courage, wanting, one suspects, to keep his well-paying job on America's premier sports network.
Unusually slow on the uptick, the neo-puritan elect have yet to coin a term for those who "hate" or "fear" the "transitioning" among us. "Trannyphobia" might have worked, but the playful term "tranny," which was acceptable until about a week ago, has joined the n-word and the f-word among the unutterable.
Transgender activists will decide on a label soon enough. The Islamists did. In one of the more curious twists in recent progressive history, a media savvy cell in America chose to mimic gay activists who had been successfully using the "phobia" trope to defame opponents of their political agenda. The Islamists saw the same potential in the concept of "Islamophobia." With the media's help, they could and did tie their struggle to those of other marginalized groups and, in the words of one former activist, "beat up their critics."
Even without a specific word to label critics of the transgender celebration, neo-puritans already feel empowered to beat them up, literally if need be. Recently, on the TV show, "Dr. Drew On Call," Breitbart Editor-at-Large Ben Shapiro calmly observed that every cell in Jenner's body is male and that he still has all of his male appendages. So why, Shapiro asked, "are we mainstreaming delusion?" http://bit.ly/1Lq7xA7 Indeed, Spokane's loopy Rachel Dolezal has as much claim to being black as Jenner does to being female.
Shapiro's dissent troubled the transgendered Inside Edition reporter Zoey Tur. Tur placed his large paw on Shapiro's shoulder and flashed his XY chromosomes with the unlady-like threat, "You cut that out now, or you'll go home in an ambulance."
The other guests backed Tur. They agreed Shapiro had been "aggressively insulting" for saying that Tur, like Jenner, was male. "It's not a matter of aggressively insulting," said Shapiro. "The entire discussion is whether we are embracing mental illness and delusion as a society. That's the entire discussion."
In neo-puritan circles, there is no need for discussion. Once the word comes down from on high, the faithful shut down the debate, root out the dissenters, and, in this case, slap on a Scarlet T on the offender. That's their mission. They will continue to succeed at that mission unless and until enough Americans do what Shapiro did—resist!
It is almost, but not quite, too late.