© Jack Cashill
AmericanThinker.com - September 17, 2014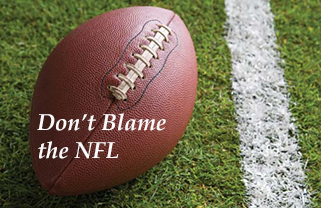 On the opening weekend of the 2014 NFL season, 1696 players suited up for game one. Of these, 1694 are in their twenties and thirties. Based on a survey I did of the AFC South division a few years ago, roughly 1170 of these players are African American.
A few have gotten into trouble lately. As every sentient American knows, Ravens star running back Ray Rice punched out his girlfriend in an Atlantic City casino elevator, and Vikings star running back Adrian Peterson roughly disciplined one of his children, perhaps two.
According to the USA Today database, these are the most prominent of the 38 black players who have had a run-in with the law in 2014. Of the 38, ten have been accused of some form of violence, usually fighting or domestic abuse. Most of the rest were arrested or cited for drug or alcohol related offenses.
During the last ten years, only a handful of NFL players have done something deserving an extended stay in a penitentiary. In 2007, Falcons quarterback Michael Vick was imprisoned for his role in a dog fighting enterprise. In 2008, Giant wide receiver Plaxico Burress shot himself in the leg and was imprisoned for criminal possession of a handgun. In 2012 Chiefs Linebacker Jovan Belcher killed his girlfriend but killed himself before he could be arrested. The one NFL player likely to die in prison, Patriot tight end Aaron Hernandez, is not black. He was charged in 2013 with first-degree murder.
What the media rarely discuss, and then only gingerly, is how black NFL players have fared compared to young black men not in the NFL. The answer, unfortunately, is much too well. According to the Bureau of Justice statistics, one in three black men can expect to go to prison in their lifetime. That is the figure cited by the NAACP in its criminal justice fact sheet. In the NFL, that figure is closer to one in three hundred.
For all its controlled violence, football provides young men, many of them from troubled homes, with all the discipline they will ever know. Had Ferguson's Michael Brown—all 6'4, 295 pounds of him—grown up in a half way functional household he would likely be alive and playing offensive tackle for some college today.
The NAACP lists any number of "contributing factors" as to why young men are dramatically overrepresented in the criminal justice system. In true liberal fashion, the editors of this fact sheet blame the seeming inequities in the criminal justice system and refuse to acknowledge the obvious answer.
On Father's Day 2008, in one of the rare honest moments of his presidential campaign, Barack Obama faced up to the core problem afflicting black America. He did so at the 20,000-member Apostolic Church of God in Jesse Jackson's home turf, the South Side of Chicago.
Obama's message was unequivocal. The New York Times took a day off from worrying about the separation of church and state and headlined its article on the talk, "Obama Sharply Assails Absent Black Fathers."
To murmurs of approval from the almost entirely black congregation, Obama preached, "If we are honest with ourselves we'll admit that too many fathers are also missing." Lest the listeners think Obama was speaking in general, he added, "You and I know this is true everywhere, but nowhere is it more true than in the African American community." He then spelled out the consequences, including the fact that boys who grow up in fatherless homes are "twenty times more likely to end up in prison."
Jesse Jackson was one of those fathers. As late as 2012, Karin Stanford was still hectoring him for child support for Ashley, their celebrated love child. Jackson took Obama's comments as a personal and professional insult. A few weeks later, awaiting a remote interview with Fox News, Jackson made his feelings known on a hot mic. "I want to cut his nuts out," Jackson whispered. "Barack, he is talking down to black people."
Suzanne Goldenberg, reporting for Britain's left-leaning Guardian, did a better job than most in the American media of assessing the political ramifications of Jackson's remarks, not so much for Jackson, as for Obama. She cited Jackson's various apologies and his plea that Obama "represents the redemption of our country," but her headline caught the dynamic behind the dust-up: "Jackson gaffe turns focus on Obama's move to the right."
Goldenberg raised the question that many on the left had been asking, "What has happened to Obama since he won the Democratic nomination?" As she noted correctly, Obama's focus on individual responsibility upset those on the left who "hold government policies to account for the impoverishment of African-American families," Jackson chief among them. Although Goldenberg did not go into detail, she raised a secondary issue that most in the America media chose not to explore, specifically "Obama's place in the African-American community."
Jackson had hit Obama where he was most vulnerable—his shaky hold on authenticity. After Jackson punched back, Obama never again made as hard-hitting a jab at the heart of the problem afflicting black America as he did in his Father's Day 2008 speech. Neither did any other liberal, black or white.
Ray Rice learned nothing about responsible male adulthood from Obama and certainly not at home. His father was killed in a drive-by shooting when he was just a year old. When he was eleven, the male cousin who looked out for him was killed in a car crash.
Until he got caught in the feminist-inspired Ray Rice backlash, Adrian Peterson had heard nary a discouraging word about the family values he had learned at home and was practicing across the fruited plane. Although his parents were both college athletes, they never bothered marrying.
Peterson wasn't keen on marriage either. That did not stop him from having an estimated seven children. The media shrugged it off, and so did the fans. Our progressive friends had established, after all, that families come in all kinds and shapes. As Petersen told the awkwardly liberal ESPN about the exact amount, "I know the truth, and I'm comfortable with that knowledge."
One of his children was a two-year-old boy known alternately as Tyrese Ruffin after Bobby Ruffin, the man who raised him, or Tyrese Doohen after his mom. Ann "Ashley" Doohen had moved on from Peterson to Ruffin to a fellow named Joey Patterson who beat Tyrese to death. A year ago, Peterson met Ty for the first time while he was still in a coma. "Daddy is sorry," Peterson said to the unconscious tot, and the media gushed.
Ruffin, like Peterson, is black. Doheen is white. Patterson is Asian. This isn't an NFL problem. This is not even a black problem. This is a cultural problem, and it is only getting worse.
Jack Cashill's newest book, You Lie!: The Evasions, Omissions, Fabrications, Frauds, and Outright Falsehoods of Barack Obama will be available October 7.