© Jack Cashill
August 10, 2006 - Worldnetdaily.com
On Thursday afternoon, March 31, 2005, within hours of the death of Terry Schiavo, the FBI entered a cracker box of a house on South Second Street in the forgotten little town of Herington, Kan.
The man responsible for the FBI's presence at the scene was a true American original, Stephen Dresch, Yale Ph.D., former college dean, Michigan state representative. forensic economist, and international man of mystery. It is unlikely that anyone had applied his level of smarts to the cause of liberty and justice for as long and as successfully as Dresch did. Alas, he died Sunday, August 6, at age 63 after a long illness that worried everyone who knew him but Dresch himself.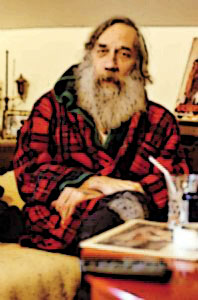 Stephen Dresch (1943-2006)
As it happens, Terry Nichols had lived in that house on South Second Street before being sent off to prison for his role in the Oklahoma City bombing. About four weeks before the FBI searched the house, Dresch had alerted me that something was up. When he called, I listened. I had never met a person with better info or better instincts than Stephen Dresch.
Two years earlier it was Dresch who had guided me through the case of the late Commerce Secretary, Ron Brown. One of the insurance companies involved had hired Dresch to find out what he could about the crash of Brown's plane in Croatia, and he discovered more than he had bargained for. This he freely shared with me without expectation of credit or profit. He also introduced me to Brown's confidante, Nolanda Hill, an introduction that proved to be the without which not of the book's revelatory power.
The investigation of Ron Brown had taken Dresch to the fertile fields of Oklahoma, where the seeds of Brown's demise had long ago been planted. There, Dresch came across still another inexplicable death, that of Ron Miller, a natural gas exec who had unwittingly found himself in the middle of a Clinton-inspired minority business scam with nasty reprecussions. When he agreed to testify before a house committee, Miller likely signed his own death certificate.
That certificate, however, read "natural causes." On his own initiative, and without recompense from anyone, Dresch gathered enough evidence to persuade Oklahoma's Chief Medical Examiner that the cause of Miller's death should be officially reconsidered. Upon further review, the Medical Examiner did just that, changing the listed cause from "natural" to "unknown."
When last I spoke to Dresch, he still expected to resolve Miller's death. Although not certain about the circumstances of his death, which strongly argued for anthrax poisoning, he confided, "I can almost guarantee you it wasn't natural causes." That he was aggravating the likely killers did not, as far as I could tell, seem to bother Dresch at all.
Not much seemed to bother Dresch, not that I could see anyhow, not even the intransigence of the FBI. The FBI agents were not long on the scene in Herington before they realized that the lead Dresch had provided was solid. Had they known Dresch better they never would have doubted. The FBI soon called in the Topeka bomb squad, evacuated the immediate neighborhood, and cordoned off a three-block area. They worked through the night and into the next day. ABC News and others were told by Oklahoma City's FBI office that explosive devices had indeed been found. The news spin, at least what little surfaced in a period of predictable news frenzy, was that the FBI was embarrassed for not having found this old material 10-years prior.
As has happened all too often in the past, however, seeming FBI incompetence provides a cover for a much more troubling story. The story, Dresch told me, revolved around an extraordinary figure, Gregory Scarpa Jr., a convicted mobster now serving hard time at the federal super max in Florence, Colo.
Scarpa had cooperated with the Justice Department in the summer of 1996 by scheming to rout the calls of jailmate Ramzi Yousef through to the FBI. Unfortunately for the United States, Yousef often used two obscure languages that the FBI could not translate quickly enough, if at all.
I have since learned from two distinct NSA whistleblowers that the key language was Baluchi, the native tongue of Yousef .
Yousef's final transmission on the subject translated as follows, "What had to be done has been done, TWA 800 (last two words unintelligible)." The day after TWA Flight 800 blew up off the coast of Long Island, Yousef asked for a mistrial, citing the now prejudicial environment post-explosion. He was denied. By allowing him to communicate overseas, however, the Justice Department may well have unwittingly assisted Yousef in his effort to destroy that ill-fated plane.
No one doubts that he and his allies were capable of it. Indeed, Yousef had bombed a plane in the Philippines, killing a passenger and almost blowing the plane out of the air. He also served as the mastermind of the first World Trade Center bombing and was convicted for the same. His uncle, Khalid Shiekh Muhammad, with whom he communicated from his New York jail, was the mastermind of 9-11.
Possibly to silence him, the Justice Department cut Scarpa no slack for his help with Yousef and deep-sixed him in Colorado for 40 years, a severe sentence for a non-lethal RICO charge.
On March 1, 2005, Scarpa called Dresch, who was consulting with an attorney on a related case. Scarpa informed Dresch that an unnamed inmate had made him aware of a cache of explosives to be used in an act of domestic terrorism, possibly on the 10th anniversary of the Oklahoma City bombing, April 19.
Dresch surmised, correctly as it turned out, that the inmate was Terry Nichols, the convicted Oklahoma City bomber, and he immediately contacted the FBI by both phone and fax, as well as Massachusetts Congressman William Delahunt with whom Dresch had been working on an FBI-related matter. The FBI visited Scarpa at the prison on March 3, two days later. Having been burned once, this time Scarpa insisted on a written cooperation agreement before he talked.
The following day, an FBI polygraph expert flew in from D.C. and administered what Dresch's own expert calls an "absurdly flawed examination." The FBI expert claimed that Scarpa was lying. Scarpa immediately called Dresch's associate, Angela Clemente, and insisted that she and Dresch visit him.
It should be noted that the FBI's current chief counsel, Valerie Caproni, was the Clinton Justice official who oversaw Scarpa's work with Yousef. To thicken the plot, it was also Caproni who illegally ordered the FBI to take the TWA Flight 800 investigation away from the National Transportation Safety Board and who arranged the prosecution of James and Elizabeth Sanders for James' reporting on the TWA Flight 800 investigation. The absurdly compromised Caproni has any number of reasons for keeping Scarpa out of the light.
On March 10, Dresch and Clemente met with Scarpa for seven hours. He gave them a letter from Nichols that provided a highly detailed description of the cached bomb making material – nitromethane, blasting caps, kine-pak, etc. Nichols had told Scarpa that he hid this second cache 10 years ago to be used as a follow up to the Oklahoma City blast.
Nichols' apparent goal in sharing this information was to bust the man who allegedly supplied the material, a reported FBI informant named Roger Moore. Nichols also wanted to expose the FBI's role in supplying Moore the material, presumably in a sting gone awry. Nichols was certain that Moore's fingerprints would be on the material.
No longer trusting the FBI, Dresch worked through a contact, who had high-level Homeland Security connections. Together, they improvised an arrangement for Scarpa, and on March 11, Dresch laid out the offer. Scarpa relented and provided Dresch with the address of the house and detailed descriptions of the location of the cache within it.
Dresch went to Herington the following day and found the house to be vacant and for sale. His well-connected contact had not followed through, however, on retrieving the material and giving Scarpa credit where due. Only later did the contact claim that his people were watching the site waiting for someone to retrieve the material. It would take nearly three more weeks, the day of Schiavo's death, for the FBI to go in.
When I visited the house on Saturday morning, the day after the FBI left, there were neither media, nor police, anywhere to be seen. The Scarpa story is one that many people don't want told – Valerie Caproni, chief among them.
The Stephen Dresch story is another. He was the one investigator with the moxie to put all the relevant pieces together. And if he could have, he would have.
You don't win many friends in high places with that kind of attitude. But as his career bears testimony, Stephen Dresch didn't need those kind of friends or those kind of places.