© Jack Cashill
AmericanThinker.com - April 14, 2014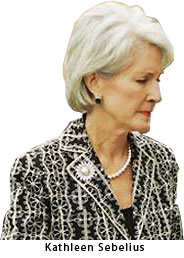 In the wake of Kathleen Sebelius's ouster from her job as secretary of Health and Human Services, there has emerged a debate about what the Los Angeles Times calls "Obamacare and the Sebelius legacy."
From a moral perspective, though, that is like debating whether Chairman Mao's provision of free health care should overshadow the horrors of the Cultural Revolution.
To be fair, the body count Sebelius left behind in Kansas does not nearly match that of Mao, but the body count is real. During Sebelius's six years as governor, women came from 48 states and points beyond to have late-term abortions in Kansas.
They came not because Kansas had uniquely liberal abortion laws. They came because Sebelius was uniquely hostile to the law's enforcement. The state's most efficient practitioner of this dubious art, the late Dr. George Tiller of Wichita, boasted on his website of having "more experience in late abortion services with fetuses over 24 weeks than anywhere else in the Western Hemisphere."
What Tiller's website did not say is that during the six years of Sebelius's reign as governor, he ended the lives of thousands of healthy babies ready to be born, in full violation of state law. Nor did the website tell how Sebelius personally intervened to let the carnage continue. This was no small task. To succeed, she had to destroy her Republican attorney general, Phill Kline, who was hot on Tiller's trail.
The story could begin in any number of places, but a likely starting place is 2002, the year Sebelius ran for governor and Kline ran for attorney general. As a state representative five years earlier, Kline had helped draft legislation to check the state's then thriving late-term abortion business. The new law allowed for a late-term abortion on a viable baby only "to preserve the life of the pregnant women" or to prevent her from suffering "substantial and irreversible impairment of a major bodily function."
The new law and the reporting requirement should have put an end to the late-term business of Dr. Tiller and a handful of others, but by this time Tiller had learned to game the system. His first step was to use his influence to finesse a mental health exception. But even Kline's moderate Republican predecessor insisted that mental health problems had to be "permanent and substantial" to justify a late-term abortion.
Undaunted, Tiller made enough strategic donations to enough politicians to assure that no one enforced the law as written or even as interpreted. When Kline chose to run in 2002, Tiller sensed trouble and responded accordingly. Through a variety of PACs and cut-outs, he invested hundreds of thousands in Kline's obscure Democrat opponent and turned a would-be landslide into a nail-biter.
Given that the numbers coming out of Tiller's clinic had increased since the tougher law had been written, Kline began to review the required reports to see just how Tiller had been able to circumvent the law. One thing that Kline quickly discovered was that of the 166 abortions performed on girls under fifteen in the years 2002 and 2003, Kansas abortion clinics reported only three cases to the state department of Social and Rehabilitation Services. They should have reported all 166.
Kline could also see that not a single doctor in Kansas had checked the "prevent patient's death" box as a justification for the abortion. All checked the "impairment" box.
Tiller, Kline saw, offered no medical diagnosis in his reports. He simply reiterated the wording of the law – namely, "to avoid substantial and irreversible impairment of a major bodily function."
How criminal was this enterprise? Let's consider the 2003 case of a confused little cowgirl who visited Tiller's clinic in Wichita. "Horses are my life and having kids would mess that up for barrel racing" – so explained the 15-year-old who hoped to abort the healthy, viable baby whom she had already carried for more than six months.
For the official state record, Tiller interpreted the sadness that might accompany the temporary loss of barrel racing as "substantial and irreversible." And so the baby was executed with the utmost privacy, and all for only about $6,000.
At Kline's request, Dr. Paul McHugh of John Hopkins reviewed fifteen case files. McHugh stated publicly that he "saw no file that justified abortion" according to the state's late-term abortion laws. He openly asked of Tiller's practice if "any person [is] ever found to be not appropriate on psychological grounds for an abortion[.]"
Tiller spent millions keeping case record statements like "Horses are my life" out of the hands in prosecutors. In the 2006 election alone, he invested close to $2 million. He had to. For the three previous years, Kline had plied an unsympathetic state judiciary to get access to Tiller's case file, and he was finally poised to succeed.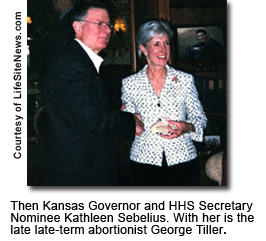 Tiller and his political patrons, chief among them Sebelius, resisted at every step. To block Kline, Sebelius persuaded popular Republican district attorney Paul Morrison to switch parties and run against Kline on her ticket. The Democrats, Tiller's paid proxies, and the media then launched a vicious campaign to portray "Snoop Dog Kline" as a "panty-sniffer" with no greater interest than invading the privacy of Kansas women.
So relentless were The Kansas City Star's attacks on the "anti-choice extremist" Kline that he lost the election, and the Star won Planned Parenthood's top media honor, the "Maggie Award," named for its eugenicist founder, Margaret Sanger.
Three months after Kline was forced out, Sebelius hosted an elegant but extremely discreet soirée at Cedar Crest, the governor's mansion, for Tiller and his staff. What made this event newsworthy was that just a few months earlier, Kline had filed 30 counts against Tiller for performing illegal late-term abortions.
Among the more revealing of the photos taken at the event was one of Sebelius holding a t-shirt presented to her by Tiller, which reads "Trifecta 2006: Sebelius, Parkinson, Morrison." In the photo, Sebelius points at Tiller as if to acknowledge his contribution to that victory.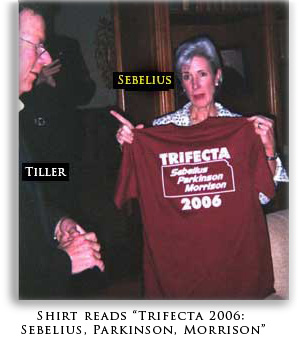 A month later, Sebelius joined the "conga line around the concert hall" at a big Kansas Planned Parenthood bash celebrating her birthday. At the time, its abortion clinic was also the subject of an ongoing criminal investigation. The partiers "sure know how to have fun!" enthused the Planned Parenthood newsletter.
I cannot imagine that Ms. Sebelius is having much fun this week, but if she is known going forward only for the humiliation of ObamaCare, she will have a better legacy than she deserves.