© Jack Cashill
WND.com - January 28, 2015

Above: Dan Haggerty (right) questions Bill Ayers (left).
It is rare that the death of a 64-year-old man shocks those who knew him, but New Jersey architect and Air Force veteran Dan Haggerty was not your ordinary 64-year-old. He was a life force.
I first met Dan in 2009 when he helped organize a Labor Day tea party rally in Morristown, New Jersey. At the time, I was skeptical that anyone could get a rally like this off the ground in a state this blue.
I agreed to speak, however, mainly because my oldest brother was convalescing in a nearby hospital, and it would give me a chance to see him.
Those who dismiss New Jersey as hopelessly liberal have not met Dan Haggerty or been to Morris County. To my surprise, more than 5,000 good-spirited people showed up for the rally.
At lunch afterwards, Dan impressed me with his energy and his optimism. Our mutual friend Jerry Corsi described Dan as "a patriot who fought tirelessly for the Constitution," and that is precisely what I sensed.
What I particularly liked about Dan was his sense of mischief. In March 2011, he and colleagues from his group, Americans for Liberty, met with a few profs at nearby Montclair State University who hoped to organize a conservative group on campus.
While there, Haggerty learned that terrorist emeritus Bill Ayers was scheduled to speak on campus in just a few days, March 24 to be precise.
Rather than organize a protest, Haggerty and attorney friend Billy Baer decided to use the occasion to elicit information from Ayers, a task that the mainstream media had conspicuously failed to do.
The question that concerned Haggerty was one close to my own heart, namely whether Bill Ayers had indeed co-written Barack Obama's acclaimed 1995 memoir, " Dreams From My Father."
Baer got in the final question of the evening, and he asked it in a lawyerly fashion so as not to lead the witness.
"Thank you, Sir, thank you, thank you," said Baer, while Haggerty videotaped the exchange. "Time Magazine columnist Joe Klein wrote that President Obama's book, 'Dreams from My Father,' quote, 'may be the best written memoir ever produced by an American politician.'"
Ayers agreed with Klein's assessment, then volunteered unprompted and with a straight face, "Did you know that I wrote it?"
Ayers then retreated into an ironic jest that preserved both his leverage with the White House and the temporary emotional health of the American left.
Haggerty promptly posted the video clip to YouTube and alerted me. I, in turn, sent it to WND, and WND blew into life a mini-media firestorm. More than 100,000 people saw the video (below).
The Haggerty video gave Fox & Friends the visual lead-in they needed to have me on their show the following week.
"Was it a joke or was he being serious?" Gretchen Carlson asked me of Ayers' remarks. "It's a joke, but the joke is on the White House," I answered.
I also had the chance to reiterate a point that Ayers made at Montclair without irony, namely that Obama's second book, "The Audacity of Hope," was a "political hack book."
Ayers's inference was that the books had different authors. To be sure, the media chose not to accept his word on this, but, thanks in part to Haggerty, they ceased bragging about Obama as literary genius.
I stayed in touch with Dan over the years. He was always looking for creative ways to get the facts out in front of the public. This included a weekly radio show he and Baer hosted out Philadelphia titled, appropriately, the Baer/Haggerty Offensive, and a provocative series of videos available on YouTube at Haggz51.
Last year, Dan tried to set up a symposium last year with me and Ayers. He did not succeed but promised in one of our final email exchanges to keep on trying.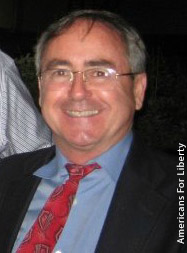 I last saw Dan (left) in October when he arranged for me to speak in Morristown to his group about my latest book, "You Lie." He mustered a great crowd and was as enthusiastic as ever.
Baer, who had since moved to New Hampshire, came down for the engagement. He had recently secured a few minutes of fame with Megyn Kelly—color me green--by getting arrested for violating a two-minute limit on speech at a local school board meeting.
That was the way these guys rolled. "Dan wanted to know the truth," said Baer of his long-time running mate, "and had little concern for where that might lead him."
Dan died suddenly of a heart attack earlier this week. As it happens, the first day I met Dan was the last day I saw my brother Bill alive.
Here's hoping they'll meet up on the other side and throw a tea party together.