© Jack Cashill
WND.com - October 6, 2011
"I'm Winston Wolf, I solve problems," so says the professional fixer in Quentin Tarantino's oddball classic "Pulp Fiction."
In the film, Wolf acknowledges the problem at hand and sets out to solve it, "Now you got a corpse in a car, minus a head, in a garage. Take me to it."
The Obama White House, like the Clinton White House before it, has its own Winston Wolf. His name is Eric Holder, attorney general, and this month's corpse in the car goes by the name "Fast and Furious."
If Holder seems untroubled, it is because he has been solving problems for a long time, starting with his appointment as U.S. attorney for the District of Columbia in 1993.
Holder became the Clintons' fixer-in-chief on July 18, 1997, the day he replaced Jamie Gorelick as Deputy Attorney General.
As reward for her role in solving the TWA Flight 800 problem, Gorelick got the most plum job in Washington, the vice-chairmanship of Fannie Mae, a sinecure that would pay her $25.4 million over the next six years.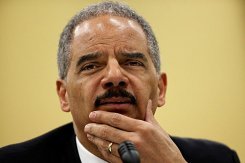 Holder (left) had to know why the Clintons hired him to replace Gorelick. Like her, he would handle the dirty work they would not trust to Holder's nominal boss, Janet Reno.
After the Clintons' ruthless march to victory in 1996, one that Senator Fred Thompson would accurately describe as "the most corrupt political campaign in modern history," there would be a lot of dirty work to handle.
Of most interest to me is the fixing that involved Holder's mentor Ron Brown, the Clinton Commerce secretary who died in an "inexplicable" USAF plane crash a year before Holder was named Deputy AG.
The crash occurred on a trade mission to Croatia, the ostensible purpose of which was to give the Enron Corporation rights to build a power station there. Croatian President Franjo Tudjman entertained the deal in hopes of finessing his way out of a war-crimes trial—business as usual in the Clinton administration.
Under pressure from the Clintons, Brown had been selling seats on these missions to raise campaign cash. While the media sat on their hands, Judicial Watch used the Freedom of Information Act to get at the truth but "were thwarted at every turn."
Holder's office was instrumental in the thwarting, not only of the Judicial Watch investigation, but just about every other effort by Congress to investigate the 1996 campaign.
Holder proved nimble enough to keep the Clintons out of serious trouble. And although tarnished by his role in President Clinton's late hour pardon potpourri, Holder remained politically viable.
Fully aware of his capabilities, President Obama nominated Holder for the attorney general position in 2009. As soon as he did, I heard from Ron Brown's confidante and business partner, Nolanda Butler Hill.
"I'm sure you know how disgusted I am at the Eric Holder appointment," she told me. "Fact is, I'm sickened, and afraid for this nation."
Hill knew Holder all too well. She had initially met him through Brown, who had been instrumental in getting him his job as U.S. attorney.
After Holder was appointed Deputy AG in 1997, Hill and her attorney wasted no time in contacting Holder at the American Bar Association annual meeting, which was held that year in San Francisco in early August.
Holder, however, did not get the job by being naïve. "The train is already going down the tracks," he explained to Hill. "It will take your cooperation to stop it."
The "train" in question was a D.C. grand jury, which was being maneuvered to indict Hill. "Cooperation" meant Hill would keep her mouth shut about Clinton fundraising.
Hill clarifies, "He [Holder] told me and my attorney that if I told what I knew about election fundraising, I would be indicted."
In the way of background, in May 1995, the unpredictable Reno called for an independent counsel to assess whether Ron Brown had "accepted things of value" from Hill in exchange for his influence.
Reno's pursuit of Brown did not shock either of them. He had been the subject of an inquiry for months. Targeting Hill, however, had no precedent, and it unnerved them both.
By statute, the independent counsel law applied only to political and government figures. "It was unlawful," says Hill of her own targeting. "I was the only such person in history."
In time, the independent counsel also targeted Brown's son, Michael, for laundering money to his father through a scam minority set-aside deal with a sleazy pair of Asian-American fundraisers. In Hill's words, Michael "was as guilty as a goose."
Hill and Brown both understood that she was being targeted in the hopes that she would roll over on Brown. Her condition for not doing so was that Brown share with her his every point of vulnerability.
Nowhere was Brown more vulnerable than in his unwelcome role as chief bagman for the Clintons' relentless and often illicit fundraising in the run-up to the 1996 election.
Hill learned virtually every unseemly detail – from Brown's go-between work with the Chicoms and their American vendors to his wholesale distribution of walking around money to Democratic race hustlers. As Brown understood, Hill knew way too much. Even before his own mysterious death, Brown worried openly about her life and safety.
As soon as Brown died, the independent counsel ceased the investigation into his illicit activities. As to Michael, he pled guilty to a single misdemeanor, accepted a small fine and was out playing golf with the president a month later. He would later run for mayor of Washington, D.C.
Not surprisingly, however, the Justice Department kept the pressure on the outspoken Hill, still deeply troubled by the circumstances surrounding Brown's death.
This time at least, Holder proved as good as his word. In March 1998, ten days before Hill was to testify in a suit brought by Judicial Watch on the subject of Brown's fundraising, the Justice Department indicted Hill on trumped-up charges of fraud and tax evasion.
In a motion to the court, Larry Klayman of Judicial Watch would write, "The timing of these events is neither accidental nor coincidental. Ms. Hill's indictment was likely an effort to retaliate against her and deter her from giving any further damaging testimony at the March 23, 1998, hearing."
At White House bidding, Holder had Hill indicted to shut her up, and he succeeded. Anxious, alone and broke, facing as many as 70 years in prison if convicted, Hill chose to negotiate a deal.
On June 15, 1999, a day before her 55th birthday, she reported to a halfway house in Seagoville, Texas, and the sad story of Ron Brown was buried—"Like it never happened," as Winston Wolf would say.
"We may get out of this yet," Wolf tells Vincent and Jules in "Pulp Fiction," and they do, but at the end of the day, Fast and Furious may prove harder to deep-six than a headless corpse.