© Jack Cashill
WND.com - March 5, 2014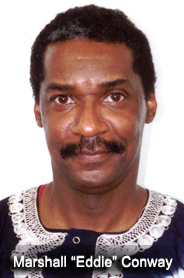 On Tuesday of this week, cop killer and former Black Panther leader Marshall "Eddie" Conway (left) was sprung from a Maryland prison, and the NAACP greeted his release as though he were Nelson Mandela.
As the son of a cop, the nephew of a cop, the cousin of four other cops, I wish I were overstating how indifferent liberal activists were to the murder of then 35 year-old Donald Sager.
The Baltimore Sun suggests I am not: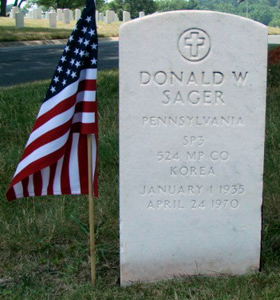 "The Baltimore branch of the National Association for the Advancement of Colored People and others hailed [Conway's] release, calling it a 'monumental day' and "an important page turner in this tragic story."
Conway insisted, of course, that he was innocent and that he had been set up because he was a Black Panther. This was a leftist cliché as old as Sacco and Vanzetti, but for racial and ideological reasons, the NAACP chose to accept it.
Conway's celebrity "innocence" mirrors that of cab driver revolutionary Mumia Abu-Jamal who murdered police officer Danny Faulkner in Philadelphia in 1981.
Police arrived at that scene less than two minutes after the shooting. Sitting dazed nearby, with Faulkner's bullet in his chest, was Mumia.
Next to Mumia was his gun, all five bullets spent, two of them in Faulkner. Four eyewitnesses at the scene, two of them black, immediately identified the dreadlocked Mumia as the shooter.
The Democratic prosecutor claimed often and publicly that "he never had a stronger murder case" in his long and successful career, and he was not exaggerating. To no one's surprise, a mixed-race jury convicted Mumia of murder and sentenced him to death. That was then.
Within a few years, NPR signed Mumia to do a series of commentaries on prison life. Addison-Wesley published a book of Mumia's ramblings called Live from Death Row.
The students at Evergreen State College in Olympia, Washington, heard from the man himself via tape. They had made him—parents, are you listening?—their commencement speaker.
It was a similar acceptance of a murder similar to Sager's and Faulkner's that caused conservative author David Horowitz to abandon the leftism of his youth.
A few years after Conway killed Sager in Baltimore, Horowitz recommended his friend, an unassuming forty-two-year-old mom named Betty Van Patter, to help the Black Panthers in Oakland manage their business affairs.
When Van Patter proved too honest, the Panthers fired her, then murdered her to assure her silence. "In my entire life, I had never experienced a blacker night," says Horowitz of the night he learned how Van Patter died.
Worse was yet to come. When Horowitz sought justice for Van Patter, he found, much to his dismay, no one cared.
"There was only silence," wrote Horowitz of his allies on the left. Van Patter, like Sager in Baltimore, like Danny Faulkner in Philadelphia, joined the un-mourned millions of Lenin's crushed "insects" or of Stalin's "un-persons."
Horowitz would never blind himself to the truth again. "I began to ask myself," he recalls, "whether there was something in Marxism, or in the socialist idea itself, that was the root of the problem." And the answer, he concluded, was yes.
It is not that as though there was new evidence in the Conway case. No, Conway had asked for a new trial in the shooting death of as a result of a 2012 decision by the Maryland Court of Appeals.
That decision invalidated verdicts before 1980 because of "faulty jury instructions." Local prosecutors chose not to retry the case.
Baltimore State's Attorney Gregg L. Bernstein told the Sun that his office explained the legal challenges to Sager's relatives, whom Bernstein described as "accepting and comfortable with the result."
Sager's son David, who was seven at the time of his father's death, had a different take on the resolution of the case. "He rolled over," Sager said of Bernstein. "He didn't put up a fight. I can't stress it enough, that it's a dark day."
In Bernstein's defense, he knew how difficult it could be to persuade a largely black Baltimore jury to convict a black man of killing a cop even when the evidence was fresh and overwhelming.
In 2001 a Baltimore jury acquitted "chronic offender" Eric Stennett of killing officer Kevon Gavin, an African American 27 year-old father of three, despite overwhelming evidence of Stennett's guilt.
The Baltimore Sun did a good job of explicating the case's undoing:
Meanwhile, several officers had approached the Bronco.

Inside, they found a box of ammunition, a Smith & Wesson 10 mm semiautomatic pistol, a blue baseball cap bearing the logo of the Indianapolis Pacers basketball team and a scrawny 17-year-old named Eric D. Stennett with a record of drug arrests going back to his 13th birthday.

No one else.

No possibility of mistaken identity.

No room for a shadow of doubt.

Then one of the officers reached in and grabbed the pistol with his bare hand - and the case of State vs. Stennett began to unravel.

Mishandled evidence.
"Experts say that urban jurors, particularly African-Americans," wrote the Sun, "have grown increasingly willing in recent years to acquit defendants they believe are guilty if they detect any abuse of police power."
The problem is only getting worse. In the George Zimmerman case, the one black juror effectively had her life ruined when she voted to acquit.
This is one problem that President Obama could have helped solve. Unfortunately, as his endorsement of Trayvon Martin showed, he has done just the opposite.