© Jack Cashill
WND.com - October 14, 2015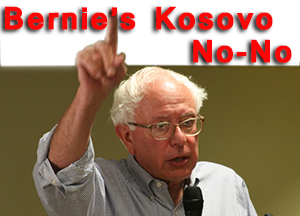 Granted, Kosovo is not a burning issue. If asked, the handful of people who watched the CNN Democratic debate on Tuesday would likely identify it as exotic vegetable.
Still, it was the one place on the map that Senator Bernie Sanders, a belligerent quasi-pacifist, thought best justified spilling American blood.
"Under what circumstances would you actually use force?" Anderson Cooper asked.
"Well, obviously, I voted, when President Clinton said, 'let's stop ethnic cleansing in Kosovo.' I voted for that."
Sanders came back to Kosovo later in the debate. "I am not a pacifist, Anderson," he insisted. "I supported President Clinton's effort to deal with ethnic cleansing in Kosovo."
"I happen to believe from the bottom of my heart that war should be the last resort that we have got to exercise diplomacy," said Sanders piously. "But yes, I am prepared to take this country into war if that is necessary."
If Kosovo is a President Sanders's idea of "necessary," the nation could be for in a bellicose four years. Yugoslavia had no WMDs, no terror arm, no ambitions on its neighbors, no grudge against the United States, no sheltered terrorists, not even any oil.
What Yugoslavia did have was a world-class Islamic PR machine running overtime against it and a United States president who desperately needed a distraction from his Monica problems.
What Yugoslavia also had arrayed against it were self-deluding prigs like Bernie Sanders who were as susceptible to crude propaganda as the average Munich hausfrau circa 1933.
In 1999, Yugoslavia was fracturing. To hold the country together, the mostly Serbian authorities were attempting to suppress an insurrection by Muslim Albanians in the Kosovo province.
Despite Sanders's claim to have "voted" to endorse military action, President Clinton did not bother getting Bernie's approval—or anyone's for that matter--before unleashing America's air power.
Sanders and his cronies trashed George Bush's actions in Iraq in no small part to attack Hillary Clinton who supported that action, but Hillary, at least, got to vote. Sanders had to lie about voting.
To bolster public support, Clinton and his people began a drumbeat about mass graves, ethnic cleansing and even genocide.
The State Department's David Scheffer was the first to claim a six-figure death count, specifically "upwards of about 100,000 [Islamic] men that we cannot account for" in Kosovo.
A month later, the State Department upped the total to 500,000 Kosovo Albanians missing and feared dead.
On CBS Face the Nation Secretary of Defense William Cohen repeated the 100,000 figure and claimed that the war "was a fight for justice over genocide."
President Clinton compared the work of the Serbs in Kosovo to the German "genocide" of the Jews during the Holocaust and assured America that "tens of thousands of people" had been murdered.
The New York Times helped Clinton amplify his message. No fewer than 375 articles would contain the combination "Kosovo" and "genocide," most of those making a direct equation.
In the war's wake, however, international teams could find no signs of genocide. The ethnic Albanian dead numbered in the hundreds, not in the hundreds of thousands.
Spanish forensic surgeon Emilio Perez Pujol would tell the British Sunday Times that the talk of genocide was "a semantic pirouette by the war propaganda machines, because we did not find one—not one—mass grave."
In 2001, a United Nations court ruled, as the BBC noted, "Serbian troops did not carry out genocide against ethnic Albanians."
So upset was Sanders staffer Jeremy Brecher by his boss's empty-headed hawkishness over Kosovo that he resigned in disgust.
The Clinton administration, Brecher agued, "opposed and continues to oppose all alternatives that would provide immediate protection for the people of Kosovo by putting non-or partially-NATO forces into Kosovo."
Instead, Clinton had US forces bomb Yugoslavia from high enough altitudes to avoid taking casualties, but too high to bomb with any precision.
As a result, the constitutionally unauthorized bombing killed more than 500 civilians, and destroyed bridges, industrial plants, public buildings, private businesses, and even a TV station in a Christian nation that had no grudge against us.
"Is there a moral limit to the military violence you are willing to participate in or support?" Brechers asked Sanders. "Where does that limit lie? And when that limit has been reached, what action will you take?"
When asked to identify the nation's "greatest national security threat" on Tuesday, Sanders cited "the global crisis of climate change."
Now there is a war for a conscientious objector. In the short haul at least, about the only thing it will kill are jobs.