By Jack Cashill
WorldNetDaily.com - December 30, 2010
E
ach year the Hollywood Foreign Press Association (HFPA) nominates ten films in its Golden Globe competition for best motion picture, five in the drama category, five in the musical or comedy category.
This year, the HFPA chose not to nominate a film that was more powerful than any of the dramas selected and funnier than any of the comedies, the Coen brothers' "True Grit."
In fact, "True Grit," the year's best movie and one of the best westerns ever made, received not a single nomination for anything—not supporting actress, not screenplay, not anything. If ever a sign were needed that Europe was a lost cause, this may be it.
There had been earlier warnings, among others the 20-minute standing ovation at Cannes in 2004 for Michael Moore's dreadful agitprop, "Fahrenheit 9/11," or the Nobel Peace Prize for Al Gore's already camp classic, "An Inconvenient Truth."
If I might speculate, the Europeans likely slighted "True Grit" for its unapologetic celebration of republican virtue. I refer here to those virtues necessary to build a successful republic: self-reliance, resourcefulness, strength, competence, charity, piety.
Unfortunately, these virtues are as alien to our own president as they are to the Europeans, which may explain why Barack Obama's approval ratings in Europe still hover in the 90 percent range.
"In America," said Obama upon his return from the putative Million Man March in 1995, "we have this strong bias toward individual action. You know, we idolize the John Wayne hero who comes in to correct things with both guns blazing."
Obama had other plans for America. "Individual actions, individual dreams, are not sufficient," he continued. "We must unite in collective action, build collective institutions and organizations." V. I. Lenin could not have said it better himself.
In the climactic scene of the 1969 version of "True Grit," John Wayne does indeed correct things with his solo attack on a parcel of bad guys, "both guns blazing." In the 2010 version, Jeff Bridges plays the Rooster Cogburn role, and he does the same.
What elevates the 2010 version is not so much the acting—there is only one John Wayne—but the darker and finally richer world that the actors inhabit. There is less Hollywood about this newer version and more Arkansas.
This is the Arkansas of 1878, a brutal and barely civilized frontier state on the edge of a feral wilderness simply called "Indian territory."
There are few collective solutions to anything here. As in Charles Portis's book and the 1969 film, 14 year-old Mattie Ross must find a man with "true grit" if she is ever to bring her father's killer back from that no man's land to justice.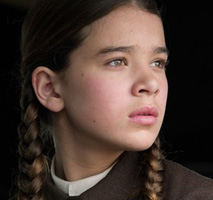 Only 13 when she made the film, Hailee Steinfeld (left) steals it. She has all the sass and strength a feminist could ask for in a heroine, but when feminists look at Mattie Ross what they likely see is a young Sarah Palin, fortified by her righteous resolve and a six-shooter half as big as she is.
If the foreign critics were observant, they saw something else about Mattie they could not have liked—her faith. In this regard the Coens are much more straightforward than Henry Hathaway, who directed the 1969 version.
"You must pay for everything in this world one way and another," says Mattie as narrator in the opening scene, "There is nothing free with the exception of God's grace."
This line comes from the Portis book, but the Coens close with a song of their own choosing, one that completes the circle implicit in the opening narrative, Iris Dement's version of "Leaning On the Everlasting Arms."
"What have I to dread, what have I to fear," go the lyrics. "I have blessed peace with my Lord so near." It is Mattie's faith that makes her strength credible and her quest understandable.
As in other western classics—the "Searchers," "Shane," and "Unforgiven" come to mind—the female character, Mattie in this case, holds out the promise of redemption to a man who has lingered almost too long on the dark side of the moral frontier.
In the film's beautifully shot and literally inspiring penultimate scene, Rooster, with Mattie in his arms, returns to the light, at least for a little while.
Oh, how sweet to walk in this pilgrim way,

Leaning on the everlasting arms;

Oh, how bright the path grows from day to day,

Leaning on the everlasting arms.
To remain on that pilgrim way is the hard part.