WWW.ingramsonline.com - December 2008
© Jack Cashill
When I reflect back on all the glorious gifts I got for Christmas as a kid—the pinball machine, the hockey game, the footballs, the basketballs, the baseball gloves, the erector sets, the electric trains, the various battalions of army men, the Lincoln logs, the chemistry sets, the monopoly games, and, of course, the wonderfully dysfunctional electric football games—two gifts stand out.
They came in successive years from the same person and, to this day, occupy opposite ends on my sliding scale of gift appreciation. Now at least, I think I know why.
The first gift came rather late in my childhood saga. I had just turned sixteen, an awkward Christmas age, as the things I had always wanted now seemed hopelessly juvenile, and the things I could care less about—clothes, for instance—I was now supposed to want.
My cosmopolitan Uncle Andy—he worked in New York--solved the problem beautifully. He got tickets to the semi-finals of the ECAC Holiday Festival in Madison Square Garden for me and my brother, also sixteen.
If things broke right, the semi-finals would pit the evil number one ranked muscle

men from the University of Michigan against our beloved scholar-athlete Bill Bradley and his scrawny gang of stragglers from Princeton University.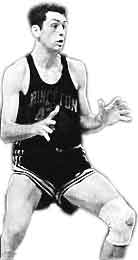 Bradley had arrived in Princeton the year I started high school. He came from Crystal City, Missouri. I knew little of Missouri then—just Crystal City and Independence—and I imagined them both as Andy Hardy stage sets, all wrought iron fences, wide streets, and Victorian homes peopled by paper boys on bikes, perky milkmen and perambulating ex-presidents.
In fact, so charmed was I by this image that when I first came to Kansas City a dozen years later I chose to stay, sight unseen, at a motel on Highway 40. When my wife questioned the prudence of staying at a $10 a night establishment, I reassured her that this was Independence, Harry Truman's hometown. How far wrong could we go?
Very far. From what I could hear through the plywood walls, our fellow guests included a violent subset of the Weather Underground and the local branch of the Mongol Motorcycle Club. It took only one night—and a 2 AM room switch--to disabuse me of my uncritical affection for the Show Me State.
In the 1960s, from afar at least, Missouri seemed as sweet as a Bill Bradley jump shot. From the day its favorite son arrived in Princeton, every New Jersey parent not in rehab held the non-smoking, mom-loving, scholarly Bradley up as role model for their wayward teens.
Just 30 miles away, I spent the entirety of my adolescence trying to be Bill Bradley. Although I played my basketball in PALs and CYOs and rough and tumble Newark city leagues, I figured if I could go grow half a foot or so by my senior year—I set my goal at a modest 6'6"—I too could be an Ivy League scholar-athlete.
When my high school guidance counselor asked me where I intended to go to college, I promptly told him Princeton. He promptly laughed, not an encouraging sign from a guidance counselor. "How are you going to pay for that?" he asked. "Your paper route?" Truth be told, other than praying to grow, I had not planned that far ahead.
We took the bus over to New York on the night of December 30, 1964, my querulous brother's seventeenth birthday. Thank God he turned 17. We hated being the same age even if just for a few weeks. Scalpers were hawking "nosebleeds" that night for $35. In today's money, factoring in inflation, that's enough to buy a small bank.
The Garden was a magical place. It smelled of beer and the big time and was smoky as the inside of a bong. "Dollar Bill" did not disappoint. He popped running floaters and hook shots from the corner and by the time he fouled out with 4:37 left, the Princeton anorexics led the sand kickers from Michigan by an incredible 12 points.
With Bradley on the bench, likely catching up on his homework, Princeton let the lead slip away and lost 80-78. Still, the point had been made. This would go down as one of the ten great college games of all time, and we had been there.
The next Christmas season saw Bradley at Oxford and Newark in freefall. Worse, I had fallen short of my 6'6" goal by about half a foot and sensed no college demand for a white power forward who could barely touch the rim.
Still, I always looked forward to Christmas, especially that next gift from our savvy Uncle Andy. As last year's gift had proved, he knew how to please even a couple of jaded adolescents.
But something happened to our uncle over the course of that preceding year. By any standard, other than the self-indulgent standard set by brother and me, it was a good thing. My worldly uncle had turned other-worldly.
We saw all 180 degrees of that turn on display under our Christmas Tree. Our uncle had placed there the photos of a couple of big-eyed, swollen-bellied, third-worlders just waiting to be nurtured, yes, our very own "pagan babies."
At first we thought Uncle Andy had played a prank on us, kind of like the box of coal "Santa" would occasionally leave to teach us a little humility. But no, the pagan baby package and the card oozed avuncular sincerity. We had obviously lost our uncle to the bright side.
Not since Oliver Twist arrived chez Fagin had a kid found such uncharitable foster care as our little pagans found with us. We couldn't even fake appreciation. Hell, we didn't even try. We were transparently bummed.
As part of the deal, we got to name the kids. If I remember right, I christened mine "Satch" after my favorite Celtic, Tom "Satch" Sanders," and my brother named his "Jumping Johnny" after his favorite Knick, Jumping Johnny Green. These were surely the only kids south of the equator to be named Satch and Jumping Johnny. My uncle was not pleased. He was rather hoping for something along the lines of "Peter" and "Paul."
In reviewing the sins of my youth, there are many that I have come to regret — reminding the mentally challenged kid on my block of his mental challenges or sharing with my "diverse" friends the synonyms for their particular ethnic group or throwing up on my fifth grade nun.
Yet, to this day, although I know I should feel guilty for treating little Satch and big Andy so shabbily, I just cannot bring myself to do so. I am convinced that even when I take my turn at the Pearly Gates, I will continue to tell this story not as a confession but as an anecdote.
I think I have figured out why. Charity has to come from within. No matter how good the intentions, you get points for spreading the wealth around only if it's your own wealth you spread. You can't force someone to be charitable. Only the giver gets the graces, not the proxy. Sorry, Satch.
Charity has to come from within. No matter how good the intentions, you get points for spreading the wealth around only if it's your own wealth you spread. You can't force someone to be charitable.
As for Bill Bradley, when he ran for president in 2000, the media dug into the various candidates' SAT scores to show up the presumed dumb candidate. That proved to be Bradley. He had gotten a 485 on his English SATs. Good thing he had that jump shot after all.