©Jack Cashill
WorldNetDaily.com - January 17, 2009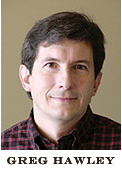 On Thursday evening, I drove out to the Beacon Heights Community of Christ Church in Independence, Missouri to attend a memorial service for a fellow who incarnated all that was best about America, Greg Hawley.
Greg was killed last Saturday when a reckless teenage driver forced his truck off the road. Just 50—although he seemed much younger--Greg leaves behind a wife, three children, and a grandson as well as an extraordinary family saga.
Twenty years ago this winter Greg, his brother David, his father Bob and family friend Jerry Mackey set out to do something that all the experts told them was undoable: unearth a steamboat that had sunk in the Missouri River more than 130 years prior.
The academic community was particularly dismissive. The Hawleys, who ran a mom and pop HVAC business, and Mackey, who owned a hamburger restaurant, did not have a year of college among them.
What they did have was grit and uncommon resourcefulness. In the spring of 1988, David, the family historian, located the Steamboat Arabia buried deep below a Kansas cornfield a good half-mile from the river, which had shifted over time.
The fellows then had to determine the boat's exact position, and this they did through a series of test drillings. Throughout the summer and fall of 1988, they assembled equipment for moving massive amounts of earth and water, including bulldozers, backhoes, well-drilling equipment, and a 100-foot crane they floated down to the site. They financed this by mortgaging just about everything they could mortgage.
The farmer who owned the field permitted them to dig only if it could be made ready again for spring planting. This meant one brutal winter of hard work.
To lower the water level, the fellows had to drill 20 irrigation wells around the boat. These 65-feet deep wells, operating 24/7, drained as much as 20,000 gallons per minute out of the hole and into the Missouri.
It took two weeks of digging before the top of the paddlewheel poked through. The guys eventually made their way to the deck fighting desperately against the water and the deep winter weather with every foot they dug.
They found no gold, not even the 200 barrels of Kentucky bourbon alleged to be on board. What they found instead were crates and barrels filled with every imaginable kind of frontier merchandise, most of it perfectly preserved in the cold, airless mud.
The fellows realized they had found something rarer than gold: an unmatched material record of a treasured time and place. Indeed, theirs would prove to be the greatest collection of pre-Civil War artifacts in the entire world.
To preserve this collection's historic and emotional value, they realized they would have to keep it together. This meant going back to the bank for more money, teaching themselves the arts of preservation and restoration, and building their own museum to display the collection.
This they succeeded in doing without a dime of foundation money or government grants. The result was spectacular. The Steamboat Arabia Museum in Kansas City is one of the few anywhere that turns a profit, and it does so because it is so well loved.
At the heart of its success has been the storytelling ability of the proprietors, especially David and Greg. The museum, which has been accurately described as an "1856 Wal-Mart," comes to life when they share with visitors their passion for our history and their respect for the pioneers who made it.
I first met Greg and his family fifteen years ago when I produced a video for the museum, the Fall and Rise of the Steamboat Arabia, which has since been seen all over the world. Greg and I have been tight ever since.
If there is a more competent family in America, I have not met them. They taught themselves everything from well drilling to museum display. Mom, Flo, designed and runs their charming gift shop.
Greg dug within and found the time and talent to write three books, two of them for children. An accomplished sportsman, he also took the time to teach his own children the great outdoor arts.
And yet despite their talents and their success, the Hawleys have not lost a shred of the humility that one finds only in people who deeply believe that we are all equal in the eyes of God.
And as Greg lay dying on a cold night along Interstate 70, God sent him an angel in the form of a passing motorist. The young man stopped and held Greg's hand until the rescue squad arrived. In the dark, he could not tell whose hand he was holding.
Only in reading the paper the next morning did he learn. "They released the man's name. Greg Hawley. Only one of the nicest, coolest people I had ever met," he would write. "Yes, I had known him. Not personally, although when speaking to him he had a way about him that made you feel that you'd known him for years."
"Out of the dozen times I've been [to the museum], there was only once that he didn't suddenly appear in the tour to greet us, tell stories, answer questions. He was one of my Heroes, lived a dream he did, but he was still so down to earth and so excited to share his treasure with us."
He continues, "Greg, you were an inspiration to me and so many people. You lived your dreams. You challenged others to do the same. Many did. I have been. You have left a Legacy. How many can say that? Thank you for what your life has meant to so many. To me, it was an honor to be there with you in your final moments."
Others obviously felt the same way. Although I arrived at the church early, the parking lot was full. The visitation line already snaked around the church, out the door, and into the 5-degree night. No one was complaining. These are hardy, caring people.
In the vestibule of the church was a visual tribute to Greg. The banner above said it all: "Greg Hawley—a life well lived." Greg would have agreed.
A few years ago we wrote a screenplay together called "River Dreams." Greg wrote the introduction. "I know this story well," he said of the Arabia saga, "because along with my father, my brother and our friend Jerry, I lived it."
"And in living it, I came to understand a great truth about America: If you try hard enough, your dreams really can come true."
Yes indeed, bro.