©Jack Cashill
WorldNetDaily.com - December 18, 2008
Not too long ago, I was pulled over by a traffic cop here in Kansas City. "I have absolutely no idea why you stopped me," I told him.
The officer informed me that I had been speeding in a school zone. "Where is the school?" I asked. He pointed to a building that I had known only as a Jewish community center.
Apparently, the school district had bought the center and, with little ado, had renamed it the " Paul Robeson Middle School." Had I not been ticketed, I would not have known.
As I learned, Kansas City is not unique in its affection for Mr. Robeson. Public school districts in New Jersey, New York, Pennsylvania, California, and elsewhere have named schools for a man the Chicago School District describes as a "great human being."
In 1998, on the occasion of the Paul Robeson centennial, Chicago and other districts devised lesson plans to help instructors in grades 1-12 system-wide " take up the teaching of Paul Robeson."
Chicago educators found this corrective necessary because the presumably racist publishing companies "left [Robeson] out of the history books," this despite the fact that Robeson was "an athlete, a lawyer, a linguist, a singer, an actor and activist for human and civil rights."
If genuinely curious, Chicago teachers can learn something of Robeson's forgotten history in Tim Tzouliadis's stunning new book, "The Foresaken." The Greek-born British author does not slight Robeson at all.
The reader first meets the former All American football player in 1934. Robeson has come to Moscow on an extended stay to entertain and is greeted by his fellow Americans as "a hero of the progressive cause."
In the depths of the Depression, more than two thousand Americans had moved to the Soviet Union. Although many of them were political activists, most were working class Joes who had been lured by the promise of steady work.
When Robeson arrived among them, the Americans were the toast of the Soviet Union. They had formed social clubs and baseball leagues and published their own newspaper.
Little did the Americans, the "Foresaken" of Tzouliadis's title, suspect that within five years they would be toast. Thanks to the Pulitzer Prize-winning suppression of The New York Times' Walter Duranty, the Americans had emigrated to the Soviet unaware of the genocidal terror famine that Stalin had just orchestrated.
In 1934 one could understand Robeson's enthusiasms as well. He had suffered a goodly share of the everyday indignities that befell blacks in America at the time and was likely as ignorant as his fellow Americans of Stalin's capacity for evil.
By 1937, when Robeson returned to Russia for a lengthy concert tour, he had no such excuse. Stalin had already unleashed his famously paranoid "Terror" against all suspected intriguers, the entire American community among them.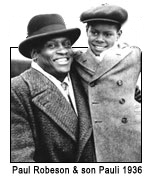 Robeson pretended not to notice. "Here was one who was wise and good," said Robeson of Stalin after the tour, "the world and especially the socialist world was fortunate indeed to have his daily guidance. I lifted my son Pauli to wave to this world leader."
Pauli, then ten, could see what his father refused to: the parents of his school chums were being arrested and assassinated. In his memoirs, Pauli lamented how his father had turned his back even on his closest friends.
When a fellow black American appealed to Robeson to help him escape to Ethopia, he was rudely rebuffed by Robeson's entourage and later by his wife, Eslanda.
"Suppose [Robeson] were to help you leave," Eslanda told the man, "and then when you arrived in Ethiopia, you decided to turn anti-Soviet. We would find ourselves in trouble with the authorities here."
By 1949, almost all in the American community had been incarcerated or liquidated in the Terror along with several million Russians and other foreign nationals. That did not stop Robeson from returning to the Soviet Union to entertain.
While there, he had asked to meet with two Russian Jews he had met and befriended at an anti-fascist rally in New York during the war. He was told they were both away "on holiday."
When Robeson persisted, the Soviets suddenly found the poet Yitzhak Pfeffer, who had apparently been vacationing in Moscow's notorious Lubyanka prison.
As Pfeffer explained in sign language when he met Robeson in his bugged hotel room, their other mutual friend had already been murdered. "They're going to kill us," Pfeffer quietly wrote on a piece of paper. "When you return to America, you must speak out and save us."
The "us" was the Soviet Union's Jewish community. Stalin had already begun his "anti-cosmopolitan" campaign. True to form, Robeson rejected the rumors of mass arrest and publicly denied reports of a purge against Soviet Jews.
Three years later, Pfeffer and 14 other leading Jewish intellectuals were taken to the basement of the Lubyanka and shot one by one for their work on the ant-fascist committee that brought them to New York to meet Robeson.
By the time Stalin died in 1953, no sentient adult could have failed to understand the depths of his depravity, none, of course, but the winner of the 1952 Stalin Peace Prize, Paul Robeson.
"Yes, through his deep humanity, by his wise understanding, he leaves a rich and monumental heritage," Robeson eulogized his beloved Uncle Joe. "He leaves tens of millions all over the earth bowed in heart-aching grief."
Stalin also left tens of millions buried under that same earth. That educators continue to ignore Stalin's infamy, and honor Robeson useful idiocy, tells us just about all we need to know about the public school establishment.