©Jack Cashill
AmericanThinker.com - October 15, 2013
Two events within one recent week confirm that, on the subject of hate crime, Lady Justice now routinely sheds her blindfold, checks out the race of the accused, and judges accordingly.
In that George Zimmerman looks like the kind of person who might commit a hate crime--or at least has the name of such a person--the investigation into his shooting of Trayvon Martin nearly two years ago remains "ongoing." So said Attorney General Eric Holder on September 30.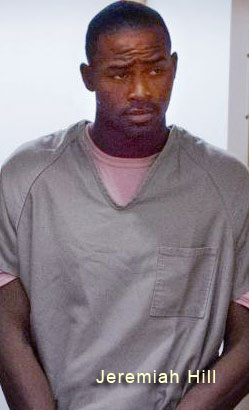 In that Jeremiah Hill (left) does not look like the kind of person who might commit a hate crime—at least by Justice Department standards--prosecutors have all but cleared him of the same in the stabbing death of Army Spc. Tevin Geike on October 5. A review of the known facts in these two cases would make you think Zimmerman and Hill live in two different countries.
Geike was walking down Pacific Highway in Lakewood, Washington, with two Army buddies, Matthew Barnes and Brian Johnson. They were on their way to a party celebrating Geike's impending discharge from the military. All three of the men were white.
A car cruised by. The five men inside were black. "They were looking for trouble," an emotionally wrought Barnes told a Seattle KIRO-TV reporter the day after the stabbing. "They were looking for someone to attack." Barnes believed that "maybe race had something to do with it" because of what the men yelled at him and his pals. "There is a derogatory term that they use for white people," said Barnes. "It's cracker and what not. I heard that phrase repeated numerous times."
"So this is how we treat combat veterans now?" Barnes yelled at the men. The car circled back. The five men jumped out, and, according to the reporter, "One of the five men was most aggressive and stabbed Geike multiple times." The five men then hopped back in the car and sped away. Initial reporting out of Washington, like KIRO's, led with the "hate crime" angle. That did not last.
Allegedly, it was only when his buddies saw Hill covered in blood that they learned what had happened. Two of them helped Hill dispose of the knife, and they too were arrested. The other two are cooperating with the police.
When it became clear that the attackers were fellow servicemen at Joint Base Lewis-McChord south of Tacoma, prosecutors, with an able assist from the media, began to scrub hate from the narrative. "This was a senseless and sad murder where a soldier killed a fellow soldier for no reason," said Pierce County Prosecutor Mark Lindquist just three days after the stabbing.
Lindquist appears to have ruled out a hate crime because the two cooperating black servicemen "said race was not a motivating factor in the assault." Did he expect them to say otherwise?
According to Lindquist, someone from the vehicle did make "an unspecified racial slur towards the men on foot," but witnesses "could not recall what was actually said." If that did not provide absolution enough, "The victim's friends said that the initial slur was the only race-related language used." But Barnes, who had no reason to lie, had a very specific memory of what was said and told KIRO-TV that these slurs were "repeated numerous times."
Again according to Lindquist, four of the men got out of the car. "Once it was established that all parties were active duty soldiers," they disengaged and returned to the car except for Hill who attacked Geike. In his October 6 interview, however, Barnes appeared to have no idea that the killer was a fellow soldier. Nor did the reporter.
On October 8, after Lindquist announced the arrest, Barnes and fellow witness Brian Johnson expressed shock upon learning that Geike's killer was a soldier. "He should be shot for betraying his country and his comrades," Barnes told KIRO-TV. "He betrayed his nation," added Johnson.
If race were not the motivating factor for the attack, Lindquist offers no explanation as to what it might have been. It is possible that the military brass leaned on Lindquist to downplay the racial angle, but Lindquist, if he is like most prosecutors, would not have needed much encouragement.
The media, of course, were only too happy to change the topic. The CBS News lead on October 8 had relief written all over it. "There may have been some 'trash talk' between a car full of black soldiers and three white soldiers on foot, but race was not the main issue in the weekend stabbing death of a soldier near a large Army base in Washington State, police and prosecutors said." Phewww!
The same media that quickly purged all talk of race from the Geike killing could talk of almost nothing else in the death of Trayvon Martin. When the evidence did not support race as the motive for the shooting, the media corrupted the evidence.
In one of the two more imaginative contortions, CNN, employing its best fake science, interpreted an utterly intelligible word muttered by Zimmerman on the dispatcher call as "coons." No one dismissed it as "trash talk" or excused Zimmerman for only saying it once. Truth is, he never said "coons." The prosecution settled on "punks," but the most likely word was "cold" as in it's "f***ing cold."
In the other, NBC surgically removed an intervening dispatcher question from Zimmerman's call to have him say, "This guy looks like he's up to no good. He looks black." The Zimmermans are suing NBC for an edit that even the Washington Post described as "high editorial malpractice."
In an hour long rehash of the case this past Sunday called "Tragedy on Trial: The George Zimmerman Story," CNN mercifully dropped the "coons" trope and served up instead a race-based smoothie of half-truth and oversights. At the end of this almost criminally one-sided account, reporter David Mattingly assured the audience that the case was not over yet, that Zimmerman might still face federal civil and or criminal charges.
Although the show focused on race, Mattingly neglected to mention that that Zimmerman was an Obama supporter, that he mentored black children, that he took an active role in defending a black homeless man, that the FBI cleared him of any thoughtcrime sixteen months ago, or the that the one reliable eyewitness fully confirmed Zimmerman's account. But, then again, why quibble with details when the subject is "hate."
Webmaster's Note: Jack Cashill's Book-TV presentation of "Deconstructing Obama" can be viewed at http://www.c-spanvideo.org/program/298382-1