©Jack Cashill
WND.com - October 23, 2013
Will Webber, the opinion-page editor at the University Daily Kansan (UDK), has emerged as the latest KU avatar of the old Soviet practice of "lying for the truth."
While attending a $55-a-plate Ann Coulter luncheon in Kansas City, Webber, "a self-described, 19 year-old Mexican liberal," reportedly found himself sitting at a table with "nine white, elderly tablemates."
When one of them described Coulter as "a tall drink of water," the ageist and sexist Webber wondered "exactly what dosage of Cialis would allow him to take a drink." But that was the least of the offenses in his October 21 UDK column.
Webber claimed to have betrayed his liberalism by being "the only member of the table to say 'thank you' to our Latina waitress." I don't believe this for a second, but Webber was just warming up.
Webber's next slur comes right out of the Comintern playbook. "Within the comfort of my table," he writes, "the old men affectionately referred to our president as a 'nigger.'"
This is quite simply a lie. I have sat at literally hundreds of tables with Republicans in the Obama era, some in the latter stages of inebriation, and I have never heard anyone refer to our president as a "nigger." In fact, I have never heard the word "nigger" used at a Republican event.
Webber wasn't finished. "I heard murmurs of wetback and beaner at my table." More lies. The idea that "men"—plural--would casually use racial and ethnic slurs in front of a young Hispanic-looking gentleman of presumably shared ideology could be believed nowhere in this part of the world other than the University of Kansas School of Journalism.
As the reader recalls, it was one of Webber's professors, David Guth, who famously tweeted that "blood is on the hands" of the National Rifle Association following the Navy Yard shootings last month.
"Next time, let it be YOUR sons and daughters," Guth's tweet read. "Shame on you. May God damn you." KU has put Guth on some form of administrative leave.
Going back a few years, it was KU professor Paul Mirecki who made the news, claiming preposterously that two "Christian thugs" followed him into rural Kansas at 6 a.m. on a December morning and proceeded to beat him with a crowbar.
While assaulting him , according to the Lawrence Journal World, the Christians were " making references to the controversy that has propelled him into the headlines in recent weeks."
The course title glowed with disdain for Kansas taxpayers --"Special Topics in Religion: Intelligent Design, Creationism and other Religious Mythologies."
But that was only the half of it. The "Evil Dr. P"—Mirecki's online persona in a student atheist and agnostic chat room--had posted any number of spectacularly silly anti-Christian slurs on the Internet.
My personal favorite was his response to a student who described the dying pope as "a corpse in a funny hat wearing a dress."
Answered Mirecki, the chairman on the Religious Studies department, "I love it! I refer to him as J2P2 (John Paul II), like the Star Wars robot R2D2." Although the university backed Mirecki, the Lawrence Police did not buy his story for a moment.
As Webber's name suggests, his father is white. According to an earlier column knee-deep in self-pity, Webber moved as a boy to the pleasant Kansas City suburb Prairie Village, Kansas. There, says Webber, "Everyone else was white. So I learned shame." Oh, please!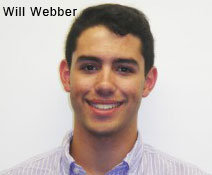 From his photos, however, Webber appears to be a good-looking, well-turned out young guy no more menacing than Ricky Martin or Ricky Riccardo (see left).
Webber, in fact, looks less Hispanic than another fellow in the news with an Hispanic mother, George Zimmerman, whose story should serve as a useful cautionary tale,
Like Webber, Zimmerman supported Barack Obama. Unlike Webber, whose Facebook friends are almost to a person happy young white suburbanites, Zimmerman worked in the black community both as a mentor and a civil rights activist.
As hard as Webber labors to define himself as some sort of oppressed minority, if he ever gets caught in the maw of multiculturalism as Zimmerman did, his Germanic name will betray him too.
Webber may also find himself labeled a "white Hispanic," accused of using racial slurs he never even knew existed and facing a lifetime in prison because of the media's willingness to paint him as a racist.
If that ever happened, all the lies Webber has told on behalf of the revolution will have gotten him nowhere. They have not gotten him far as is.
My campus contacts tell me that the UDK editor Trevor Graff has already pulled the column under pressure and suspended Webber from writing for at least a couple of weeks.
As a progressive fabulist, Webber joins a long line of dissemblers, most proximately The New Republic's Steven Glass and the New York Times's Jayson Blair. Both proved expendable because their lies were too small to merit the expenditure of political capital.
What they apparently neglected to tell Webber in J-School is that it is only the big lies that get protected. For confirmation he might review the career of his idol, Barack-- "I've written two books . I actually wrote them myself"--Obama.
Webmaster's Note: Jack Cashill's Book-TV presentation of "Deconstructing Obama" can be viewed at http://www.c-spanvideo.org/program/298382-1