©Jack Cashill
WND.com - May 9, 2011
A
s a matter of practice, I read every mainstream book on a subject I am covering under the assumption that informants are much more likely to speak to, say, a New York Times reporter than they are to me.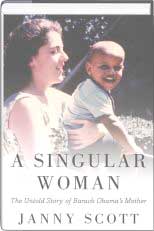 It was in this spirit that I picked up "A Singular Woman," the new biography of Barack Obama's mother Stanley Ann Dunham—"Ann"—by NY Times reporter Janny Scott.
What I found would have shocked me a few years ago but no longer does, namely the gaping hole Scott leaves in the most controversial part of the narrative.
I refer here to the period between Ann's first meeting with the senior Barack Obama and her departure for Seattle less than a year later.
On page 84 of the book, the reader learns that "Obama was twenty-four years old and Ann was seventeen when they met in the fall of 1960."
According to INS documents, Obama was 26 at the time they met, but that is not the real problem here. The problem is that Scott adds not a word of useful information to this critical period.
Ann's meeting with Obama follows thirty colorful and well-documented pages on her high school years in Seattle. Incredibly, the courtship, the marriage, and the birth will cover just two pages.
On page 86 of the book, we are told that baby Obama is born in Honolulu, and, "Eleven months later, the elder Obama was gone."
As to the wedding itself, although Scott spent more than two years researching the book, she can tell us no more than that the couple married "reportedly on the island of Maui."
Reportedly? Scott adds nary a detail to an otherwise fully undocumented wedding. She also fails to comment on Ann Dunham's whereabouts from the alleged wedding in February 1962 to the birth in August 1962. Not a single word.
The only person who attests to even a relationship between Ann and Obama is a woman who learned about it from Ann in retrospect several years later.
Another woman, a family friend of the Dunhams, recalls meeting Obama with Ann in Port Angeles, Washington "sometime later."
Scott fails to question how or when this meeting took place. Port Angeles is more than two hours north of Seattle, and there is no hint anywhere of Obama ever visiting Seattle, let alone Port Angeles. Scott should have either explained this meeting or omitted the account.
As to the birth, Scott provides no details at all other than what was available on the short form certification of live birth. She does not tell us where the happy newlyweds lived or even if they lived together, let alone if they were happy.
Recently posted INS documents note that the newborn baby Obama was "living with mother" and she in turn was living "with her parents." Obama Sr. meanwhile was living at a totally separate address. This all escapes Scott.
In Obama's memoir, "Dreams from My Father," he observes that a newspaper story announcing his father's departure for Harvard in June 1962 failed to mention him or his mother, and he wonders if "the omission caused a fight between my parents."
Scott comments, "Whatever fight there was may have happened earlier." May have happened? I'll say. The couple had not seen each other for at least nine months.
Based on the available evidence, they had surely broken up long before the baby was born, if indeed their relationship lasted longer than that one November night.
As to Hawaii governor Neil Abercrombie's claim that he had seen "Obama as a child with his parents at social events," Scott provides no support at all.
Tellingly, Scott does not cite the boastful Abercrombie as one of her interviews, at least about the birth and early years. The inexplicable absence of an index does not help researchers much either.
In any case, Ann had quit Hawaii for Seattle within weeks of the baby's birth. She had to have been planning this move for some time beforehand.
Somehow, this fact escaped Obama's official campaign biography, Obama's memoir "Dreams from My Father," and five book-length biographies I consulted when researching my own book, "Deconstructing Obama."
Scott concedes Ann did go to Seattle without Obama Sr. but plays games with the timeline. She has Ann and the baby visiting a friend there in August 1961, the month of Obama's birth, but does not place her at the University of Washington until spring 1962. In fact, Ann was taking night courses in the fall of 1961.
Ann, as Scott concedes, would stay in Seattle at least through the end of the spring semester but glosses over the fact that she did not return until after her presumed husband left for Harvard in June 1962.
I had hoped Scott would explain why Ann's father, Stanley Dunham, would remain such good buddies with his reported son-in-law that the two would be pictured arm-in-arm and smiling at Obama's departure.
This was a man, after all, who is alleged to have impregnated Stanley's underage daughter and driven her to quit the island with baby in tow. Scott provides no explanation.
Like all mainstream scribes, Scott fails to ask hard questions about the orthodox nativity story of Barack Obama, the story on which Obama built his candidacy.
As Obama told America, this "improbable love" story ended with his father's departure for Harvard when he "was 2 years old."
No, Mr. President, the story was false from the beginning, but no need to worry. The New York Times has got your back.
And these are the people who call the rest of us "conspiracy theorists!"
Webmaster's Note: Jack Cashill's Book-TV presentation of "Deconstructing Obama" can be viewed at http://www.c-spanvideo.org/program/298382-1