© Jack Cashill
WND.com - January 6, 2011
D
uring his waning hours in office last week, California governor Arnold Schwarzenegger commuted the 16-year sentence of Esteban Núñez for his role in the fatal 2008 stabbing of a college student at San Diego State University.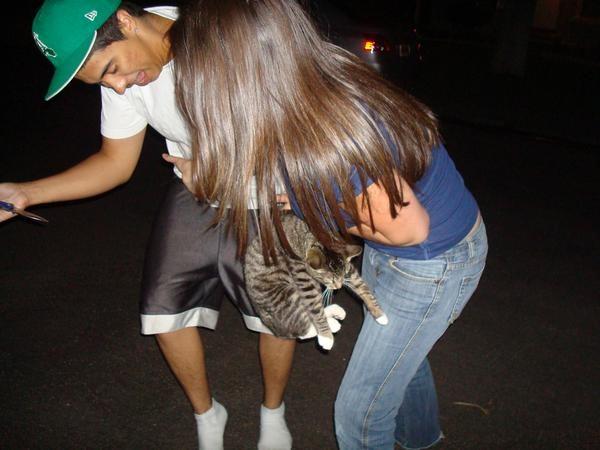 (Above: Esteban Nunez aiming a knife at a defenseless cat. After his manslaughter arrest this image was removed from his facebook page.)
The San Diego Union-Tribune rightly called the commutation a "shameful act." Núñez, you see, is son of former Assembly Speaker Fabian Núñez, a pal and political ally of the Governator.
In 1996, Steven Nary lacked any such connections. His working-class Arkansas parents had no idea how to fight the system when Steven, then an 18 year-old sailor, was imprisoned for unintentionally killing his would-be rapist in San Francisco,
Despite the recent heroic efforts of his pro-bono attorney as well as the intervention of a respected state senator, Nary's appeal for commutation never reached the governor's desk.
Núñez had better luck. Without consulting anyone who might oppose the gesture, let alone the victim's family, the governor commuted Núñez's sixteen-year sentence to seven years.
In fact, not since Bill Clinton's pardon of unrepentant swindler Marc Rich has an executive's intervention drawn such universal criticism.
And with good reason. There was nothing innocent about Estaban Núñez's crime. On the night of October 4, 2008, Núñez and his gang--commendably integrated for those who treasure diversity-- plotted revenge against a fraternity that turned them away from a party on the San Diego State campus.
"Let's show them how we do it in Sac Town," said one of the four-man crew, all of whom were carrying knives. The foursome and their pals from Sacramento branded themselves as "THC" -- the active chemical ingredient in marijuana -- or "The Hazard Crew." The 19 year-old Núñez has a biohazard symbol tattooed on his arm.
After plotting to steal computers from random students, the THC crew crashed another party. There they started a brawl that ended with the stabbing death of 22-year-old college student Luis Santos and the wounding of at least two others who would need hospital care.
According to police reports, the defiant Núñez told his homies that if they were charged, his old man could get them off on a self-defense rap.
This gambit collapsed when one of the four agreed to cooperate with the authorities. To avoid a likely conviction on murder charges, Núñez and co-conspirator Ryan Jett each accepted a 16-year sentence for voluntary manslaughter in a plea deal. Only Núñez would be offered commutation.
When offered a manslaughter plea, Steven Nary rejected it and went to trial arguing self-defense. He had a powerful case, powerful that is for anyone other than a straight male sailor in modern day San Francisco.
Nary's troubles had begun in March 1996. Sitting alone and drunk at a co-ed dance club for young people in San Francisco, he was befriended by a 53 year-old cokehead from Argentine named Juan Pifarre.
When Nary stood to catch the last BART back to the Alameda Naval Base, Pifarre offered him a ride and Nary innocently accepted.
As they approached the Bay Bridge, Pifarre confessed to being too stoned to drive across the bridge and back. Instead, he offered to take Nary back to his apartment.
Pifarre told Nary his wife was out of town--he had, in fact, married a local to keep from being deported. Once home, they could call some girls and party.
Nary remembers little else of the evening until he found Pifarre on his back trying to rape him anally. Nary begged for Pifarre to stop and, when he wouldn't, fought him off. Nary had never been in a fight before.
After subduing Pifarre, Nary fled into the night, made his way back to the ship, and eventually told the ship's chaplain what had happened. He did not know that he had killed Pifarre, likely by strangulation.
San Francisco police were alerted, and this being an election year, the Navy shamefully and illegally turned Nary over to the civilian authorities.
After rotting three years in a San Francisco jail, Nary got his kangaroo moment in court. He never had a chance.
Despite Pifarre's prior arrests for sexual crimes including assault, his coke habit, and his reputation as a mean drunk, he was also the influential publisher of the town's leading Hispanic newspaper and, of course, he was gay.
When Nary testified that he had been "disgusted" by what Pifarre was doing, the prosecutor hung him on a homophobia charge.
Nary spent thirteen years in prison before his first parole hearing in 2009. The parole board promptly turned him down for another five years.
This rejection came despite a near perfect prison record, a long standing conversion to Catholicism, an excellent psychiatric report, almost enough college credits to graduate, numerous letters of support, several job and living offers, and the imperative of California's empty coffers.
This prompted me to write a column for WND prophetically titled,
"Governor Schwarzenegger, Free Steven Nary!" It made no impression in Sacramento.
The pleadings of former Assembly Speaker Fabian Núñez obviously did. His murdering thug of a son will have come and gone from the prison system before Nary is released.
Núñez's commutation grieved many people, none more so than the victim's family. Nary's attorney Steven Gruel took it almost as hard.
"This really irks me," says Gruel who has spent countless hours on the case, "given that the State Senator (and I) was told by the governor's office that there was nothing that could be done – 'but, fill out a form.'"
Governor Brown, are you listening?