© Jack Cashill
WND.com - November 17, 2007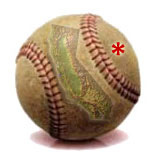 On Thursday, the California Department of Justice indicted on perjury and obstruction of justice charges the man who taught millions of young Americans what the word "asterisk" meant, baseball home run king* Barry Bonds.
The challenge the state Justice Department will face is convincing twelve citizens in a city that picks and chooses which laws it follows that state law trumps San Francisco's own higher morality.
San Franciscans are curious people. For all their moral smugness, scores of thousands of the Bay Area's best citizens have paid as much as $85 a game during these last 15 years to watch a spectacle that one Justice Department spokesman rightly describes as "cheating the baseball immortals."
Although Bonds himself is not particularly interesting—he is not the first major leaguer to take steroids and lie about it--what makes his story worth telling is his enthusiastic embrace by these ethically schizophrenic fans.
The son of Giant star Bobby Bonds, Barry grew up affluent and indulged in San Mateo, just south of San Francisco. By the time major league scouts came sniffing, one of them would sum up the consensus on Barry's "Attitude/ Personality" with one highly explanatory word, "asshole."
In Pittsburgh, at his first major league stop, the writers gave him their MDP—"most despised player"--award. In San Francisco, where he returned in 1993 as a two time MVP, he continued to creep out teammates and coaches at a Hall of Fame level.
San Francisco Chronicle reporters Lance Williams and Mark Fainaru-Wada tell the Bonds' story well and in detail in their 2006 book, Game of Shadows. Suffice it to say that Bonds began using steroids as a 34 year-old before the 1999 season.
Bonds hooked up with Victor Conte, the druggy maestro behind the Bay Area Laboratory Co-Operative, BALCO, two years later, and ten years after the Federal Government had outlawed the non-prescription use of steroids.
That year Bonds hit a major league record 73 home runs and won the Most Valuable Player Award for the National League. Major League Baseball banned steroid use in 2002, but with Conte's all but undetectable drugs Bonds felt free to ignore the ban. He would win the MVP award in 2002, 2003, and 2004 as well.
Bond's stats bewildered baseball historian Bill Jenkinson, who has made a science of analyzing home run hitting. Not only was Bonds hitting more home runs as he moved into his late thirties, but he was also hitting them much farther.
"This is not humanly possible," says Jenkinson. "It cannot be done by even the most amazing athletic specimen of all time . . . unless that specimen is cheating."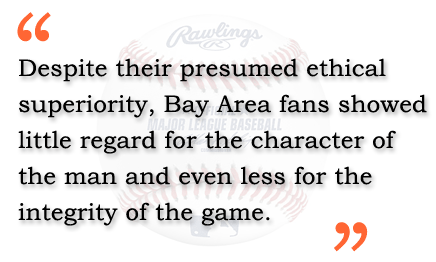 In the 12 years before that specimen started using steroids, 1986-1998, he had averaged 32 home runs a season. In his five full seasons of steroid use, Bonds averaged 52 homers.
Do the math. Historically, the peak age for sluggers has been 27. Bonds just started to peak at 36. The Giants management turned a blind eye to all of this.
Conte had put Bonds in the record books. And there's the rub. Baseball is a game of records, of traditions. Bonds undermined not just the integrity of the game as played today, but the very meaning of the sport, past, present, and future.
As Bonds lumbered shamelessly on towards Hank Aaron's all time home run record, he continued to cheat, and the San Francisco fans continued to cheer.
This should not surprise. History and tradition—and law for that matter—count for less in the Bay Area than they do anywhere in America. Even after the Feds busted Conte and dragged a dissembling Bonds before a grand jury, Giant fans exalted in the team's performance.
"The man is a saint," gushed a kindergarten teacher with her young son on the occasion of his 700 th home run. After his grand jury appearance, notes Jeff Pearlman in his Bonds bio, Love Me, Hate Me, " San Francisco fans hailed their star not only as a hero but as a martyr."
By the end of the 2005 season even die-hard San Francisco fans had to acknowledge that Bonds had scammed his way to his stats. In a random ballpark survey, 92 out of 100 Giant fans conceded that Bonds had cheated.
Still, only 24 out of 100 expressed any concern that this might be wrong. The email Williams and Fainaru-Wada received from their Chronicle readers was just as whacked.
They "passionately insisted they didn't care," but that did not deter them from attacking the pair for reporting the truth. Among the fans weighing in against these "so-called journalists" was former mayor, Willie Brown.
When I talked to Lance Williams, he found the fan response to be the most revealing element in the whole saga. Despite their presumed ethical superiority, Bay Area fans showed little regard for the character of the man and even less for the integrity of the game.
As Pearlman wryly observes, " San Francisco led the league in pregame ceremonies to bring attention to world problems." And yet as steroid abuse swelled nationwide, the organization ignored a problem that was potentially lethal and altogether local.
Worse, the Giants held up as a model for young San Franciscans a man whose own abuse, if emulated, could turn their heads into pumpkins and their testicles into peas.
On August 7 of this year, in San Francisco's AT&T Park, Bonds hits his 756 th home run to break Hank Aaron's honest 31 year-old record. According to the Washington Post, the sellout crowd "explod[ed] in an ecstatic roar that was heartfelt and unambiguous."
A 12 year-old fan, interviewed by the Chronicle during Bonds' quest, perfectly mimics the smugly amoral drift of Bay Area opinion.
"I'm just glad he's not in prison," said the boy relieved that Bonds had not yet been charged with perjury, "It's pretty much all racist. They keep trying to get him, but he's never failed a drug test. They don't have anything on him. They're just going to keep trying until they do."
The boy, no more deprived than Bonds himself, had flown in to San Francisco to catch a four game series with his parents. His racial hauteur was impressive even by Bay Area standards.
Now prosecutors in California will have to convince a dozen citizens, some of whom as morally enlightened as this twelve year-old, that Barry Bonds deserves to go to prison. Smart money says they will not succeed.
And chances are it will get ugly.